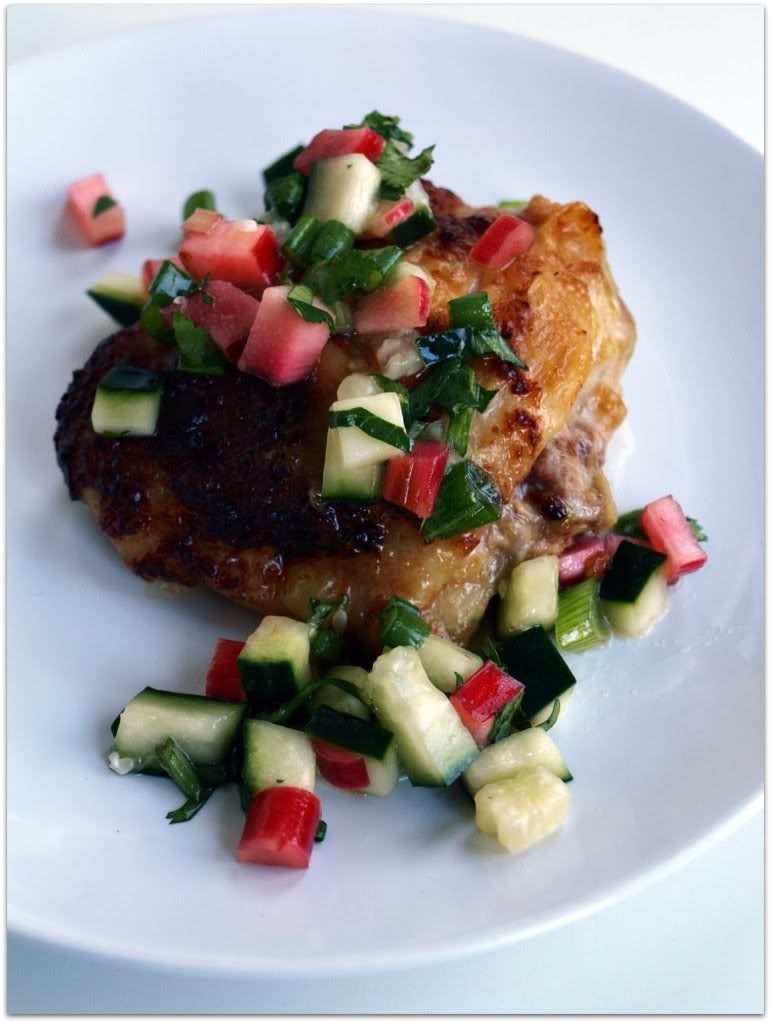 Sh$t They Don't Tell You When You Become A Parent: A Sarcastic Mom's Guide To Wading Through Parenthood
Number 19 : The Projects
Hey thinking of becoming a Parent? Already a Parent of a young child? Do you know about The Projects? Come in close, let me tell you about them because you need to know. It's starts in Kindergarten with the All About Me poster. Now this poster is important because it sets up your precious baybee's whole school career. The AAM poster has lots of blank squares to fill in. Also you will need to add all sorts of charming pictures from the time they were born till now. Don't have them because you were busy cleaning up poop and spit up and the peas they dumped on the ground? Clip some pictures out of a magazine. You don't have cute handwriting to fill in Precious charming answers to the equivalent Vanity Fair's Proust's questionnaire on the poster. Well sorry you're screwed. You are obviously a bad parent for not being crafty or having good hand writing.
Then you have the solar system project, science fair, and if you live in California, The Missions Project. The Missions Project sucks, especially if you are a parent at my kids old school. You couldn't use a kit. It had to be built by hand. Parents could help but should let the kid take the lead and do most of the work. So here you are, you have seen the other Missions the kids have brought in and you
know
the Parents did all the work. Their Missions are finely crafted piece worthy of placement in a miniatures museum, with groomed tiny landscaping, perfectly level and painted roof tiles and a working fountain. There is no way in hell a 5th grader did that. Here is your kid's Mission with catty wonkus walls and glue running down the joints, all because you followed the guidelines the teacher gave you. And Precious Johnny looks at you with disgust because Anne Marie's father spend $300 bucks on materials and took 6 months sketching out plans and took a special weekend trip to meet privately with the head docent at
Mission San Juan Capistrano
to build her Mission and you just pulled pictures of the Internet. Way to go Mom!
Then there are the weird projects. Like when my Awesome Andrew comes home on a Wednesday night and tells me he's doing a potluck project in Bio where he needs to bring in vegetable or fruit dish that is in season and by the way he picked rhubarb and it's due Friday. Do you have any recipes with rhubarb? Explaining to him that of course I do but rhubarb is just coming into season and it might be hard to find right now. Do you have a back up vegetable or fruit just in case? The look I received was like Precious Johnny and Anne Marie all over again. Ten stores and a half a day later I found rhubarb and Andrew and I made this
upside down cake
. With the surplus rhubarb I made spicy chicken thighs with rhubarb cucumber salsa for dinner. Which was awesome and totally made up for the fact I had to run around town to look for rhubarb.
So some deets on this chicken. The marinade tasted like a cross between jerk, curry, and peanut sauce and the rhubarb cucumber salsa really offset the heat with a sweet/sour/refreshing crunch. A keeper.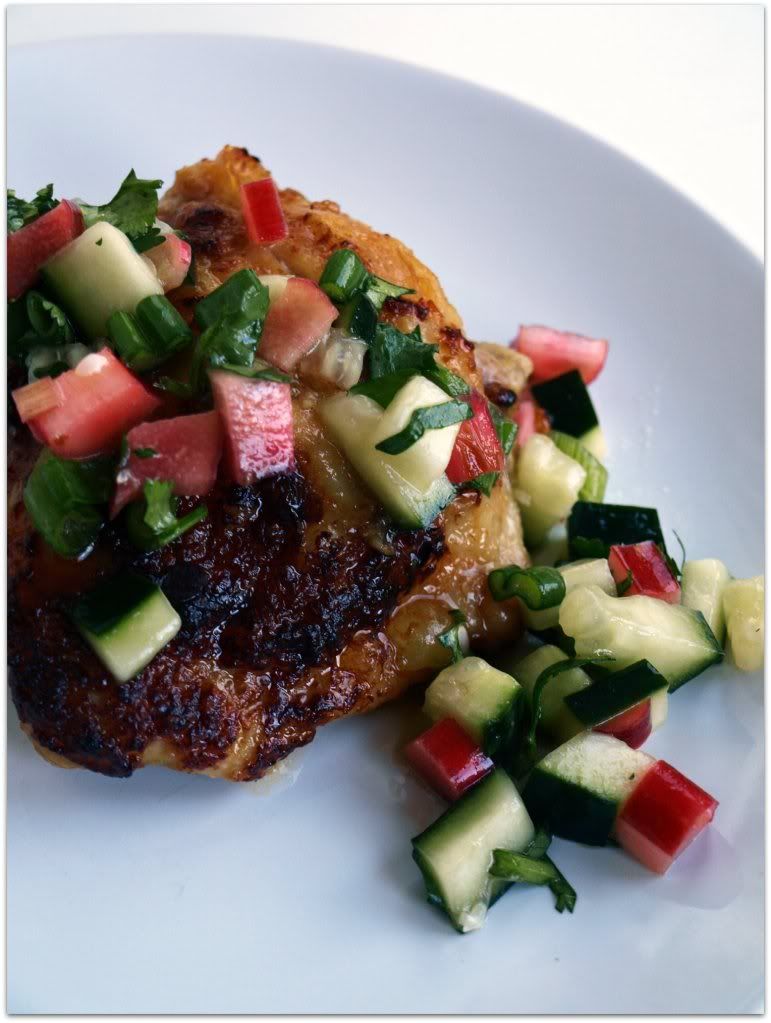 spicy chicken thighs with rhubarb cucumber salsa
: bon appetit april 2012
(printable recipe)
1 habanero, Scotch bonnet, or Thai chile, with seeds, stemmed
2 garlic cloves 2 scallions, thinly sliced, white and green parts divided
1 tablespoon soy sauce
1/4 cup olive oil
6 large skin-on, bone-in chicken thighs
kosher salt
1 1/2 cups 1/4-inch cubes rhubarb
1 cup 1/4-inch cubes unpeeled cucumber
1/2 cup coarsely chopped fresh cilantro
1 tablespoon honey
1 tablespoon olive oil
1 teaspoon fresh lime juice
freshly ground black pepper
Preheat oven to 500°. Line a baking sheet with foil. Pulse chile, garlic, and white parts of scallions in a food processor until finely chopped. With the food processor running, slowly drizzle in soy sauce and olive oil; blend until emulsion forms. Transfer sauce to a bowl.
Place chicken thighs, skin side up, on a the prepared baking sheet and slash each crosswise at 3/4-inch intervals down to the bone. Season lightly with salt. Brush with sauce. Bake until skin is crisp and an instant-read thermometer inserted into thickest part of thigh registers 165°, 20–25 minutes. Broil on high for an additional 2–3 minutes for crisper skin, if desired. Let rest for 5–10 minutes.
Meanwhile, toss rhubarb, cucumber, cilantro, honey, olive oil, lime juice, and green parts of scallions in a medium bowl to coat. Season to taste with salt and pepper and let stand for at least 10 minutes to allow flavors to meld. Serve chicken with rhubarb salsa alongside.