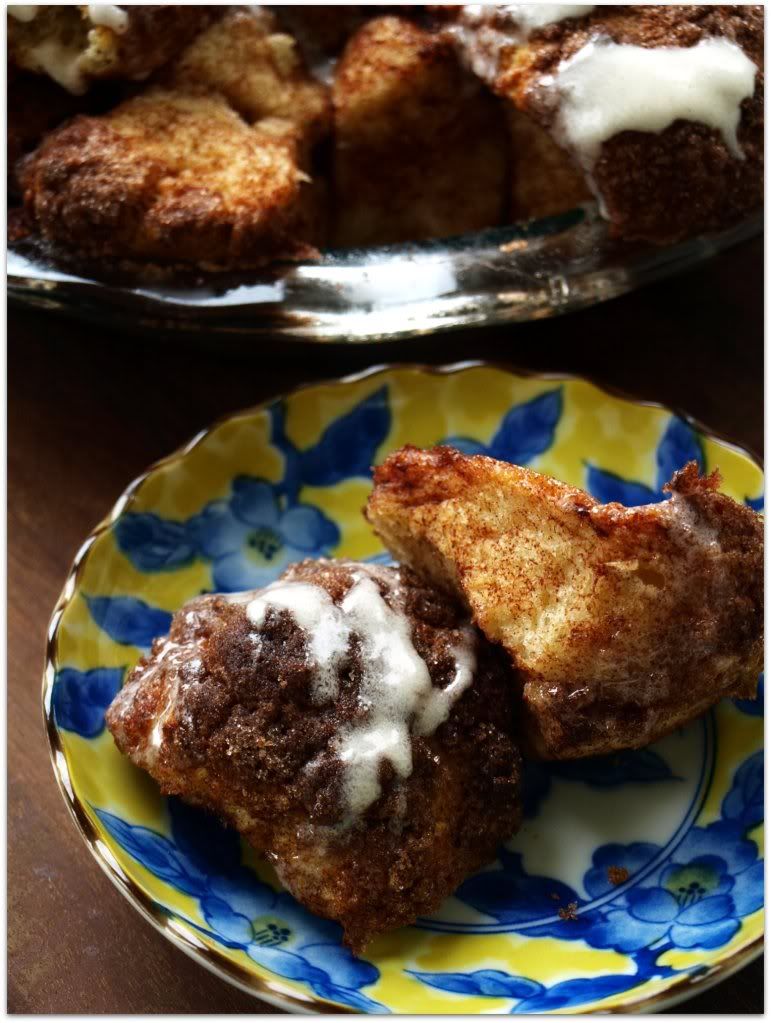 Katie and I have this ongoing thing about cinnamon rolls. It's very Gilmore Girl/Abbott and Costello-ish. And the typical conversation happens when we visit our local Barnes and Noble which is somehow conveniently but not helpfully located by Cinnabon. Damn those mall planners!
'God, that smells good.'
'But they never taste as good as they smell.'
'Why is that?'
'I don't know why. And you also feel
sick, sticky, and dirty
after you eat one. Why is that? Oh because it should be named Cinna
bomb
. It's like a sugar bomb went off in your stomach. Kablooey.'
'I don't know why you feel sick, sticky, and dirty but I see what you did there with the Cinna-BOMB reference. Why can't we find a cinnamon roll that tastes as good as it smells?'
'I don't know. But I now really, really, really want a cinnamon roll. It smells so gooooooood.'
'Here have a piece of cinnamon gum.'
'But I reaaaaaaaly want a cinnamon roll'
'It'll be ok. Let's go look at books.'
We have had this same conversation too many times to count.
Anyways, I guess the point is that for both of us, the outside of the roll is too crunchy, there is not enough of the center part... but the center can't be under-cooked and gooey either, the dough isn't flecked with enough cinnamon, and there is normally
too
much frosting. Hello call us Goldilocks. It's never just right.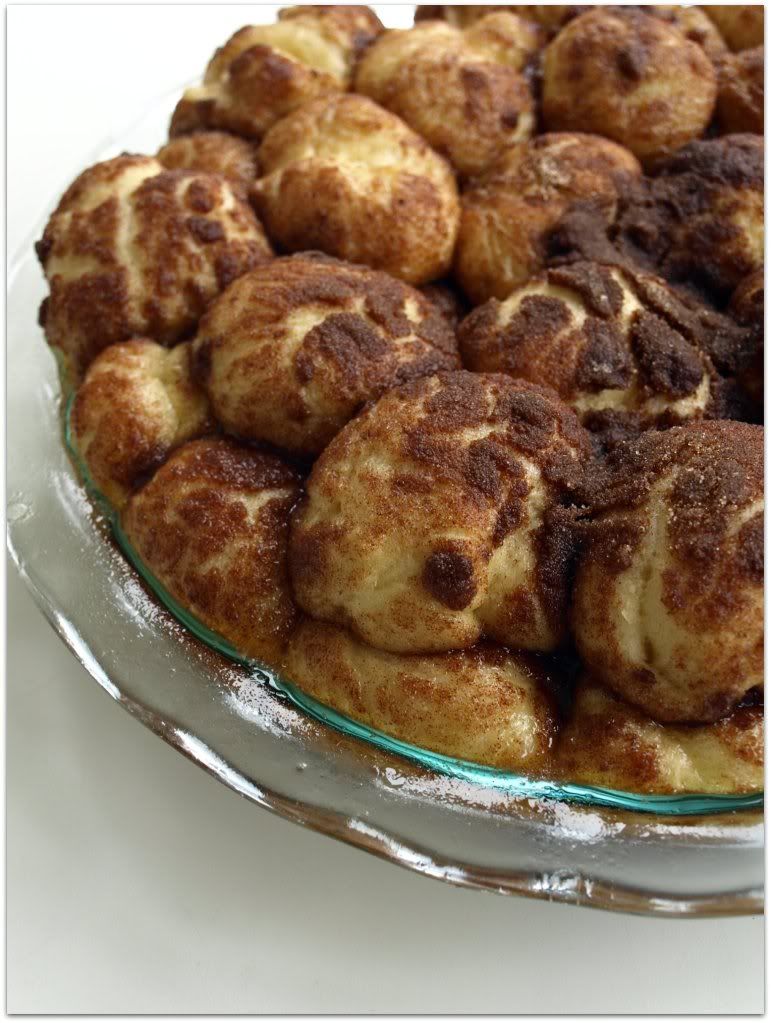 These cinnamon-bun bites are right up there in the almost damn near perfect category. The whole entire plate consists of the soft center part, the dough and glaze are flecked throughout with cinnamon and nutmeg. Best of all, I can control how much glaze to drizzle on the top. Also, they don't go kablooey in your stomach.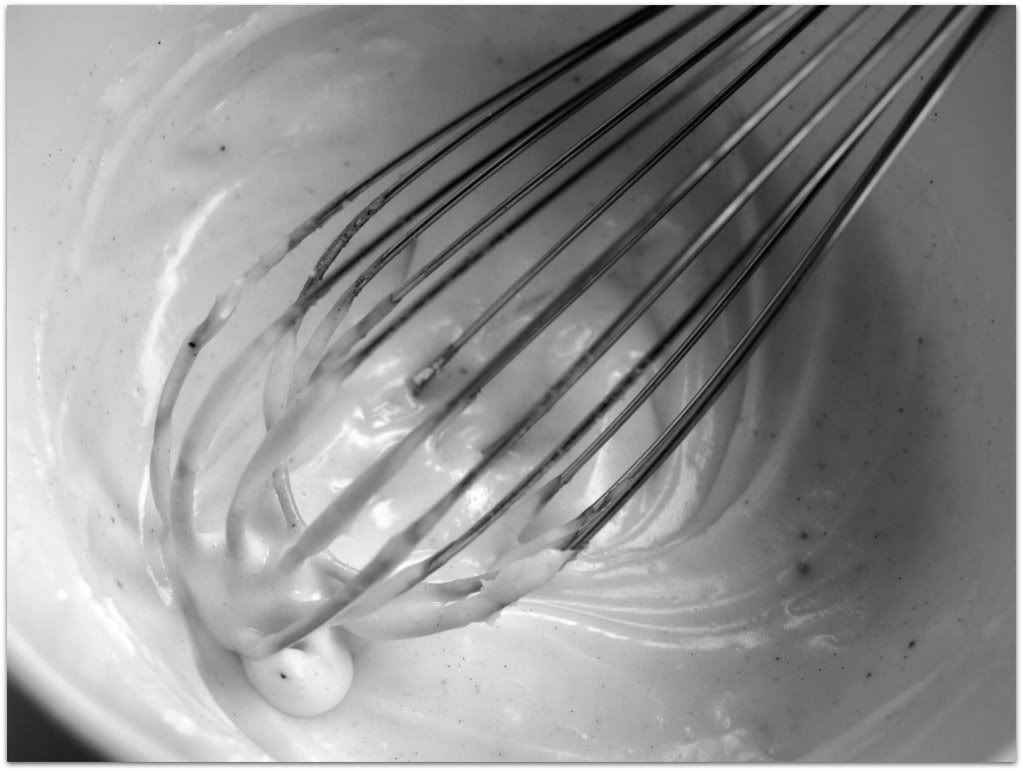 cinnamon-bun bites
: martha stewart living, april 2012
(printable recipe)
1/2 cup warm water
1 tablespoon active dry yeast (from two 1/4-ounce envelopes)
4 1/2 cups all-purpose flour, plus more if needed
4 large eggs
1 1/4 cups sugar
2 teaspoons coarse salt
1 stick unsalted butter, softened, plus 1/2 stick, melted, and more for dish
2 1/2 tablespoons ground cinnamon
ground nutmeg
vanilla glaze:
1 cup confectioners' sugar, sifted
1/2 teaspoon coarse salt
2 tablespoons unsalted butter, melted
2 tablespoons whole milk
1 teaspoon pure vanilla extract
cinnamon
ground nutmeg
make cinnamon-bun bites:
Pour water into the bowl of a stand mixer. Sprinkle yeast evenly over water, and let stand until foamy, 5 to 7 minutes. Whisk until smooth then whisk in 1/2 cup flour to form a paste. Let rise in a warm place until yeast mixture has risen and fallen, about 30 minutes.
TIP: If your house is chilly like mine, turn on your oven for a couple of minuets on the lowest temperature, then turn off oven and place the bowl in the oven as sort of a proofing boxing for the dough.
Add eggs, 1/4 cup sugar, salt, 1/2 teaspoon of cinnamon, a pinch of nutmeg, and the remaining flour to yeast mixture. Knead dough, using dough hook attachment on mixer, until smooth, 4 to 5 minutes.
Add 1 stick butter to the dough mixture and knead with the stand mixer until dough is smooth and elastic, about 10 minutes (add a little more flour if the dough is too sticky). Turn out dough onto an unfloured work surface and knead by hand until very smooth, about 3 minutes. Transfer dough to another bowl, and let rise in a warm place, covered with a damp cloth or plastic wrap, until doubled, 1 1/2 to 2 hours. Punch down dough, pressing out air bubbles.
Lightly butter a 9-inch pie plate or 9-inch square glass baking dish. Place melted butter in a bowl. Stir together remaining 1 cup sugar and the cinnamon in another bowl.
Roll dough into 1-inch balls (you should have about 45). Working with 1 at a time, dip balls into melted butter, then roll in cinnamon sugar and place in pie plate. Stack balls to form a dome. Sprinkle with any remaining cinnamon sugar, and drizzle with any leftover butter. Cover with plastic wrap, and let balls rise by half, about 1 hour.
Preheat oven to 350 degrees. Unwrap balls and place the pie plate on a baking sheet. Bake until golden and firm, and a wooden skewer inserted into the center comes out clean, 50 to 55 minutes. Let bites cool in dish 15 minutes, then drizzle with glaze.
make vanilla glaze:
Stir together sugar and salt in a small bowl.
Whisk together butter, milk, vanilla, and a pinch of cinnamon and nutmeg. Stir into sugar until mixture forms a smooth paste. Keep glaze at room temperature until ready to drizzle over cinnamon-bun bites. Before using, whisk until smooth.