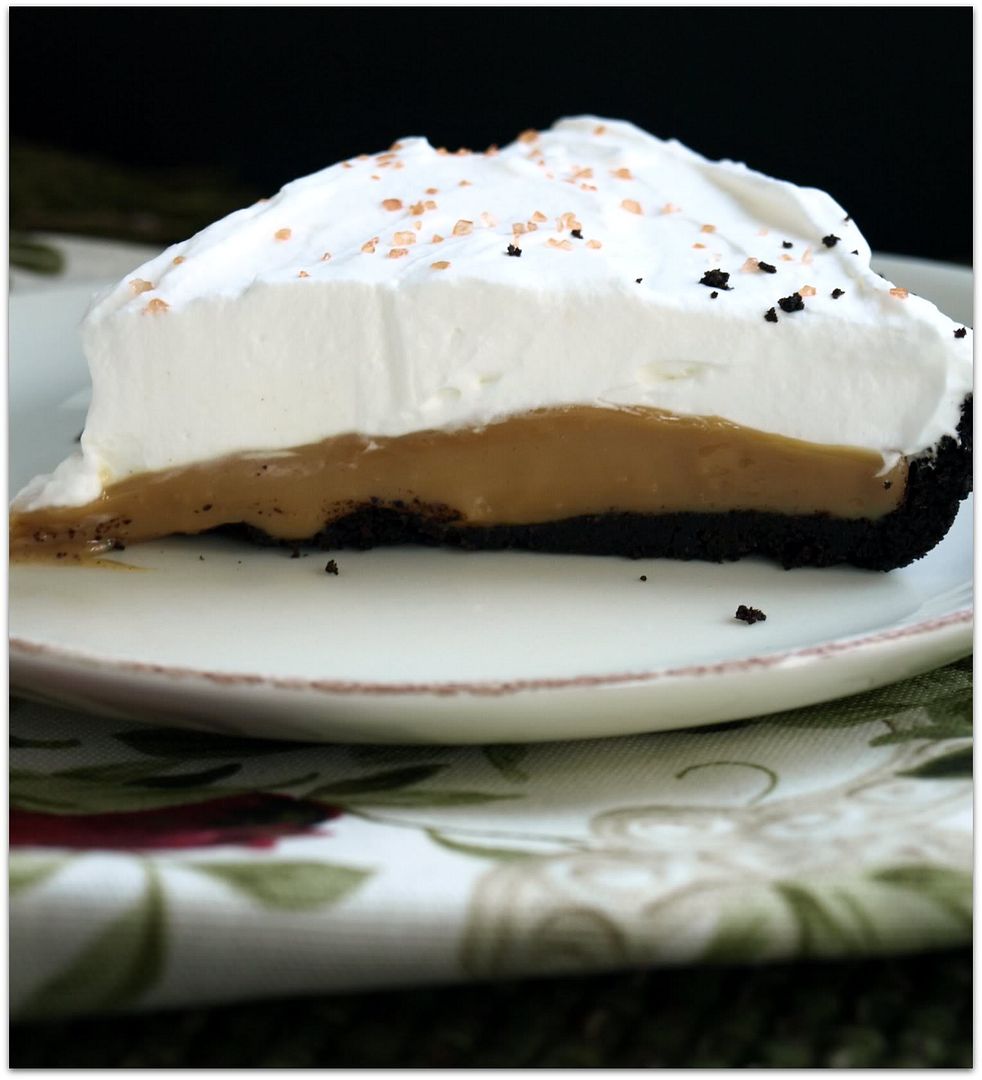 Random thoughts for a Wednesday morning:
In a world gone mad... you must choose between pie or cake.
I am oddly nonpartisan about the whole thing. I like both. A LOT. I cannot choose, I refuse to choose. I will bring both sides together to live in peace and harmony.
I also know both can be done badly. Dry cake, frosting that is more like spackling paste, tough crusts...
Actually I want
'tough crusts'
to be a new euphemism/curse word/genuine curse... Tough Crusts. In the baking world that would be scandalizing! Like dropping the f-bomb but with a very specific meaning.
'You COCKADOODIE DIRTY BIRD TOUGH CRUSTS!' Shaking a balloon whisk and turning red in the face.
Annie Wilkes
style. That broad is scary.
I imagine that food people have their very own adult magazine on the down-low. Shot focus shots of foods, knives, kitchen equipment, and chefs all buttered and plumped up. In that month's centerfold, there would be a very detailed bio.
Some 'stars' bios would have to go like this:
Likes: 5 ingredients only, good quality vanilla and olive oil, tablescapes, anything with flames, orange clogs.
Dislikes: Not having a cocktail in my hand, vegans and vegetarians, men who do not overly pronounce the word spaghetti.
Here's mine:
Likes: Spicy foods. Cookies. Whole corn tortillas lightly fried and sprinkled with kosher salt. Anything with ginger. A guy willing to do the dishes.
Dislikes: Peas. Peppermint. Doing the dishes.
Favorite Knife: Global Chef's Knife, 10 inches.
Favorite Herb: Lemon Thyme and Basil.
Favorite Spice: Cinnamon.
Favorite thing to cook: braised short ribs with polenta.
Powerless against: Anything salted, especially salted caramel.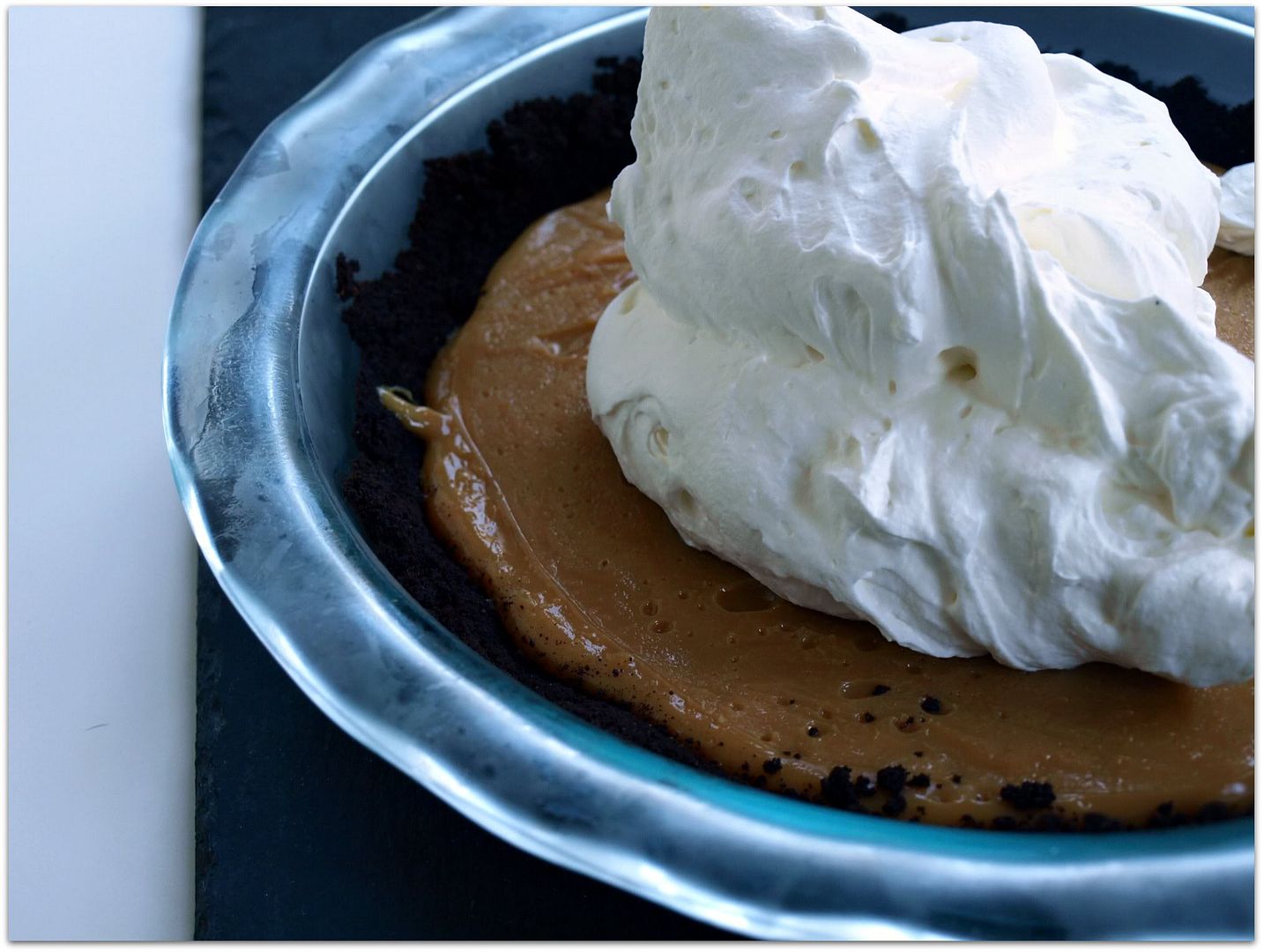 You now know I am powerless against anything salted, especially salted caramel. When I saw this recipe in Food & Wine, I was
on
it. Like 'ran to cupboard like a mad woman to make sure I had all the ingredients and didn't finish reading the magazine' on it. Come hell or high water, this pie was mine.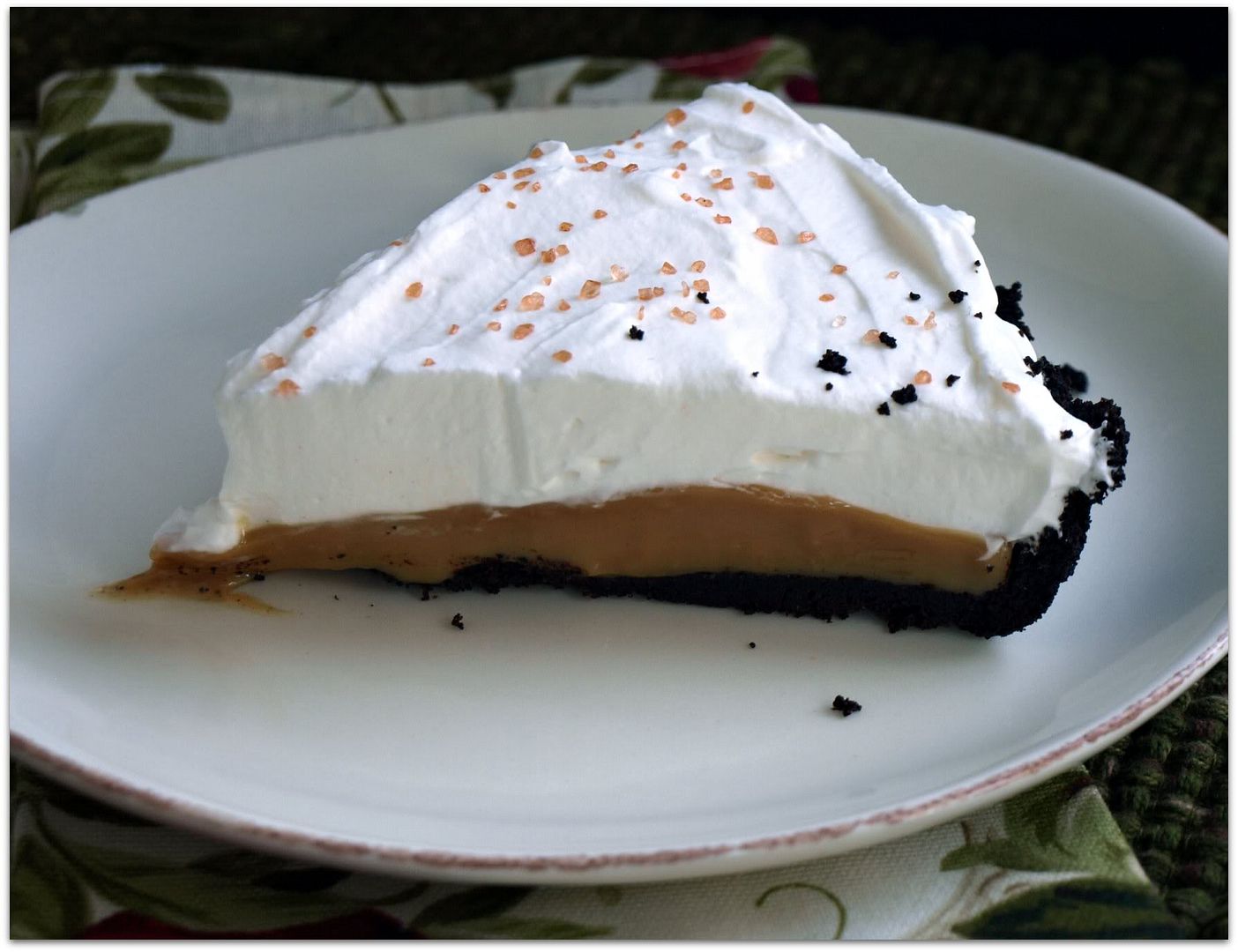 salted caramel pie
: adapted from food & wine november 2011
printable recipe
1 1/4 cups thin chocolate wafers, crushed (nabisco's famous chocolate wafers work wonderfully)
4 tablespoons unsalted butter, melted
two 14-ounce cans sweetened condensed milk
fleur de sel
2 cups heavy cream
2 tablespoons confectioners' sugar
Preheat the oven to 350°. In a food processor, pulse the chocolate cookie crumbs with the melted butter until the crumbs are moistened. Press the crumbs evenly into a 9-inch glass or metal pie plate. Bake for about 10 minutes, just until lightly browned. Let cool. Increase the oven temperature to 425°.
Scrape the condensed milk into a 9-by-13-inch glass baking dish and sprinkle with a scant 1/2 teaspoon of fleur de sel. Cover the dish with foil and place it in a roasting pan. Add enough hot water to the pan to reach one-third of the way up the side of the baking dish. Bake, lifting the foil to stir 2 or 3 times, until the condensed milk is golden and thickened, about 2 hours; making sure to add more water to the pan as necessary. The consistency of the caramel should be like dulce de leche. Don't worry if it is lumpy; it will smooth out as it chills.
Scrape the caramel filling into the pie crust, smoothing the top. Spray a sheet of plastic wrap with vegetable oil spray and cover the pie. Place in the refrigerator until the filling is chilled and set, at least 4 hours.
Using an electric mixer with whip attachment, beat the cream with the confectioners' sugar until firm. Remove the plastic from pie and place the whipped cream on top and sprinkle with fleur de sel. Cut into wedges and serve.
:::
Tasting notes and tips: The original recipe called for a graham cracker crust. If you do that, add a 1/4 light brown sugar when you are blending the mixture together in the food processor. I used Hawaiian Pink Sea Salt instead of fluer de sel, here's the deal do not use iodized salt, maybe kosher salt in the actual caramel.
I am sure you can imagine what it tastes like but in a way this pie is all about texture. When you first slice into the pie, the knife glides through the soft lightly sweetened whipped cream then you can feel it hit some resistance that is the stretchy chewy salty sweet caramel then the knife makes the first audible noise when it cuts through the crisp chocolate crust. Taking the first bite has the same effect but then your teeth bite on a tiny nugget of salt and then it brings into focus the textures and sweetness of the caramel, the chocolate and the whipped cream. So damn good. Well worth every single calorie.
Also, don't forget to leave a comment
here
and win an Immersion Blender. I made the crust and whipped cream in it much easier than whipping out a food processor or using my Kitchen Aid.