DIBS!!!!
Seriously I had to call dibs on this recipe. I showed this to a bunch of food bloggers and while they were ooohing and ahhing, I was like, 'Oh crap! Who is going to beat me to making and posting this cake?' So I called dibs after asking if it was rude to call it. Have you seen this cake? It's like a caramel apple in cake form. I am all over that in a heartbeat. Anyways... I had plans for this cake.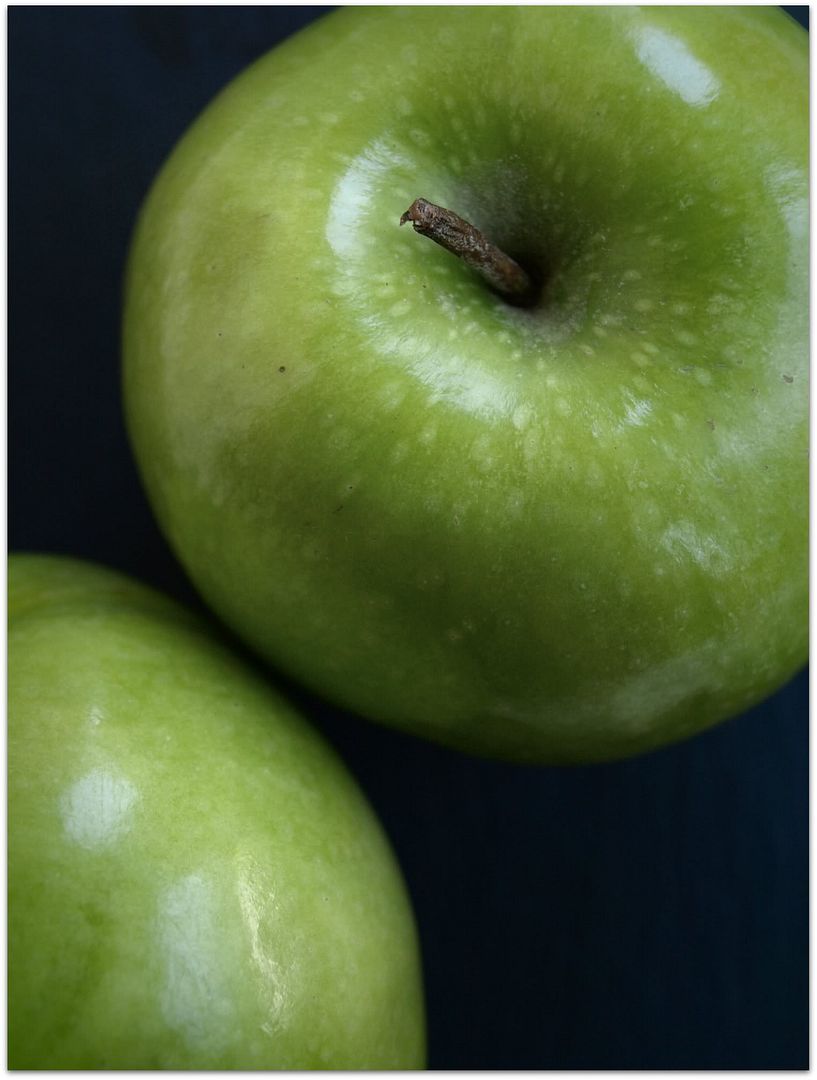 What plans?
Well, I am doing a couple posts for
PAM cooking spray
and an awesome giveaway next week. They sent me an email asking if I might be interested in partnering with them to try out their new and improved formula to see if makes cooking and clean up a bit easier. I must have been feeling feisty because I was yelling at the email, 'BRING IT ON! I have a couple recipes that will make it weep.I have recipes that dishes, pots, and pans need to soak for
days
afterwards. I will show it no mercy!'
So first up, an upside down apple cake baked in a caramel sauce. Have you ever tried to clean up caramel after it's cooled? No bueno. It is not at all fun.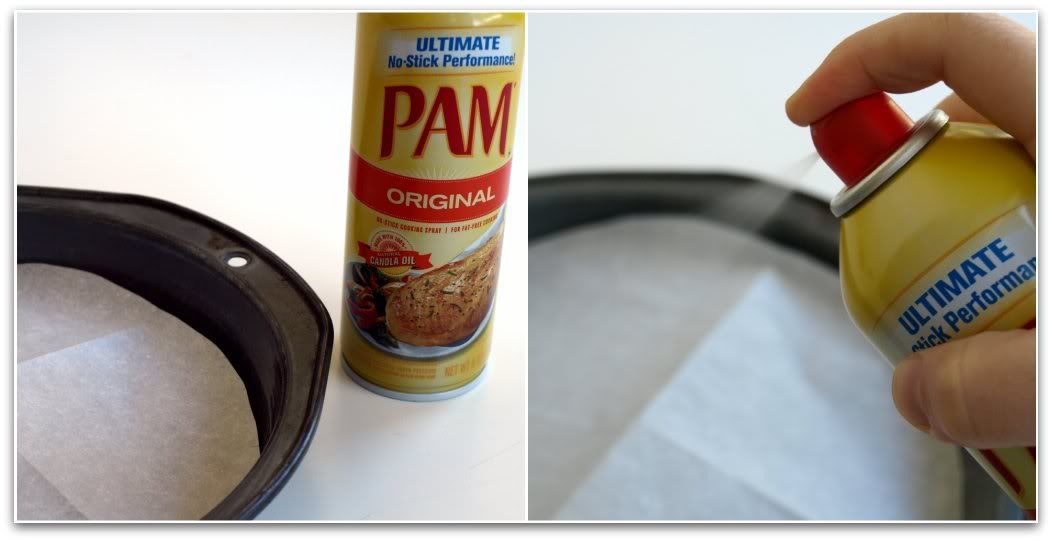 When a recipe calls for you to line it with parchment paper AND grease the parchment, you know you are in trouuuuuuble.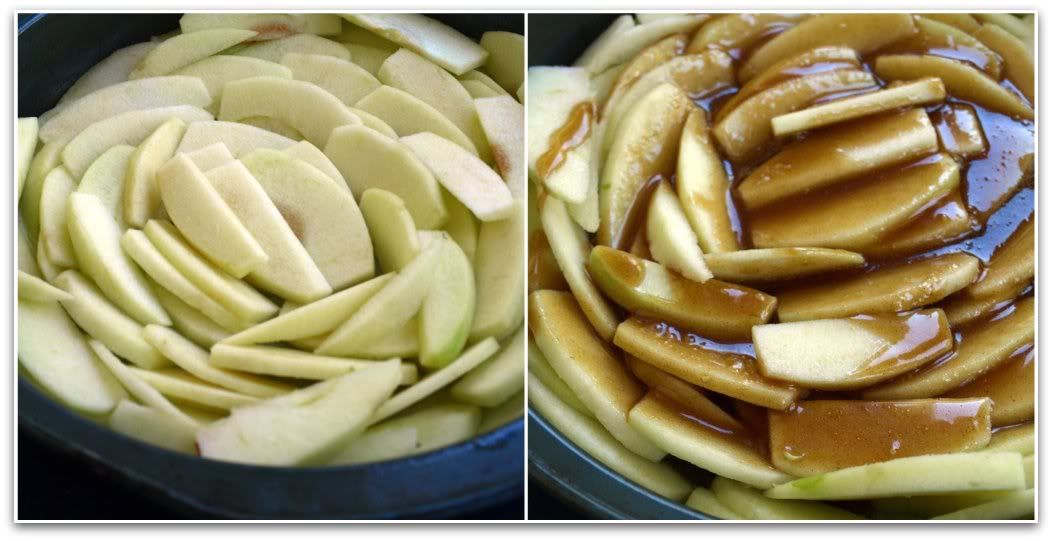 I totally bet you read that last sentence like you were 8 years old.
upside apple cake with caramel sauce
:
adapted from king arthur flour
(printable recipe)
topping:
2 medium apples
4 tablespoons butter
3/4 cup light brown sugar, firmly packed
2 tablespoons
boiled cider
or thawed apple juice concentrate
1/4 teaspoon ground cinnamon
1/2 cup Lyle's golden syrup or light corn syrup
cake:
3/4 cup vegetable oil
1 cup brown sugar, firmly packed
2 tablespoons
boiled cider
or thawed apple juice concentrate
2 large eggs
1 1/2 teaspoons ground cinnamon
1/4 teaspoon ground ginger
1/8 teaspoon ground cloves
1/2 teaspoon salt
1 teaspoon baking soda
1 1/2 cups unbleached all-purpose flour
1 large apple, peeled and finely chopped
3/4 cup toasted chopped pecans, optional
Preheat the oven to 350°F. Lightly grease a 9" round cake pan at least 2" deep with PAM Cooking Spray Line the bottom with parchment, and spray the parchment.
Place pecans on a baking sheet and toast them just until they become aromatic, about 5 minutes.
Prep the apples; Peel, core, and slice apple apples into 1/4" thick wedges. Place the apples into the prepared pan in overlapping concentric circles.
Prepare the topping: Heat the butter, sugar, boiled cider, cinnamon, and corn syrup together over low heat, stirring until the sugar is dissolved. Pour 1/2 cup of the syrup mixture into the prepared pan, and set the rest aside.
To make the cake: Beat the oil, brown sugar, boiled cider, eggs, spices, and salt together for 2 minutes at medium speed. Mix the flour with the baking soda, and stir it into the batter. Add the chopped apple and nuts, and mix until just blended. Drop scoops of the batter atop the apples in the pan, gently spreading to cover. Bake the cake for 50 to 55 minutes, or until a cake tester inserted near the center comes out clean. Remove the cake from the oven, and run a thin spatula around the edge to loosen. Let the cake cool in the pan for 5 minutes, then turn it out onto a serving plate, bottom side up. Scrape out any sauce that remains in the pan, and spread it over the cake.
Reheat the reserved topping. If butter starts to separate as you reheat, add water by the teaspoon and stir until the butter rejoins the rest of the sauce.
Pour the sauce over the cake. Serve cake warm or at room temperature, with whipped cream if desired.
:::
A couple notes: If you can find apple cider, make boiled cider. It's lovely and adds lots of depth to this cake. My friend Rebecca says, 'It's like everything wonderful about fall condensed into one syrup.' Also, most people freak out when reading the words corn syrup. Mind you
corn syrup and high fructose corn syrup
are two different things but if you still don't feel comfortable using corn syrup in recipes,
Lyle's Golden Syrup
is a wonderful substitution.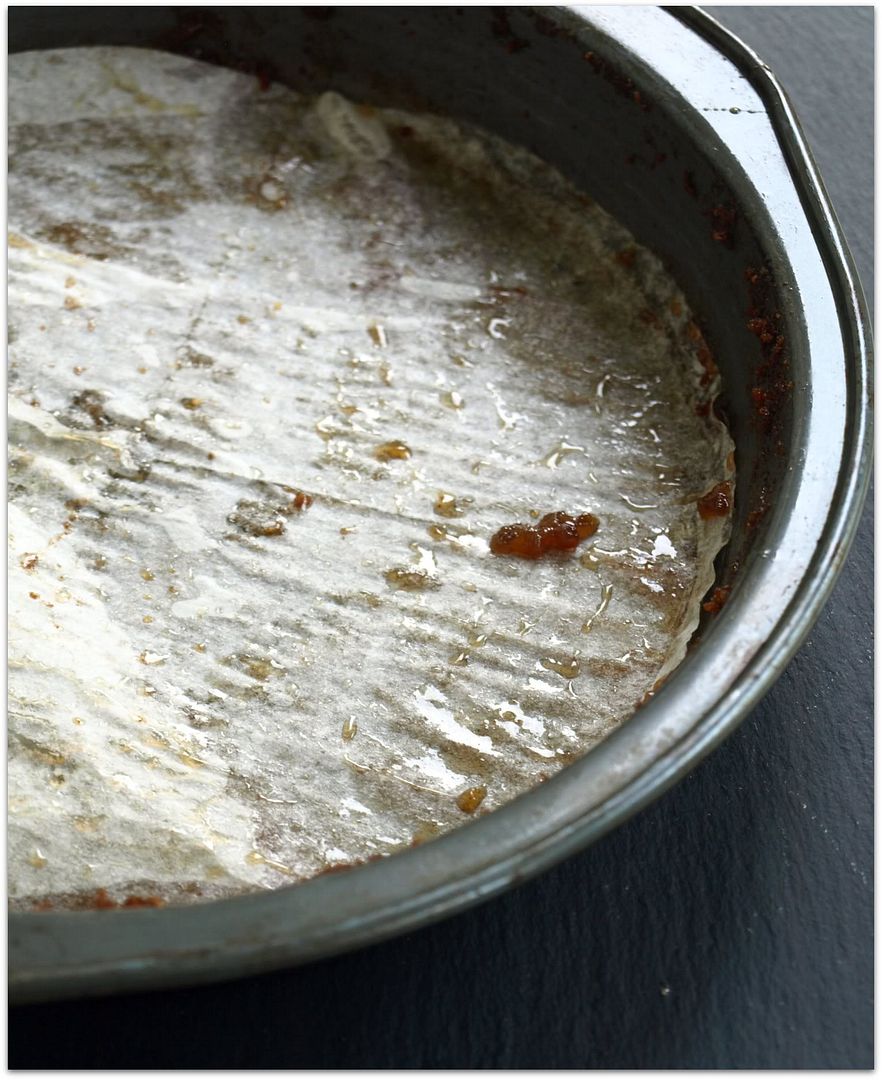 That was the pan afterwards. The caramel and apples came away cleanly from the pan as I flipped the cake onto the cake stand and it took all of a minute to clean the pan with hot water and some soap. I am 0 for 1.
(This is a sponsored post. I received compensation, a toolkit, and PAM promotional items from ConAgra Foods. My opinions are my own and was in no way told what to write. This is my

FTC disclosure

)