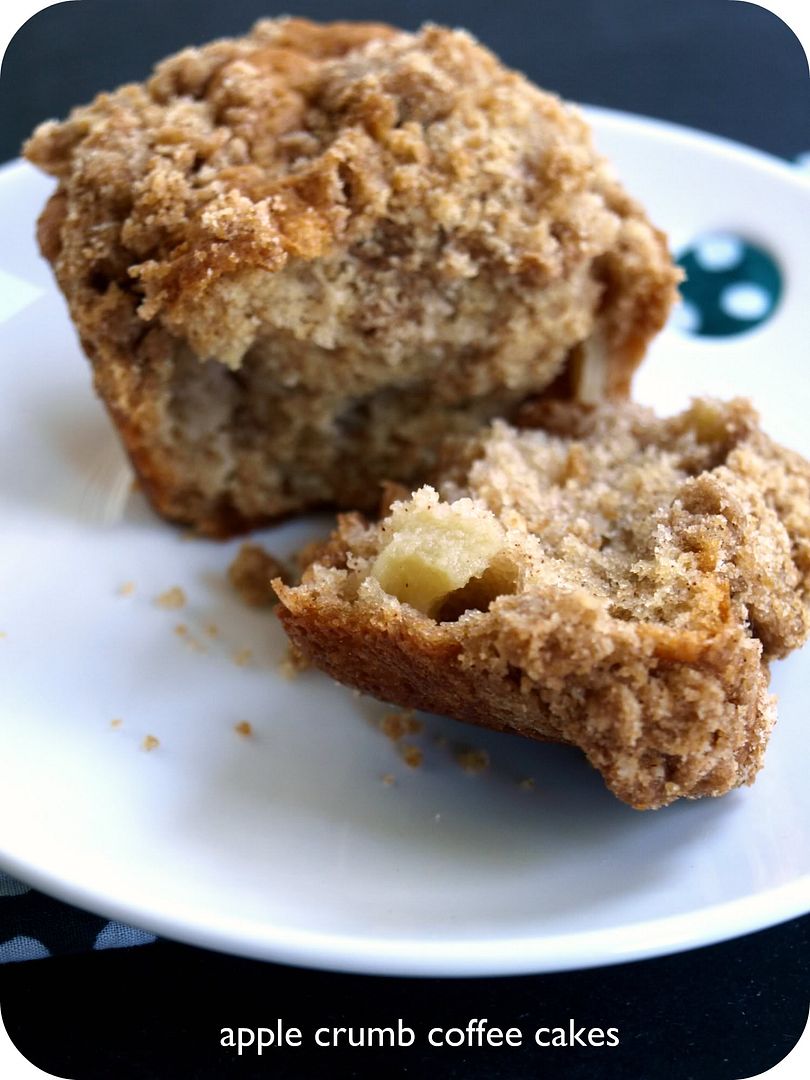 Right now...
Time: 10:01 am
Weather: 64 degrees and sunny
On my desk: Paperwork for Andrew's IB exams, a toilet handle, and medical bills. Want to guess how much Rich's July stay in the hospital was? There is a prize to whomever guesses closest to the correct total. It was a five day stay with 3 day in ICU. GO!
In my belly: Irish Breakfast Tea and a slice of toast.
On my nightstand:
We Need to Talk About Kevin
by Lionel Shriver and
Damned
by Chuck Palahniuk. Both disturbing for different reasons. Warning: Neither of these books should be read before bed.
In my Amazon Shopping Cart:
The Seven Spiritual Laws of Yoga: A Practical Guide to Healing Body, Mind, and Spirit
and
Sweetness and Blood: How Surfing Spread from Hawaii and California to the Rest of the World, with Some Unexpected Results.
Feel free to read into what those four books say about me and my psyche.
Last movie watched: The Ides of March.
Dinner tonight: I don't know, any ideas?
:::
apple crumb coffee cakes
: food & wine november 2011
makes 12
(printable recipe)
streusel
1 cup all-purpose flour
1/2 cup light brown sugar
1/2 teaspoon cinnamon
1/2 teaspoon salt
5 tablespoons cold unsalted butter, cut into small pieces
crumb cakes
1 1/2 cups all-purpose flour
1 cup granulated sugar
1 teaspoon salt
1 1/2 teaspoons baking powder
1/2 teaspoon baking soda
1/2 heaping teaspoon cinnamon
1 stick cold unsalted butter, cut into small pieces
3/4 cup sour cream
1 large egg, beaten
1 large Granny Smith apple, peeled and finely diced
Preheat the oven to 350°.
Make the streusel:
In the bowl of a standing mixer fitted with a paddle, combine the flour with the brown sugar, cinnamon, and salt. Add the butter pieces and mix at medium-low speed until the mixture resembles coarse meal; continue mixing the streusel until very small clumps form. Transfer the streusel to a large plate or bowl and refrigerate until it is well chilled, about 10 minutes.
Make the cakes:
Line 12 standard-size muffin cups with paper liners. Spray the liners with vegetable oil cooking spray (or just spray the muffin tin) In the mixer bowl, combine the flour with the granulated sugar, salt, baking powder, baking soda and cinnamon. Add the butter pieces and beat at low speed until the mixture resembles coarse meal. Add the sour cream and beaten egg and beat until the batter is smooth. Add the diced apple and beat just until incorporated.
Fill the muffin cups about three quarters full with the crumb cake batter. Press the streusel into clumps and sprinkle on top. Bake the crumb cakes in the center of the oven for about 30 minutes, until risen, golden and springy to the touch; rotate the pans halfway through baking. Let the crumb cakes cool slightly before serving.
Tasting Notes: This is my favorite kind of recipe. It is easy and you probably have most of the ingredients all ready in your refrigerator and pantry. Within an hour you could have these little lovelies in your hand. A Sunday snack because who turns down warm baked goods on a Sunday afternoon? Nobody, that's who! You know how sometimes coffee cake be dry and flavorless? Not these, soft and moist, full of flavor from the bits of apple, cinnamon, and sour cream. Plus, they are topped in streusel! I wish everything could be topped in
streusel
.