If you live in my house and you have a birthday, you get to choose your birthday dinner and cake. If you wanted a deep fried Big Mac sandwich with a Red Bull aoili dipping sauce... I might grimace and look at you strange
maybe
, no I will definitely ask, 'Are you smoking something I should know about?' But you'd get your damn deep fried Big Mac unless you are Rich but he says he's living under an evil regime now. I have heard Kim Jong Il muttered toward my direction a few times.
But I digress.
Depending on which kid's birthday it can be a whole month of them planning, scheming, and combing through cookbooks. French Laundry, Bouchon, and Ad Hoc being the favorite cookbooks to torture me with.
*cough cough* Katie, Nancy. *cough cough*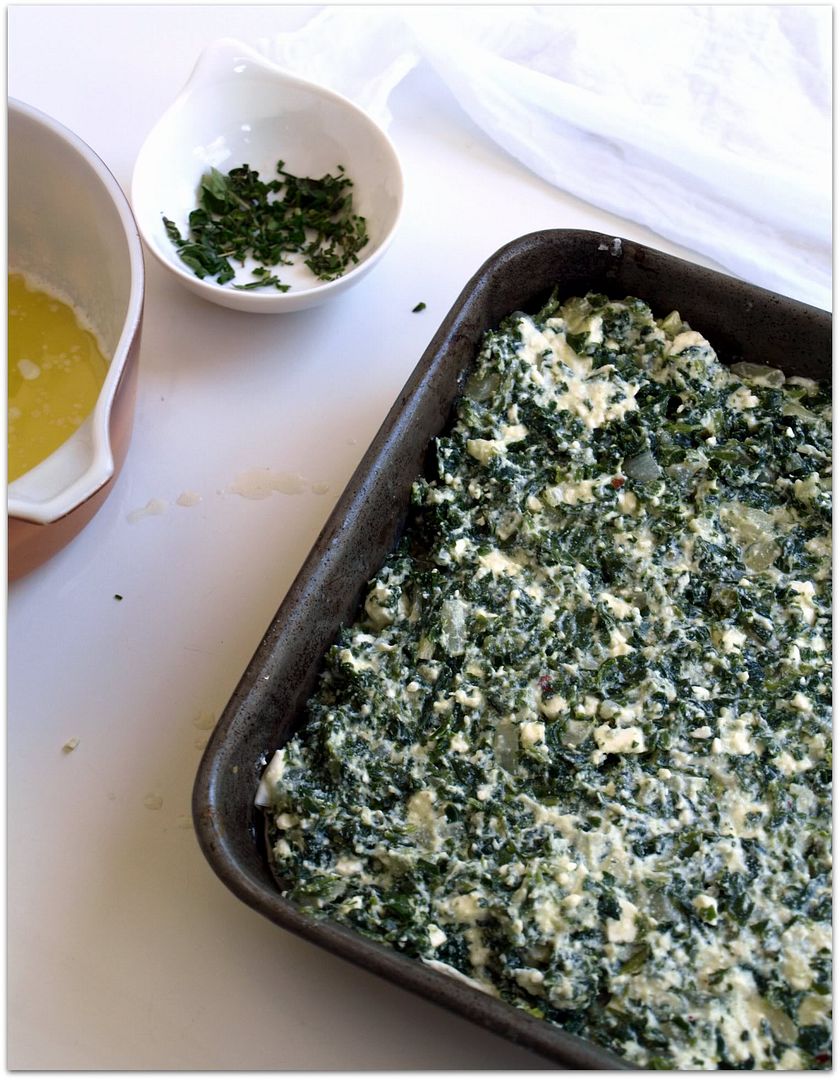 On the other hand, dinner could be like Andrew who always seems to ask for ravioli. Except for this year, when his dad had a heart attack the day before his birthday. Needless to say, I still have an IOU on his birthday dinner.
Then there is Will. Will's birthday is easy peasy laid back lemon squeezy. His birthday always falls near our local Greek Food Festival. Every year he asks to go there. This weekend being no exception. Gyros, brown butter pasta with Mizithra cheese, baklava, spanakopita, walnut cake and my favorite,
loukomades
(deep fried dough with honey and cinnamon) are just some of the things we normally sample.
To me good spanakopita is tricky to get right. The phyllo dough should be light, buttery, rich and never soggy or too greasy. There should be lots of filling that's flavorful; salty from the feta, spicy peppery from the spinach. I like more filling to phyllo dough and this recipe reflects that.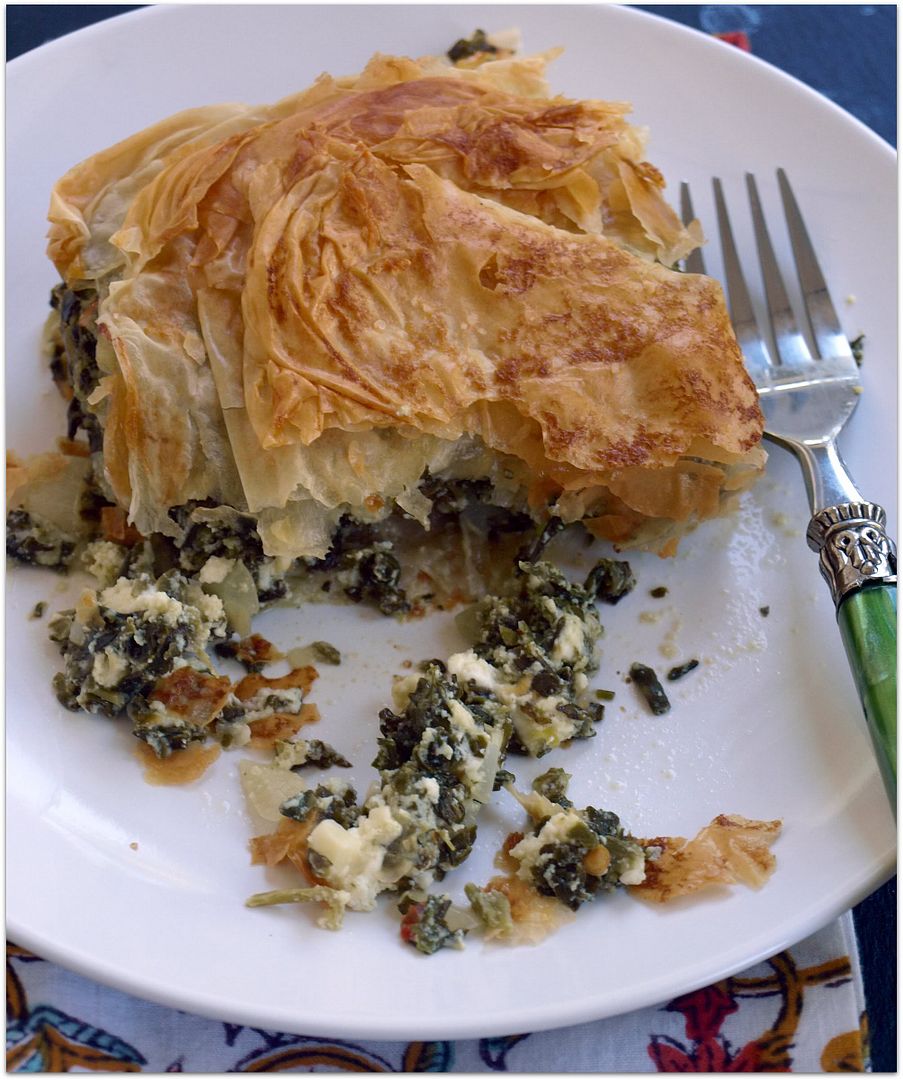 spanakopita
: recipe inspired from these sources: mostly
alosha's kitchen
, my sister stacey, barefoot contessa's back to basic's cookbook, and
vefa's kitchen
.
(printable recipe)
1 medium onion, finely chopped
8 cloves garlic, minced
1 tablespoon extra virgin olive oil
1 1/2 pounds frozen chopped spinach, thawed
1/2 teaspoon salt
1/2 teaspoon fresh ground pepper
1/4 teaspoon crushed red pepper flakes
1 teaspoon freshly grated nutmeg
splash of rice wine vinegar, optional
2 large eggs
8 ounces feta, crumbled
1 cup ricotta
4 tablespoons chives, finely chopped, divided
a handful of fresh finely chopped greek oregano, divided
1 stick (8 tablespoons) unsalted butter
1 tablespoon olive oil
1/2 lb frozen phyllo sheets, thawed
*
special equipment
: clean damp towel and a basting brush
*the night before: take out box of phyllo dough and let defrost in the refrigerator.
In large saute pan, heat 1 tablespoon extra virgin olive oil over medium heat. Add onions and garlic and saute, stirring occasionally, until softened, about 4 minutes. Let cool and then transfer to large bowl.
Add the spinach, salt, pepper, red pepper flakes, nutmeg, and the divided chives and oregano to the onion garlic mixture. In medium bowl, combine eggs, feta, rice wine vinegar and ricotta and beat well to blend. Pour the egg and cheese mixture into the bowl with the spinach and mix well.
In a separate small bowl, combine remaining chives and oregano and set aside. Melt butter in a small saucepan.
Preheat oven to 350 degrees. Brush one tablespoon olive oil and a dab of melted butter on the bottom of a 9-inch x 13-inch pan. Carefully unroll the phyllo. Make sure you have a damp towel ready to lay back down on top of the stack as you remove each sheet of phyllo. If you do not lay down a damp towel, the dough will easily become brittle and dry. Place one layer of phyllo on the bottom of the pan. Brush with butter and sprinkle with the chives and oregano. Repeat, using 10 sheets of phyllo total, brushing each layer of phyllo with the butter as you go. The chives and oregano should be added every other layer. After 10 sheets, pour the spinach cheese mixture into the pan, spreading it in an even layer across the dough. Continue placing the remaining 10 layers of phyllo on top of the filling, making sure to brush each layer with melted butter, keeping the remaining sheets damp, and seasoning with the chive-oregano mixture every other sheet. Make sure the top is buttered and add a dash of kosher salt and ground pepper to taste.
Bake for 35-45 minutes, until phyllo is golden brown and crisp. Cut into squares or triangles and serve hot.
*** If you noticed there are now printable recipes!!! It will take a while to get the every evil chef mom recipe converted but if you run into a problem or something doesn't print, please let me know at krysta[@]evilchefmom[.] com. I would greatly appreciate it.***