Hey! Hi! Come here. I have a secret I want to share with you. Come in closer because I'd rather whisper it in your ear. I don't want
everyone
to know. Just you. Come closer. Okay, ready? Promise me you won't laugh? All right... deep breath.
'I have a rather addictive personality. No, no, no, really I don't think you understand. I stayed away from the internet for years because I knew what would happen and it did. I don't gamble because I'd never leave the casino until Pesci and DeNiro, a la Casino, took a hammer to my hands. I try to stay away from Tetris and Angry Birds because duuuude I would end up fused to the couch and the fire department would have to haul me away on a flat bed with me still attached to the couch. My kids have been known to become orphans when a new Harry Potter book came out. Now it's Pinterest.'
Stop laughing.
So yeah,
Pinterest
. If you have never heard of it, let me say Pinterest is like a highly narcotic drug for OCD addictive type personalities, IT'S AWESOME. Lots of Oprah voice going on right there also add some jazz hands so you understand how awesome it's awesomeness really is. The only way I can describe it is how kids must feel on the internet today when they discover a whole world of pornography out there. My discovery is innocent but there is still that level of fascination and excitement and a little bit of shame about how much time I spent on Pinterest. Good thing about Pinterest is I am not growing hair on my hands or going blind. So I got that going for me.
A virtual pinboard of everything you like on the internet in tidy subject categories. For me, a teenager who was obsessed over my bulletin board and walls in my bedroom...adding favorite pictures of the hot band or teen heartthrob, favorite advertisements of shit I wanted when I would be a fabulously rich adult (clothes, makeup, cars) stickers that came attached to the price tags of the clothes. You get the picture... material greed at its teenagery best. Now, I have a new bulletin board that never runs out of room or gets messy. I'm all giddy just typing that.
I'm a little obsessed right now but the good thing is that I have discovered and tried a lot of new things because of it.
Like
this cake
. Good Lord, that picture made me smile and sent me off in a tailspin of obsession. I kept wondering what excuse I could possibly find to make it. I think it was because it looks so happy and this summer was not full of much happiness. Who pouts and is all get off my lawn when you see a funfetti cake? That's right NO ONE because it's funfetti, FUN is in its name. It's bright and colorful and gosh darn it people like me (meaning:cake). Tender moist white cake, buttercream frosting, and jimmies sprinkled through out and on top. Call the SWAT team because it's a sugar bomb of great proportions.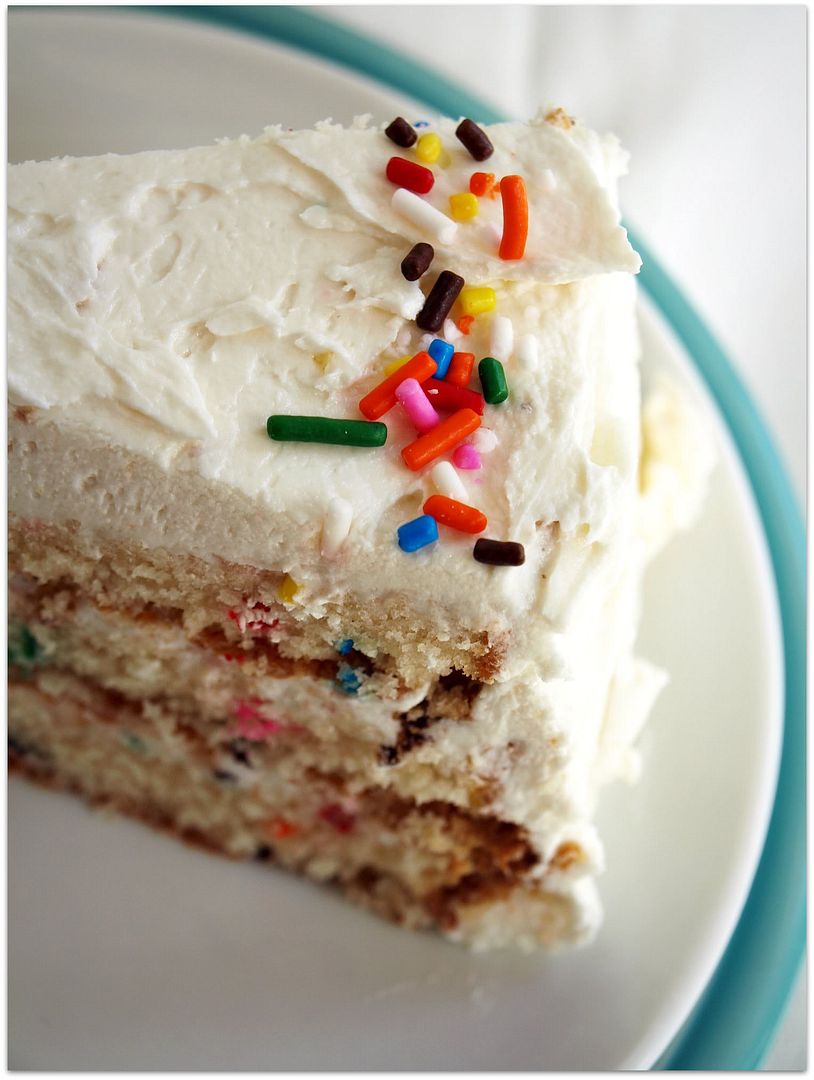 homemade funfetti cake
: inspired from
the kitchn

.
cake recipe from ad hoc at home by thomas keller
(printable recipe)
white cake:
3 cups all purpose flour
2 teaspoons baking powder
3/4 teaspoon kosher salt
12 tablespoons (1 1/2 sticks) unsalted butter, cut into pieces, at room temperature
2 3/4 cups granulated sugar
1 teaspoon pure vanilla extract
1 1/4 cups whole milk
3/4 cups egg whites (from about 6 large eggs)
*
, at room temperature
1/3 cup of multi-colored jimmies (it is one whole bottle)
vanilla buttercream frosting:
1 cup unsalted butter (2 sticks) softened
3-4 cups confectioners sugar, sifted
1/4 teaspoon table salt
1 tablespoon vanilla extract
up to 4 tablespoons milk or heavy cream
extra jimmies for decorating
baking the cake
:
Preheat oven to 350 degrees. Butter and flour two 9 inch cake pans.
Sift together the flour and baking powder into a bowl. Stir in salt. Set aside.
In a bowl of a standing mixer fitted with a paddle, beat the butter and 1 1/2 cups of sugar at medium speed to combine. Increase the speed to medium high and beat, scraping down the sides as necessary, until the mixture is pale and thick, about five minutes. Beat in vanilla, then add the dry ingredients in 3 additions, alternating with the milk in 2 additions. The batter will be thick. Transfer batter to a large bowl.
Put egg whites into a clean mixer bowl and whisk on medium speed until whites begin to foam. Increase speed to medium high and gradually add the remaining 1 1/4 cups of sugar, then beat on high speed until the meringue is thick and glossy and holds almost stiff peaks. Fold one third of the whites into the batter to lighten it, then fold in the remaining whites. Gently add the 1/3 cup of jimmies and fold into cake batter until thoroughly combined.
Divide batter evenly into the prepared pans. Bake for 25-30 minutes or until tops are slightly golden and spring back when pressed. Remove from oven and place pans on baking racks to cool for about 10 minutes. Turn pans over onto rack to release the cakes (almost wrote Kracken). Flip cake layers over and let them cool completely before frosting.
make the frosting
:
Beat butter for a few minutes with a mixer with the paddle attachment on medium speed. Add 3 cups of powdered sugar and turn your mixer on the lowest speed until the sugar has been incorporated with the butter. Increase mixer speed to medium and add vanilla extract, salt, and 2 tablespoons of milk and beat for 3 minutes. If your frosting needs a more stiff consistency, add remaining sugar. If your frosting needs to be thinned out, add remaining milk 1 tablespoon at a time.
*
with all those extra egg yolks laying around, I recommend maybe making some homemade ice cream to go with the cake.