Alternate title for this post: .... and
BOOM
goes the dynamite!!!!
So... I bet if I told you that I am one hot mess right now, you'd probably believe me without even knowing why I am such a hot fantastic mess. You'd say, 'Krysta, I've been reading your blog for quite some time and everything you've written so far....well, yeah, ummm to put it nicely you ARE a hot mess. P.S. Please stay away from me, I am not sure if your drama/bad luck is contagious.'
I wish there was a vaccine. Maybe then I could get inoculated from all this crap.
And you haven't even heard half of it.
Seriously.
I know someone who will actually
physically recoil
from you if you even look like you have had dramatic day. What I am about to tell you would make her shit her pants in holy terror and run away like her hair was on fire. Especially after everything else that has happened since the beginning of 2011 i.e. the stuff that you guys don't know about.
Anyways...
I have a stress fracture in my foot.
Make all the jokes you want.
Or get all metaphysical.
Trust me, I have thought of them all because when your husband is recuperating from a heart attack and you are laid up in a super sexy orthopedic boot
and
both of you are at home THERE IS OH SO MUCH TIME TO THINK (even though you can't see me I am wildly gesticulating this point). Also, there is time to discuss every single thing that you are thinking. Ad nauseum.
Allrighty, now that I have made my point, let's talk cheap tacos or as my mom would call them gringo tacos. I have also heard them called okie tacos. Kind of like
White People's Chinese Food
or WPCF for short, these are WPMF (white people's mexican food). And when I tell my family with the surname of Guerrero that we are having cheap tacos... they get excited. Strange, I know.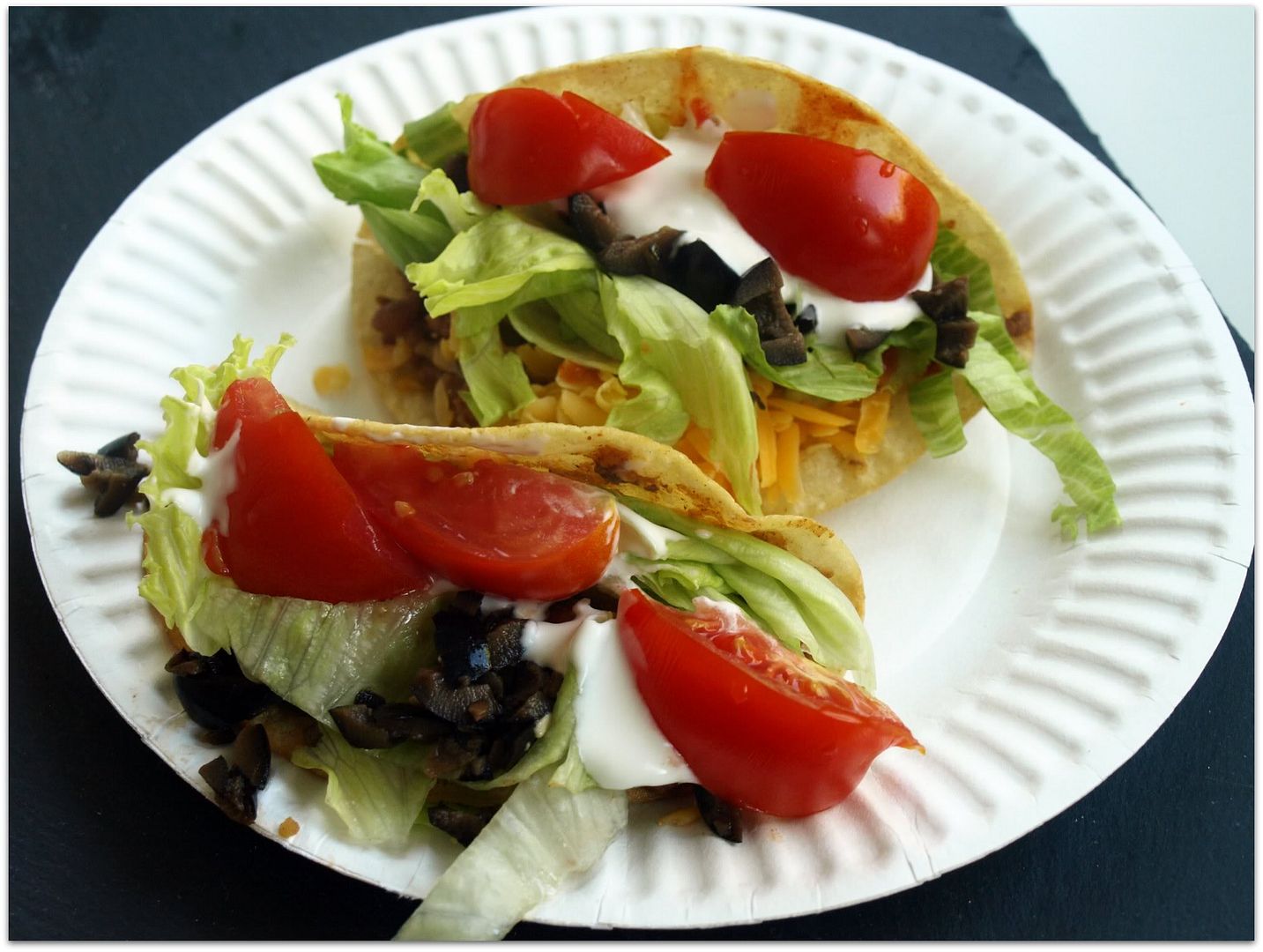 Before you start sending crappy emails about authenticity yada, yada, yada... this a a happy dish from my childhood and if you don't like it.... fine. Move along, there is nothing to see here. There are some things that make a cheap taco, well, a cheap taco. Ground beef, taco seasoning, canned refried beans, iceberg lettuce, chopped olives, and some grease. Change these ingredients and you change the integrity of the dish.
cheap tacos
:
1 pound of ground beef (not super lean)
1 package of Lawry's Taco Seasoning
1 can (30 ounce) refried beans
grated sharp cheddar cheese
chopped iceberg lettuce
sour cream
chopped black olives
homemade pico de gallo or chopped tomatoes
hot sauce (I really recommend
Pico Pica
)
good quality corn tortillas, fried into taco shells, drained on a paper towel
In a good sized frying pan, brown ground beef over medium high heat until brown. Don't drain the grease unless there is way too much grease... use your good judgement. Add taco seasoning and mix well. Add refried beans and mix again. Heat mixture until the beans and ground beef are bubbly. That's it. Make your tacos. Serve on paper plates with plenty of paper towels.
:::
Rich just asked me what I was writing about. I told him cheap tacos. He groaned and asked if he could have still have those. I told him I don't think so... he moaned. Poor dude.
* thanks for all your suggestions, I know that we can still have these tacos... modified but it won't be the same cheap tacos as before.