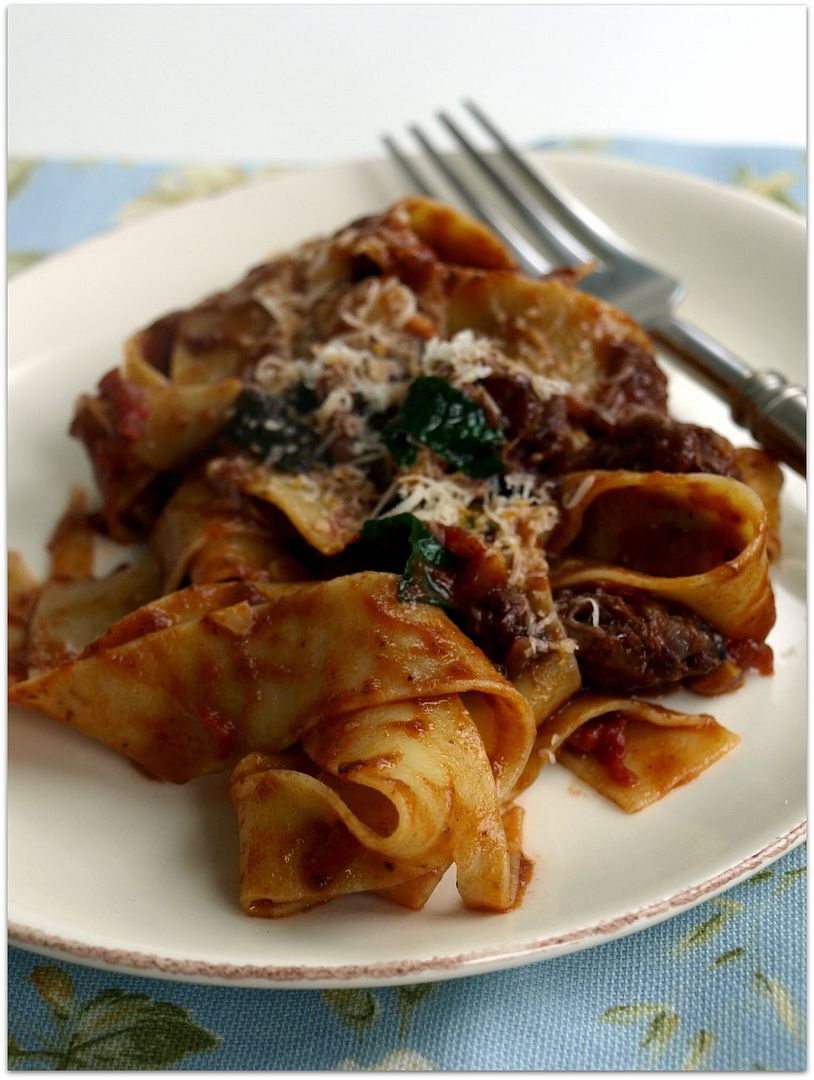 I hope that me only having one picture of this dish will not dissuade you from making this dish. Actually it should be an indication of how good this dish actually was. I didn't have the patience to style it or take multiple shots. You know when your house smells so good from whatever your cooking that you cannot wait to eat? This was that dish. This made the house smell criminally
in
sanely good. I stood by the stove impatiently tapping my toes waiting for the timer to beep to let me know that it was ready.
This meal was a surprise. I mean, I knew it was going to be good... how can beef braised in red wine for hours not be good? But I was a little worried about adding all that mint
and
cooking it in mint
and
sprinkling mint on the finished dish. It seemed, well, like it would be a tad bit
minty
. It wasn't. I don't know why it wasn't or how that worked but it wasn't minty. Also, I'm a little miffed because since it's now warming up where I live I can't make this again until next fall when it starts to cool off again. Boo!
:::
Some notes: I would have had this recipe 2 days earlier if I would have read the recipe first. Duh! You need to marinate the beef overnight first. Don't make my mistake.
Also, at
Incanto
where this dish is served Chris Cosentino makes this with oxtail and beef shank... so trying that next time.
The recipe calls for trimmed boneless beef shank. I bought bone-in beef shank, trimmed and cut it into pieces myself, then browned the bone with meat and let it braise together to add more flavor to the brasato After the dish was done, I made some sourdough toast slathered in butter, spread the braised marrow on top and sprinkled it with salt after all that waiting. Seriously sinful, wonderful, delicious, rich and a little bonus just for me. I highly recommend you do the same.
:::
beef brasato with pappardelle and mint
: adapted from food & wine april 2011
2 3/4 pounds trimmed boneless beef shank, cut into 2-inch pieces
one 750-milliliter bottle dry red wine
15 mint sprigs, stems reserved
salt and freshly ground pepper
1/4 cup extra-virgin olive oil
one 35-ounce can peeled Italian tomatoes, crushed
1 pound pappardelle
4 large garlic cloves, thinly sliced
freshly grated parmigiano-reggiano cheese, for serving
In a large resealable plastic bag, combine the beef with the wine, mint stems and a generous pinch of salt and pepper. Seal the bag and refrigerate overnight.
Preheat the oven to 325°. Drain the beef, reserving the marinade; discard the mint stems. Pat the beef dry. In a large enameled cast-iron casserole, heat 2 tablespoons of the olive oil. Add half of the meat to the casserole and cook over moderately high heat, turning occasionally, until well browned all over, about 12 minutes. Transfer the meat to a plate. Brown the remaining meat over moderate heat.
Return all of the meat to the casserole. Add the marinade and bring to a boil. Add the tomatoes, season with salt and pepper and bring to a boil. Cover and braise in the oven for about 2 hours and 15 minutes, until the meat is very tender.
Using a slotted spoon, transfer the meat to a plate and shred with 2 forks. Boil the braising liquid until reduced to 2 1/2 cups, about 20 minutes.
Meanwhile, in a large pot of salted boiling water, cook the pappardelle until al dente. Drain and return the pasta to the pot. Add the meat and the reduced braising liquid and cook over moderate heat, stirring, until the pasta is well coated with the brasato, about 2 minutes.
In a small skillet, heat the remaining 2 tablespoons of olive oil until shimmering. Add the garlic and cook until lightly golden, about 1 minute. Add the mint leaves and cook for 10 seconds. Pour the garlic-mint oil over the pasta and toss. Serve in shallow bowls, passing the cheese alongside.