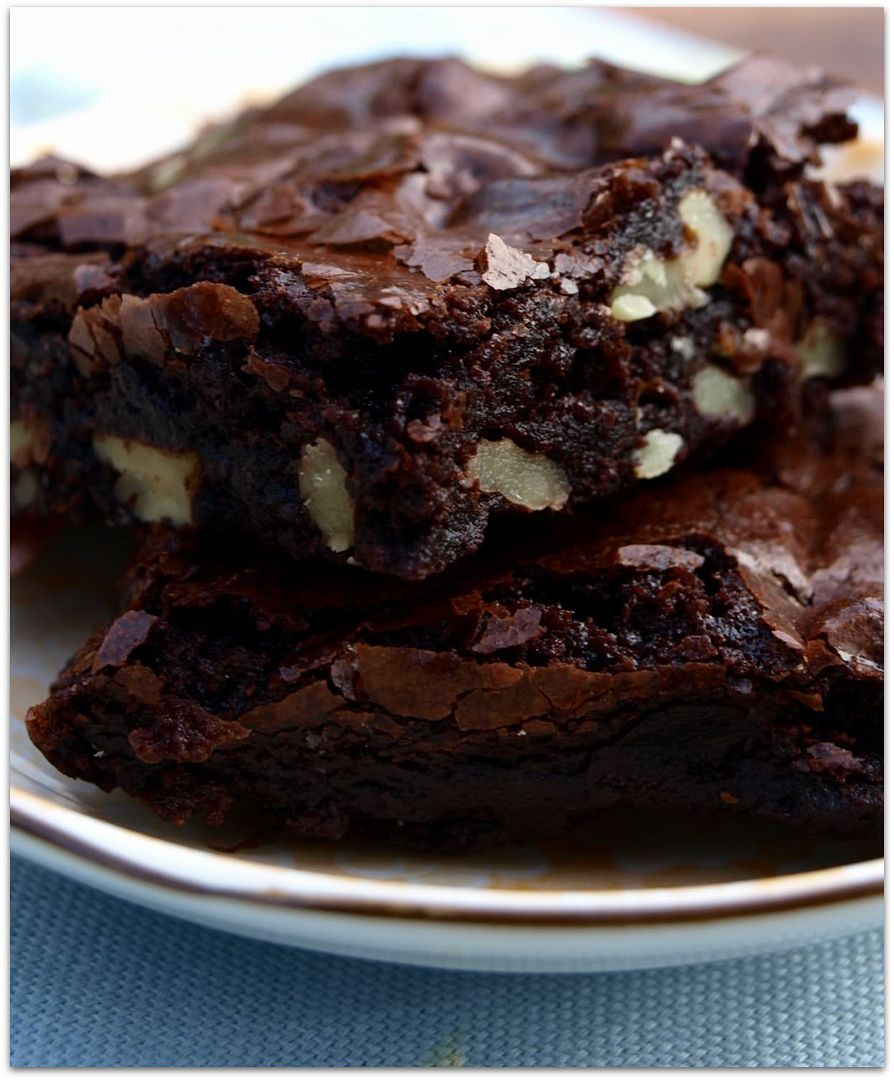 Ok, so Bon Appetit says that these are
BEST-EVER BROWNIES Warning: You
Will
Eat The Entire Tray.
I mean they put it right there on the front of the February 2011 cover. I think you better be damn sure these are good brownies to make that kind of claim on the front of a magazine unless you are Life and Style magazine and you put whatever you want on the cover... true or not.
Here's my deal, I think some mathematician should come up with a formula for recipes. Something like:
ease of the recipe [squared]
+ number of ingredients - the number of dishes dirtied x by the actual outcome of said recipe = said recipe greatness
In this case, yes, this recipe is one of the best ever.
But are they the best
best
ever? In my opinion... it's a tie for second place. (sorry but ad hoc's brownies with caramel sauce kick ass so therefore take first place every time) I mean these cocoa brownies are good, they have that crackly top and are fudgy and chewy everything I look for in a brownie. And because of the mathematical formula above. I think I used the pot to cook the butter in, a spoon to stir the brownie mix, and the pan to bake it in (which didn't even get dirty because it was covered in foil) Also these are so easy, I have made them four times since I this Bon Appetit appeared in my mailbox.
So that counts for something.
cocoa brownies with browned butter and walnuts
: bon appetit february 2011
makes 9-16 brownies (it really depends on how you cut them)
*also these are highly adaptable, i have made them with hershey's special dark cocoa, without walnuts, a half and half combo of dutch processed and regular natural cocoa, i have threw in a couple teaspoons of instant espresso powder and i haven't made a bad batch yet. though if i had one complaint about this recipe is that it doesn't make enough brownies and they are a little on the thin side if you like you brownies thick.
nonstick vegetable oil spray
10 tablespoons (1 1/4 sticks) unsalted butter, cut into 1-inch pieces (5 ounces or 141.747616 grams) other than that, here is a
conversion chart
1 1/4 cups sugar
3/4 cup natural unsweetened cocoa powder
1 teaspoon vanilla extract
2 large eggs, chilled
1/3 cup plus 1 tablespoon unbleached all purpose flour
1 cup walnut pieces
Position rack in bottom third of oven; preheat to 325°F. Line 8x8x2-inch metal baking pan with foil, pressing foil firmly against pan sides and leaving 2-inch overhang. Coat foil with nonstick spray. Melt butter in medium saucepan over medium heat. Continue cooking until butter stops foaming and browned bits form at bottom of pan, stirring often, about 5 minutes. Remove from heat; immediately add sugar, cocoa, 2 teaspoons water, vanilla, and 1/4 teaspoon (generous) salt. Stir to blend. Let cool 5 minutes (mixture will still be hot). Add eggs to hot mixture 1 at a time, beating vigorously to blend after each addition. When mixture looks thick and shiny, add flour and stir until blended. Beat vigorously 60 strokes. Stir in nuts. Transfer batter to prepared pan.
Bake brownies until toothpick inserted into center comes out almost clean (with a few moist crumbs attached), about 25 minutes. Cool in pan on rack. Using foil overhang, lift brownies from pan.
:::
here are two of my favorite brownie recipes on ecm:
ad hoc brownies with caramel sauce
outrageous brownies from the barefoot contessa
Since I stated this blog in 2007, I have now featured 7 brownie recipes. That's insane, I am starting to feel like I am searching for the Holy Grail of brownie recipes.