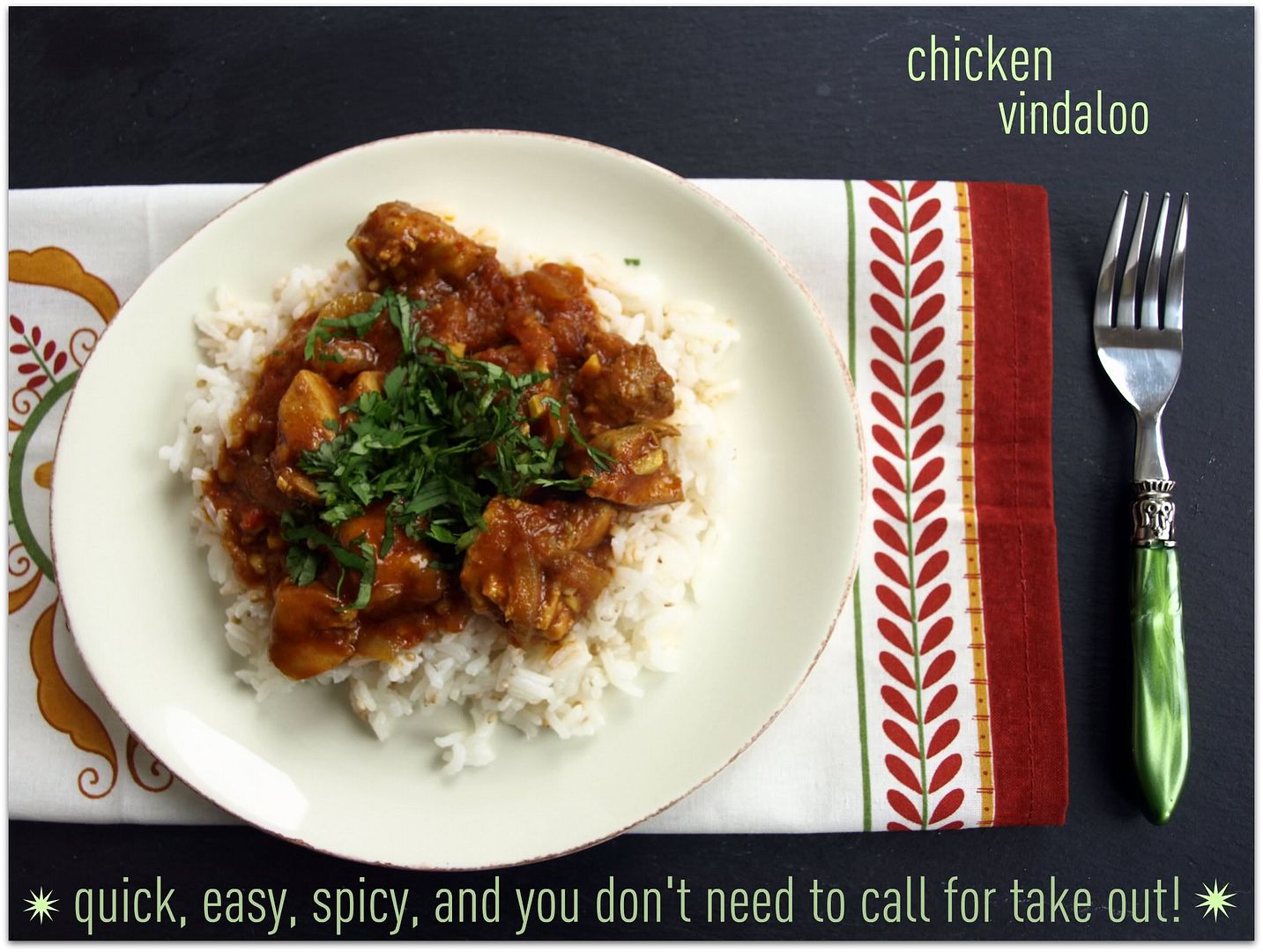 I should have also added it doesn't make you house stink for days... but I will leave that for you to find out on your own.
Anyways... my friend
Melissa said this about her tikka masala

.
"Every time I made it, I spent the following morning at work anxious and fidgety waiting for lunchtime to draw near so I could inhale the leftovers. So good. I could use all the adjectives in my arsenal, but instead, I'll simply suggest you try it for yourself. PLEASE."
Truer words were never spoken because I feel the same way about this dish... and I will leave it at that.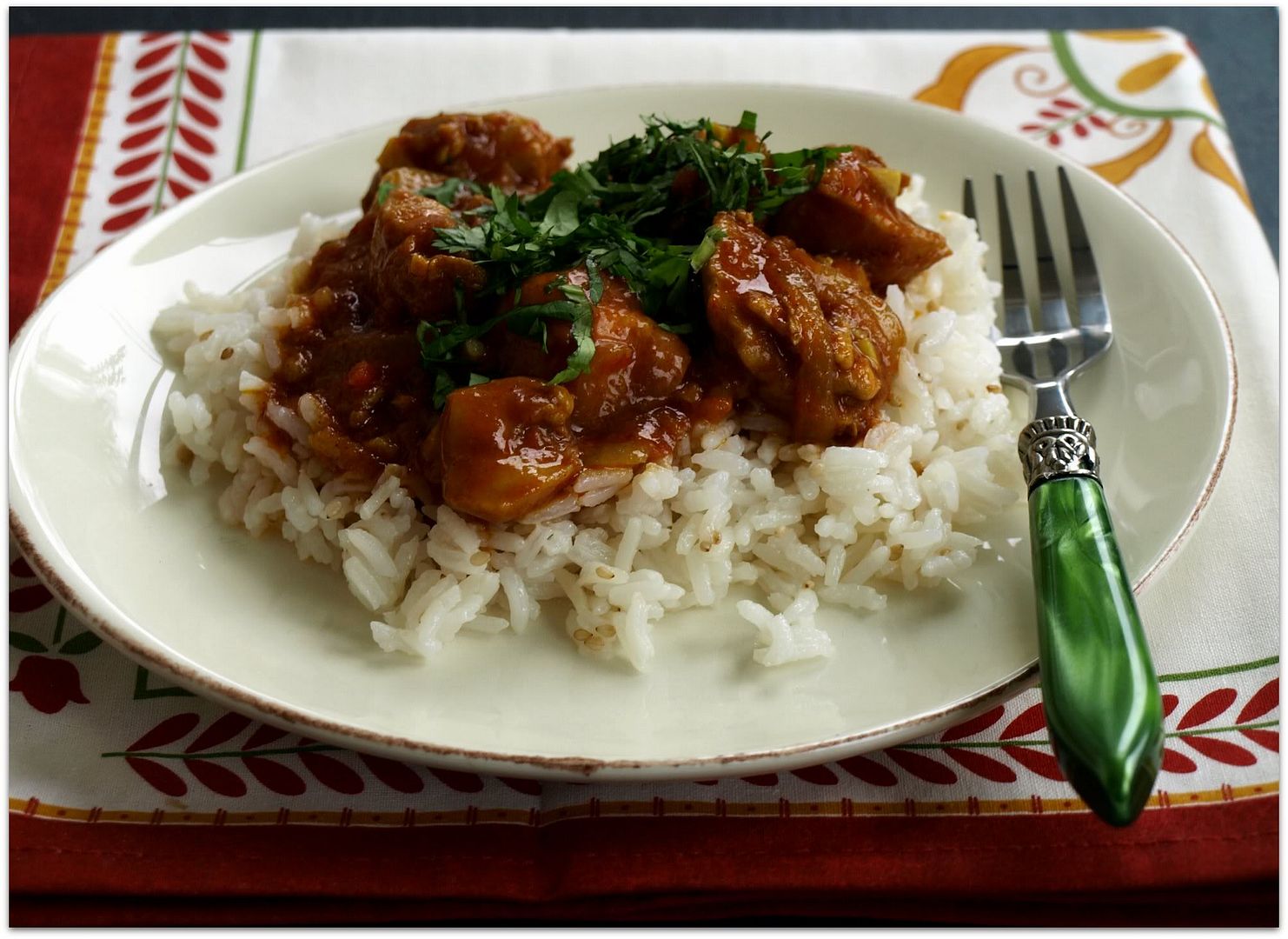 chicken vindaloo
: adapted from fine cooking and
chaos in the kitchen
.
remember you adjust the spices to your liking. I like spicy so spicy is what I made. If you don't care for spicy use mild curry powder and use more paprika instead of cayenne. I served this with jasmine rice spiked with sesame and mustard seeds. And you have to have naan to mop up the extra sauce!
1-1/2 tablespoons of hot curry powder
1 teaspoon of cayenne pepper
1/2 teaspoon paprika
1 teaspoon of ground cumin
1 teaspoon of ground mustard
1/4 teaspoon ground cardamom
freshly ground black pepper
1-1/2 lb. boneless, skinless chicken thighs, trimmed and cut into 3/4- to 1-inch pieces
8 medium cloves garlic, minced
4 tablespoons red wine vinegar
kosher salt
2 tablespoons vegetable oil
1 medium yellow onion, thinly sliced
1 Tbs. grated fresh ginger
1 (14-1/2-oz). can crushed tomatoes
3 Tbs. chopped fresh cilantro
In a small bowl, stir the curry powder, cayenne, paprika, cumin, mustard, cardamom, and 3/4 teaspoon of black pepper. Put the chicken in a medium nonreactive bowl, sprinkle with a little more than 1 tablespoon of the curry powder mixture, about half of the garlic, 2 tablespoons of the vinegar, and 3/4 teaspoon salt; toss to coat. Set aside at room temperature.
Heat the oil in a 10- to 11-inch straight-sided saute pan over high heat until shimmering. Add the onion and ¼ teaspoon of salt and cook, stirring occasionally with a wooden spoon, until it softens and begins to brown around the edges, 4 to 5 minutes. Reduce the heat to medium high, add the ginger, the remaining garlic, and the remaining curry powder mixture and cook, stirring, until fragrant and well combined, about 45 seconds.
Add the tomatoes and mix to combine, scraping the bottom of the pan with the spoon. Stir in the chicken, the remaining 2 tablespoons vinegar, and 2/3 cup water. Bring to a boil, cover partially, reduce the heat to medium, and simmer, stirring occasionally, until the chicken is tender and cooked through, 15 to 20 minutes. Season to taste with salt and pepper. Serve sprinkled with the cilantro.