My kids and the hubs are thieves. Food thieves. Not in that cute Charles Dickens 'Please Sir, may I have another?' Waifish, big teary eyed, with a smudge of dirt on the chin food thief.
(for example: this is not my kid)
Nope, my enemies are the black ops mercenary type... swift as a ninja, silent as a samurai, Jason Bourne in their food thief reflexes.
(they look a little more like this but not as adorable)
The perfect bite of english muffin. You know the one that's perfectly golden with puddles of butter melted in it's nooks and crannies? Gone before you can say fork split. The red ripe juicy strawberry that you set aside to take the picture of all it lushness? Disappeared as the shutter clicked. So swift the camera couldn't catch it.
I have to be shrewd, cunning, and calculating in the kitchen. To stop them from eating my plate of food at all costs because this is war. I would also starve to death and they would let me.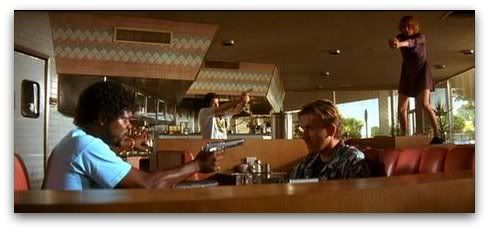 So today there was a
Mexican standoff
in my kitchen.
Rich tried to eat a bite of my breakfast biscuit sandwich when my back was turned. In my most menacing Dirty Harry voice all I had to say was, 'Think this through, do you really want to do that?'
'Why?'
'Go ahead and take a bite.' I nodded toward the biscuit.
'Why?'
'Take a bite.'
'Why?'
'If you want it so badly... go ahead take a bite but don't say I never warned you.'
'Why?'
"It has jam in it.'
'Umm, on second thought, no that's okay.'
"Good. Now put the biscuit down on the plate, slide the plate to me and slowly step away from my sandwich Honey Bunny.'
Rich doesn't like sweet with savory. I know this, this is why I made this recipe. He doesn't know what he's missing but that means more for me. But my kids will eat anything and they know.
They know I can't sabotage my food because they are ruthless and will try anything.
breakfast biscuit sandwiches
: food and wine january 2010
serves 10
Okay... here's the deal this isn't an egg mcmuffin or some fast food mushy mealy mess. This is good stuff and even better if you add some good raspberry jam to the mix. It adds a little sweet and tart to the saltiness of the ham and cuts a little bit of the richness of the eggs and biscuits.
4 cups all-purpose flour, plus more for dusting
2 tablespoons kosher salt
1 1/2 tablespoons baking powder
1 teaspoon baking soda
2 sticks unsalted butter, cubed and chilled, plus more for spreading
1 1/2 cups buttermilk
10 ounces sliced country ham, for serving (I made one with bacon and it was awesome just keeping you informed if you wanted to have this but were like ' Darn it! I can't make it because I only have bacon.')
10 ounces sliced cheddar cheese, for serving
10 fried eggs, for serving
raspberry jam, for serving (optional)
Preheat the oven to 400°. Line 2 baking sheets with parchment paper. In a large bowl, whisk the flour with the salt, baking powder and baking soda. Using a pastry blender or 2 knives, cut in the butter until it is the size of small peas. Add the buttermilk and stir until a shaggy dough forms.
Turn the dough out onto a floured surface; knead until it comes together. Pat the dough 3/4 inch thick. Using a 3 1/2-inch round cutter ( I use a juice glass which works perfectly), stamp out as many biscuits as possible. Reroll the scraps and stamp out more biscuits.
Transfer the biscuits to the baking sheets and bake for about 30 minutes, until golden and risen, shifting the pans halfway through baking. Let the biscuits cool.
* I want to add a note right here. Katie made the biscuits and she said they only needed about 12-15 minutes at 400 degrees. I am wondering if that's a misprint on the magazines part.
Split the biscuits and spread with butter. Preheat a griddle and cook the biscuits, cut side down, until golden. Fill the biscuits with ham, cheddar and fried eggs. Spread with raspberry jam, if desired. Close and serve.