There is something about soup that I just adore.
Maybe it's the being able to cup a bowl in your chilly hands after a long stressful day. Or that it's a lazy food, heck you don't even chew (most) soups,
even better
after a stressful day. [don't judge] Soup is something you throw all together and then leave it alone for awhile. It's not demanding of your attention... *sigh* like four kids and a husband.
I like soup for one other reason, it's a chance to use some of my 50 or so bowls in my collection. Some people collect spoons or high heels. I have bowls.
::::
Every year I add a new recipe to the soup repertoire. It becomes the soup in heavy rotation for the season so by the time winter ends everyone is thoroughly sick of it. Last year, it was
chicken tortilla soup
. The year before that it was
Portuguese sweet potato and sausage soup
. Anyways... I declare this is the soup for 2010-2011 season.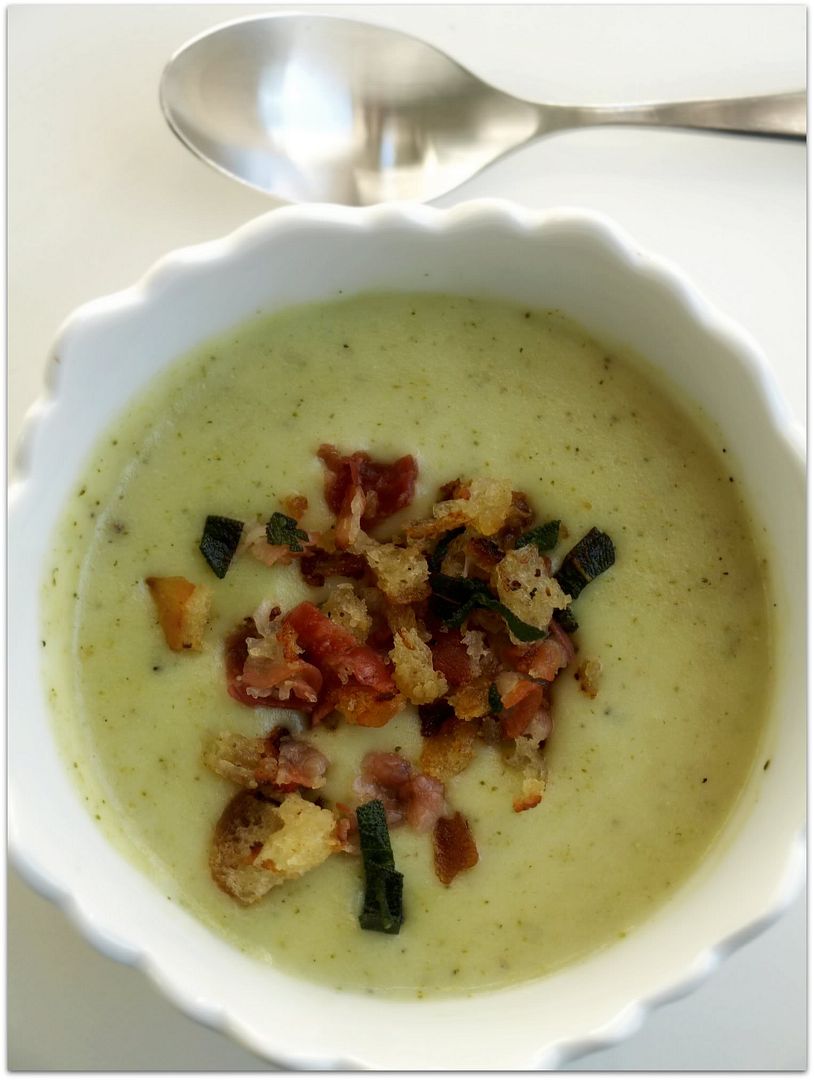 potato, leek, and broccoli soup w/ pancetta crumbs
: adapted from food & wine november 2010
1 1/2 sticks unsalted butter
6 small leeks, white and light green parts only, thinly sliced (4 cups)
4 pounds large Yukon Gold potatoes, peeled and thinly sliced
1 bunch broccoli—florets coarsely chopped, stems peeled and sliced
10 cups chicken stock (you can subsitute 4 cups of stock and 6 cups of water)
2 cups heavy cream
salt and pepper
one 12-ounce loaf of sourdough bread, crusts removed and bread cut into 1-inch cubes
1/4 cup olive oil
2 ounces thinly sliced pancetta, finely chopped (1/4 cup)
3 tablespoons chopped sage
1 tablespoon chopped rosemary
In a very large pot, melt 1 stick of the butter. Add the leeks, potatoes and broccoli and cook over high heat for 10 minutes, stirring frequently. Add the stock, cover and bring to a boil. Simmer over moderate heat until all of the vegetables are tender, about 10 minutes. Working in batches, puree the soup until very smooth. Return the puree to the pot and stir in the heavy cream. Season the soup with salt and pepper. Keep warm.
Meanwhile, pulse the bread cubes in a food processor until coarse crumbs form. In a large skillet, melt the remaining 4 tablespoons of butter in the oil. Add the pancetta, sage, rosemary and bread crumbs and cook over moderately high heat, stirring frequently, until the crumbs and pancetta are browned and crisp, about 10 minutes. Drain on paper towels.
Ladle the soup into bowls, garnish with the pancetta crumbs and serve.