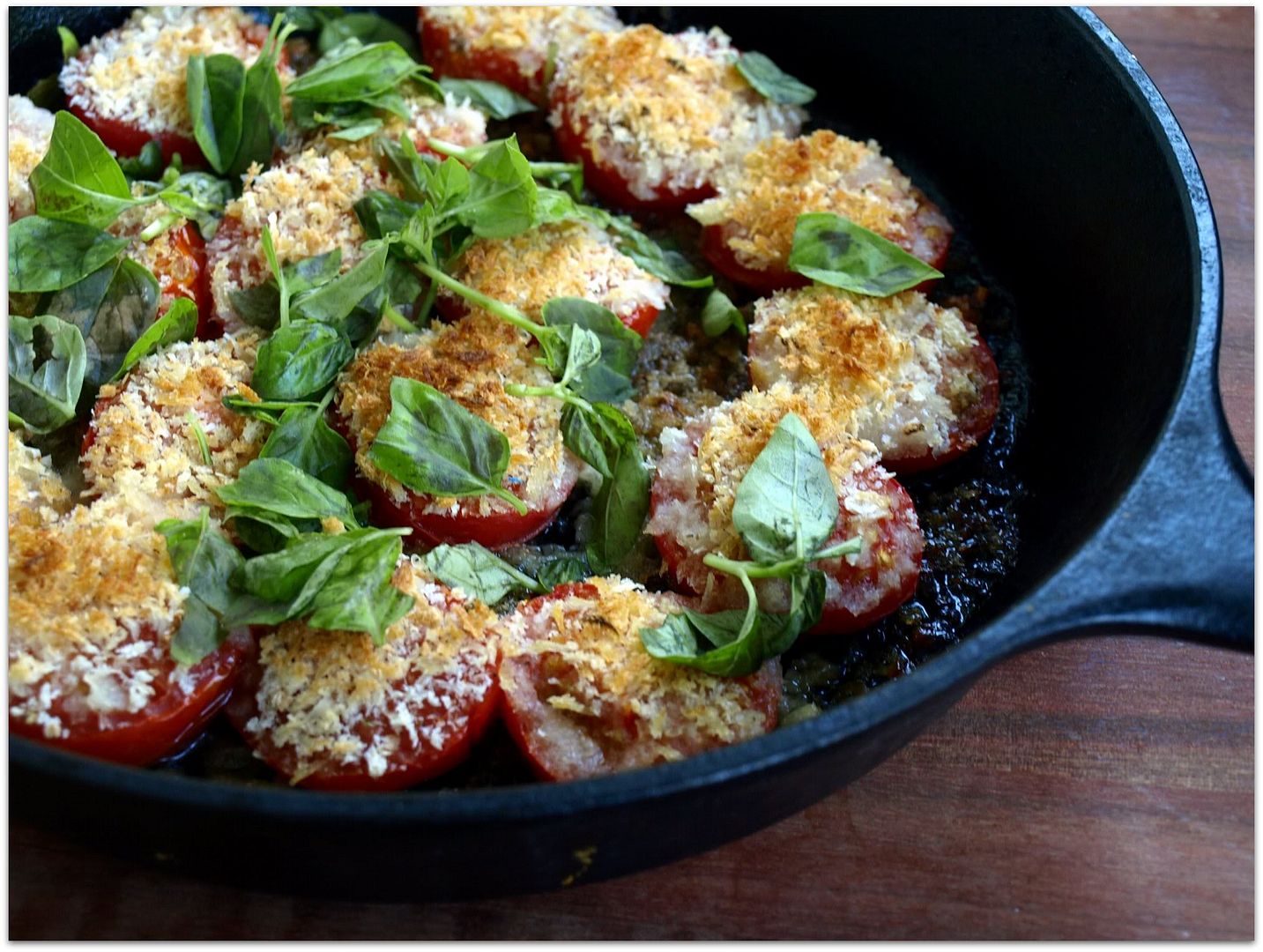 Go with me here for a second...
Let's pretend you are at the movies. Small bag of ten dollar popcorn in your hand, five dollars refreshing beverage of your choice to quench your thirst, an empty wallet to see a crappy action summer movie just so you could be out of the oppressive heat? Priceless.
Comfy?
Lights dim and the best part of the movie comes up: THE TRAILERS!
Cue Action Music...
In a world of fast cars and even faster women. There's one one who can out cook them all. Meet Evil Chef Mom. When her tomatoes in her garden are coming in FAST and FURIOUS... she has no choice but to go at them hard!
Sharpen your knives and start your engines.
Fast and Furious: A4 The Road To Pomodoro
If you don't make this dish she will drive to your house and kick you in the shins!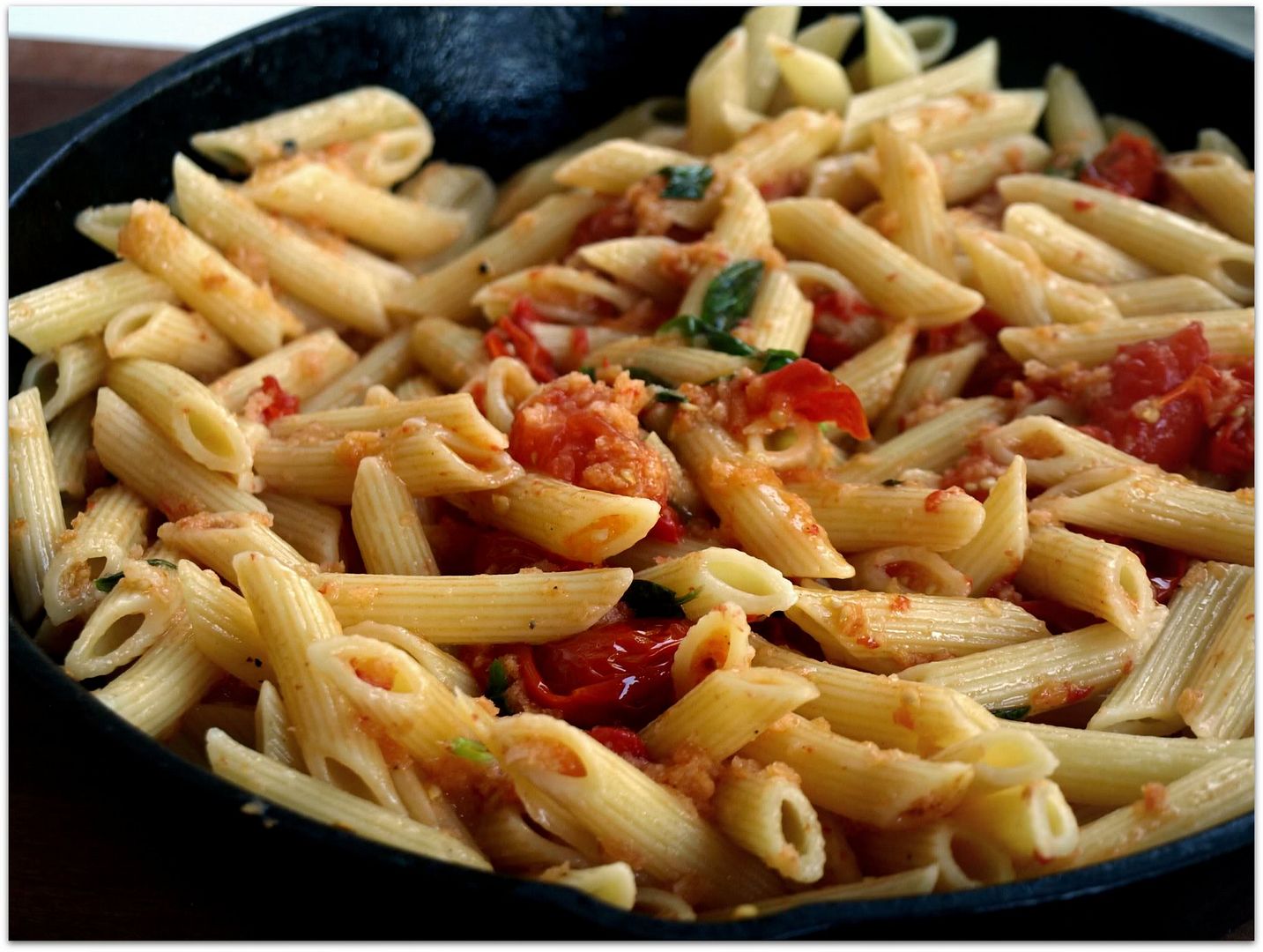 baked tomato sauce
: adapted from
the wednesday chef
1/3 cup melted butter
2-3 pounds very ripe tomatoes, halved... The recipe calls for 1 pound of cherry tomatoes, I used a couple pounds of small early girl tomatoes.
1/3 cup panko break crumbs
1/4 cup + 2 tablespoons freshly grated Parmigiano
2 garlic cloves, finely chopped
Salt and freshly ground pepper
1 pound dried penne
1/4 cup loosely packed fresh basil leaves, torn
Preheat the oven to 400 degrees. Grease a 13-by-9-inch baking dish or a cast iron pan with one-third of the oil. Place the tomatoes cut side up in the dish. Pour melted butter over tomatoes.
In a small bowl, combine the bread crumbs, cheese, and garlic and toss with a fork to mix well. Sprinkle the bread-crumb mixture over the tomatoes, making sure that each cut side is covered with the crumb mixture. Sprinkle with salt and pepper. Bake until the tomatoes are cooked through and the tops are golden brown, about 20 minutes.
Meanwhile, bring a large pot of salted water to a boil. Add the pasta and cook until al dente.
Time the pasta so it finishes cooking about the time the tomatoes are ready to come out of the oven.
When the tomatoes are done, add the basil and stir to mix everything into a sauce. Drain the pasta and immediately place it to the baking dish. Mix well. Serve at once.
Tasting Notes: It's not often that I threaten bodily harm to get my point across about a dish. I understand food blogs are often a leaping point to create your own dishes. But this dish is something
YOU HAVE TO MAKE!
It doesn't look fancy but it is just wonderful and don't let anybody have the crusty cheese bits stuck to the pan after serving... save those for yourself. After all you cooked this dish, there is no reason to have to share everything.