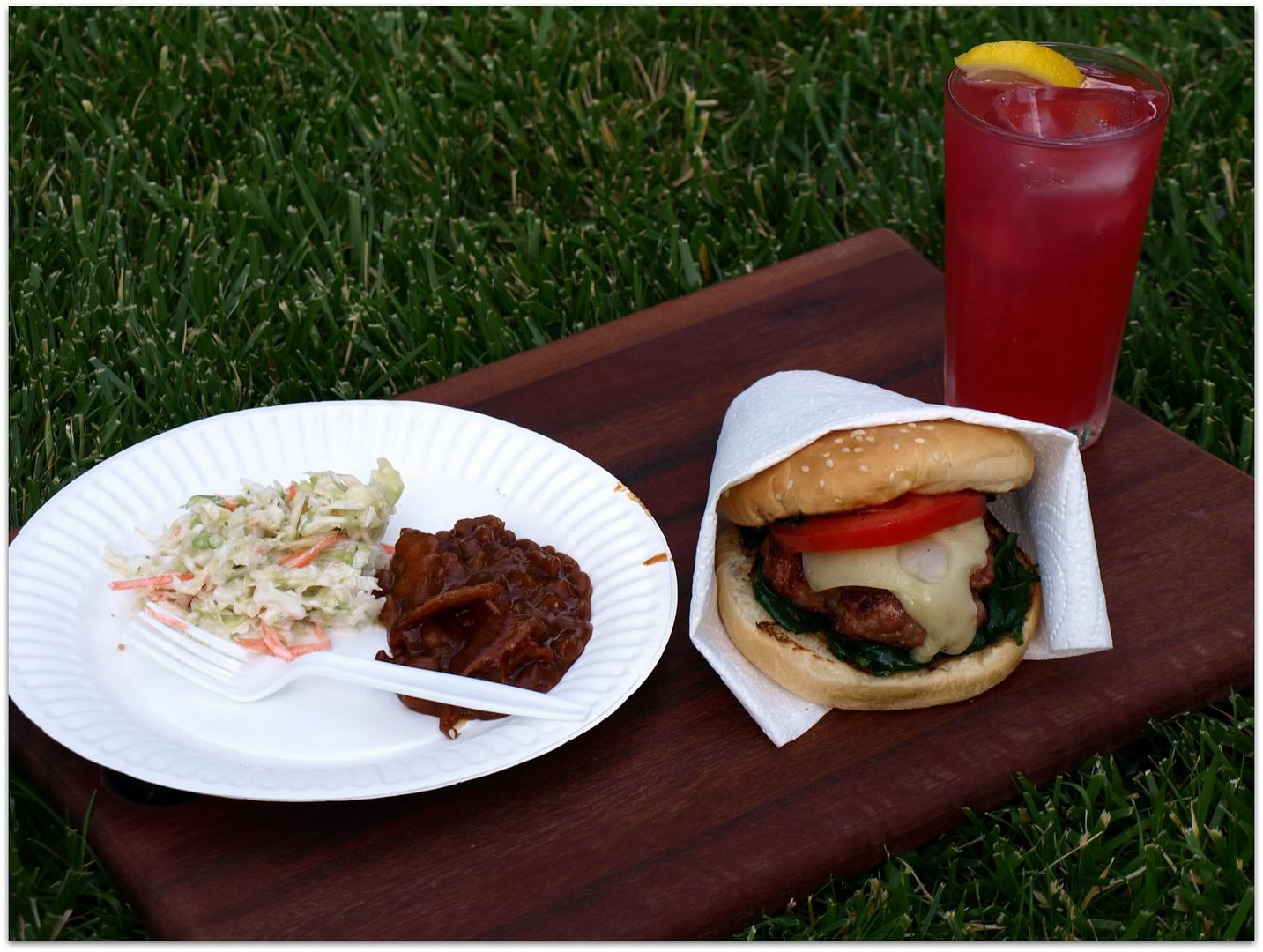 This is what I get for
writing
about being woken up by being vomited on. I asked for it. I only have myself to blame. Fate said, "Really you want to post about that? I will make sure to raise the ante. Girl you sure do like to live dangerously."
But I am getting ahead of myself.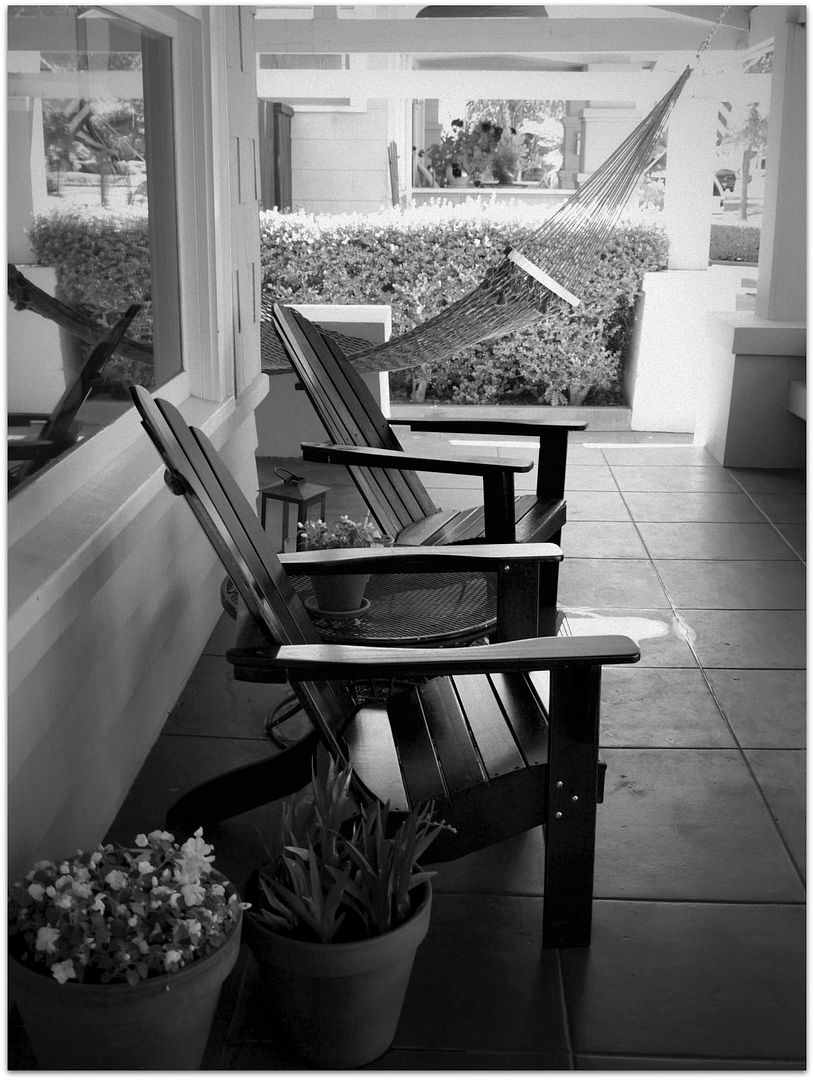 Here's my house. It looks inviting, right? Sit on the porch, knock back a few cold ones, shoot the breeze. Maybe a little too inviting.
:::
Around five am yesterday morning. Rich and I woke up to hear our next door neighbors radio on really loud. We instantly wake up because they are really old and very quite so this is out of the ordinary. We get up... take a walk around the house, check their backyard, take a look around our backyard. Nothing seems wrong or even remotely out of place. I go inside, crawl into bed and try to go back to sleep while Rich declares he's up and is going to go watch tv in the living room.
Around 7:00 am, I am sound asleep. Rich is watching tv and he keeps hearing this tapping sound against the house. He hears our other neighbors leave for work.
tap, tap, tap.
So he goes and looks out the fireplace window, where he thinks the sound is coming from and doesn't see anything. He thinks maybe a woodpecker or a blue jay is on the roof or on the side of the house. Nothing.
tap, tap. tap.
Rich then decides to go outside because something is definitely hitting the side of the house.
He comes back in and wakes me up.
"Krysta, you need to get up now and call the police."
"Huh? Whaaaa?"
"Get up. There is a guy passed out on the hammock."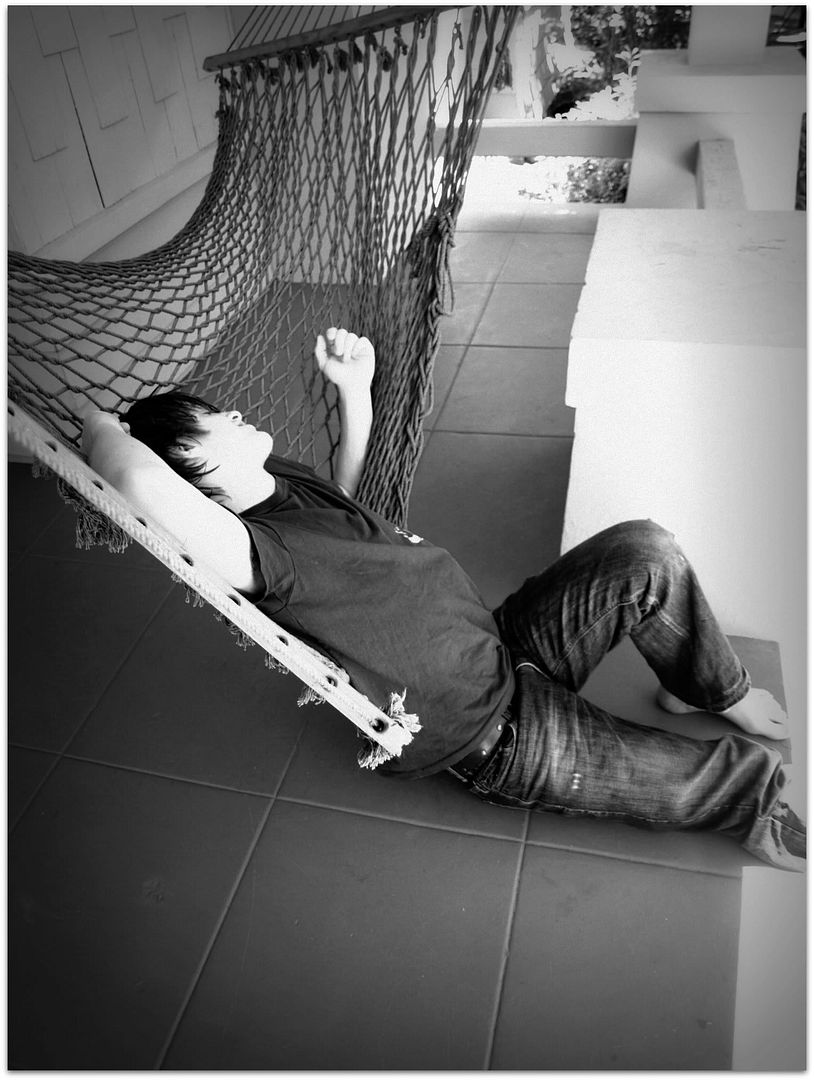 [this picture is a reenactment]
[who knew home decor could be used as weapon? also note that the glass that frames the giants pennant broke right before I took this picture. husband not happy.]
I get up and grab the phone, Rich grabs my baseball bat from the mantle in the office and we go outside.
Rich pokes the guy with the bat. "Hey buddy. You need to wake up."
Dude doesn't wake up.
"Hey honey, is he
dead
?"
poke, poke, poke.
Rich is poking him like a little kid poking at a dead animal on the side of the road.
"Buddy, you need to wake up and get out of here."
"You sure he's not dead? Because he looks dead." Remind you that I am still trying to process why there is a guy unconscious splayed out halfway on the hammock and halfway on the porch with his head cocked at an unnatural angle. He looked dead to me.
911.
"Hi. We've got a man on our front porch passed out cold, with a visible bump on his head."
"High or drunk?"
"Not sure."
"What does he look like?"
While I am describing the guy, in the background Rich is still poking this guy with a baseball bat.
"Hey buddy. Get up."
poke, poke, poke
"GET UP."
Dude gets up like I get up. All fuzzy cobwebs and just no clue to what in the hell is going on.
"Buddy, we just called the police you might want to get out of here."
Well that got his attention. He slowly gets up rubbing his face. You can see he's wondering how the hell he got on our front porch with some guy poking him with a baseball bat.
"Sorry." and off he goes. Halfway down the block he turns around and waves to us and yells thanks and then runs away.
I should have offered him a burger and charged him for his time in the hammock.
This is Tom Bodett and we'll leave the light on for you.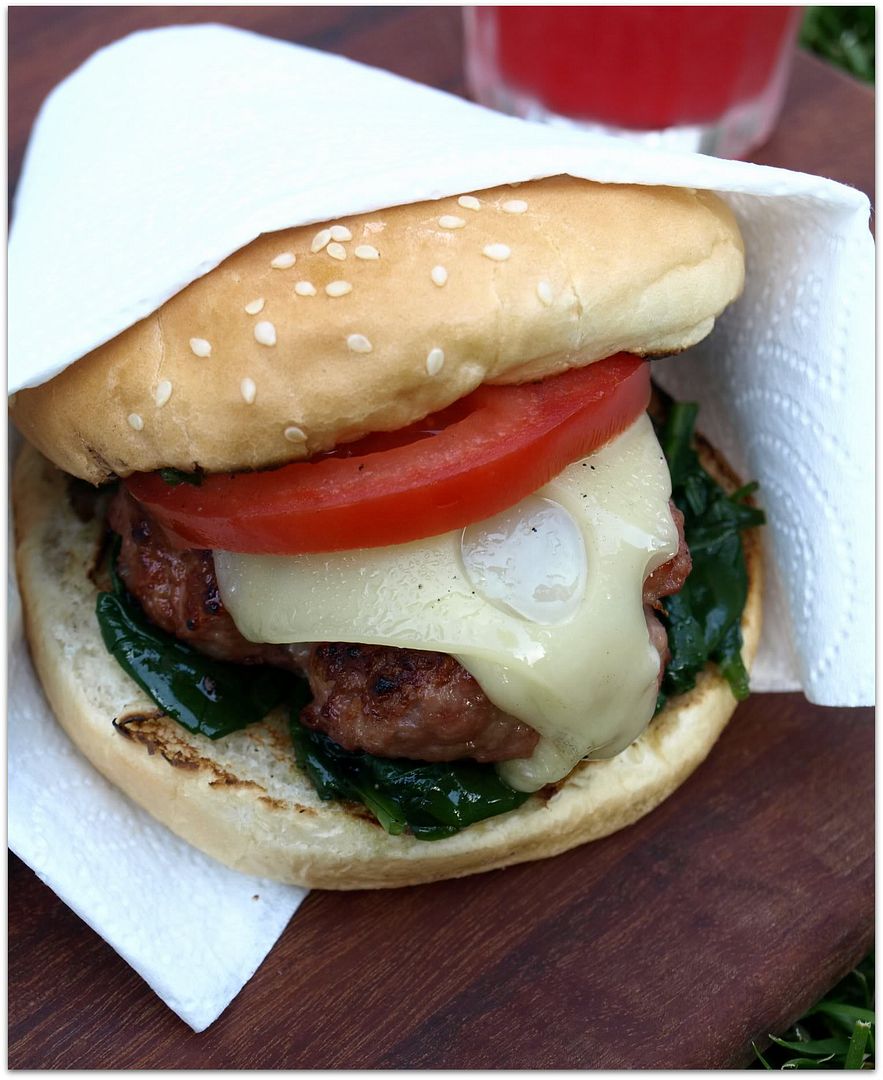 italian sausage burgers with garlicky spinach
: adapted from food & wine june 2010
serves 4
10 ounces baby spinach
2 tablespoons extra-virgin olive oil, plus more for brushing
2 garlic cloves, minced
salt
1 pound sweet or hot Italian sausages (or a combination of both), casings removed
4 slices of swiss cheese
1/4 cup pesto
4 round hamburger rolls, split and toasted
sliced tomatoes
In a large skillet, bring 1/4 inch of water to a boil. Add the spinach and cook, stirring, until just wilted, about 1 minute; drain and press out as much water as possible. Wipe out the skillet.
In the same skillet, heat the 2 tablespoons of olive oil until shimmering. Add the garlic and cook over high heat, stirring, until fragrant, 1 minute. Add the spinach, season with salt and stir just until coated, about 10 seconds.
Light a grill or preheat a grill pan. Using slightly moistened hands, form the sausage meat into four 4-inch patties, about 3/4 inch thick. Brush the burgers with oil and grill over moderate heat until browned and crusty on the bottom, about 5 minutes. Carefully flip the burgers. Top with the cheese and grill until the burgers are cooked through and the cheese is melted, about 5 minutes longer. Spread the pesto on the rolls. Top with the burgers, spinach, and tomatoes. Serve.