random thoughts this monday morning: now included with a photon gun rating!
my kids doing
mystery science theater 300
0
to the empire strikes back.
photon gun rating set to: not sure whether i should be horrified or proud. or both.
vh1 classic 80's video weekend A-Z: truly bad videos. how in the heck did my generation get out alive without having seizures or our brains melting out of our ears?
photon gun rating set to: can't even find the setting. my brain is not functioning after watching too many debbie gibson videos.
i miss the old charlie the tuna commercials.
photon gun rating set to: huh?
what the hell does economic fence mean? i think of bricks of hundred dollar bills. and if someone builds and economic fence of benjamins, i don't think it will last long.
photon gun rating set to: mr. gorbachev, i want to be the first to tear down that wall and stuff it in my pockets.
i can't wait for the california primary election to be over. if i have to hear meg whitman's voice on tv or the radio one more time, so help me god...
photon gun rating set to: please poke out my eardrums with a dull and rusty knife now. because i know in november i will have to hear her voice even more.
same with sex in the city 2 commercials... yes, i get it... you want me to see the movie. the clothes! the men! the cocktails! the exotic locations!
photon gun rating set to: can't be bothered and poke out my eardrums with dull and rusty knife. right now.
rude people...
photon gun rating set to: obliterate.
old ladies in the grocery store who run over the back of your heels with the grocery cart repeatedly while standing in line at the check out.
photon gun rating set to: ouch, that hurts! please stop now. but i am helpless because you are old and that sucks.
jon hamm, narrating every commercial on tv right now...
photon gun rating set to: sigh, i guess that's one way to get me to watch commercials.
speaking of politics: driving down the road in a very conservative part of california (yes, dorothy there is a part of california that is conservative) i saw these signs to distinguish the california primary election conservative candidates from each other. all of them made me scratch my head.
conservative.(with. a. period. behind. conservative. i. am. pretty. sure. that. was. important. the. period. behind. that. period. like. the. period. stops. here. period. no. if. ands. or. buts.)
constitutional conservative
reagan conservative (do you need to get permission from the president's estate before you use his name in a political ad?)
the conservative's conservative ( i am thinking this is like a man's man)
CONSERVATIVE (cap locks are also very important and one way to get you noticed)
your conservative choice
the tea party conservative
photon gun rating set to: please explain because i am actually intrigued by these signs. what's the difference between a reagan conservative, constitutional conservative, and the conservative's conservative? are these actual platforms? or just a way to distinguish yourself in a very crowded race?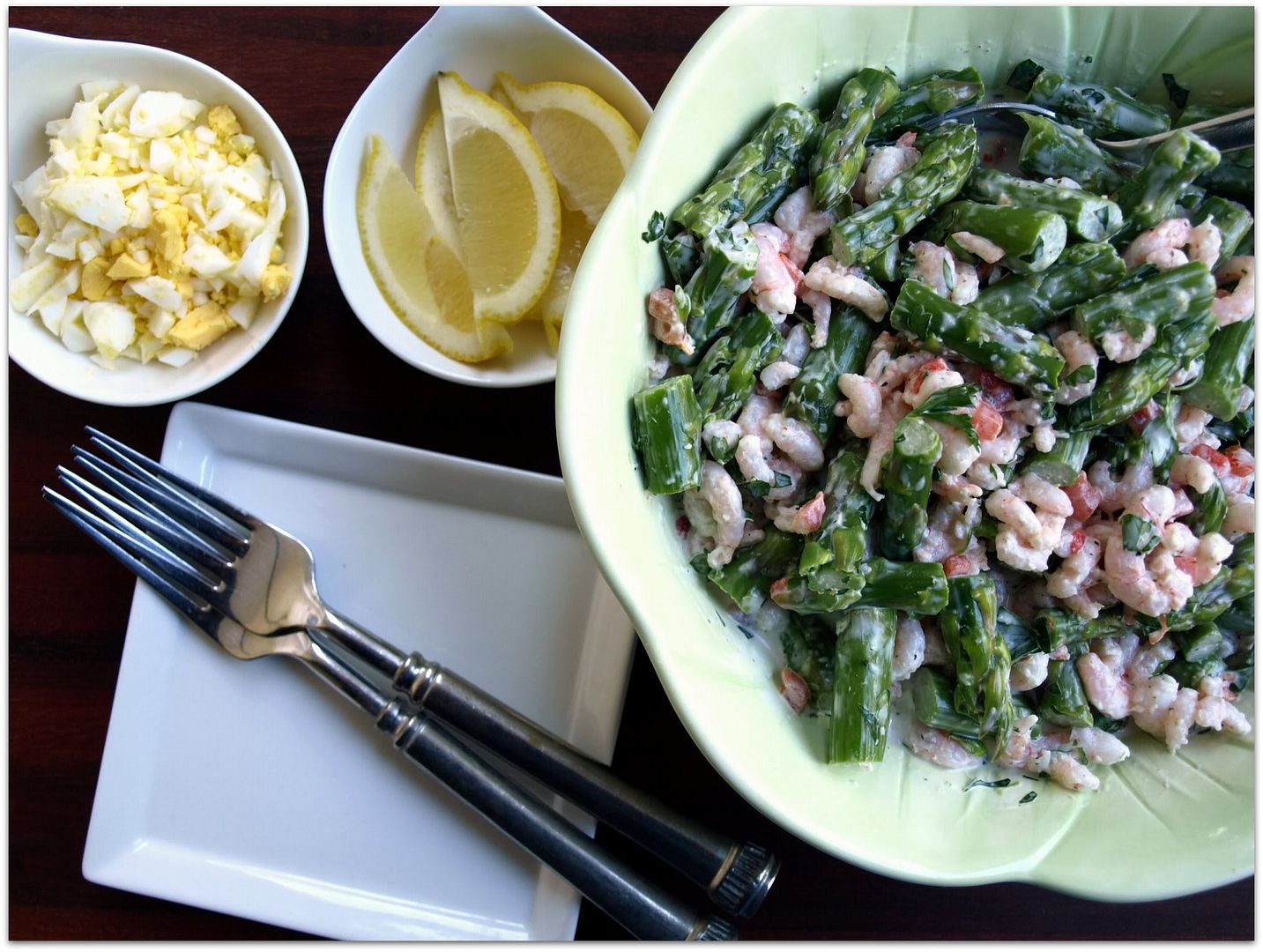 i should have posted this asparagus shrimp salad recipe before this memorial day weekend. you could have been enjoying this on a picnic, at a bbq potluck, lunch, or dinner.
photon gun rating set to: brain fart. sorry about that.
asparagus shrimp salad
: asparagus all ways... always. the original stockton asparagus festival cookbook
serves 4
1 pound cooked and peeled salad shrimp
1 pound asparagus cut into one inch pieces, cooked until tender
1/2 cup chopped pimentos
1/4 cup finely chopped parsley
1/2 teaspoon celery seed
1 teaspoon salt
pepper to taste
1 heaping tablespoon horseradish
1 cup mayonnaise
1/4 cup freshly squeezed lemon juice
2 hard boiled eggs, diced
For the dressing:
In a small bowl, mix together: pimentos, parsley, celery seed, salt, pepper, horseradish, mayonnaise, and lemon juice. Set aside.
In a large bowl: toss shrimp, asparagus and salad dressing until well combined. Chill.
To serve: place salad on leaf of endive or green leaf lettuce. Garnish with lemon wedge and top with diced egg.