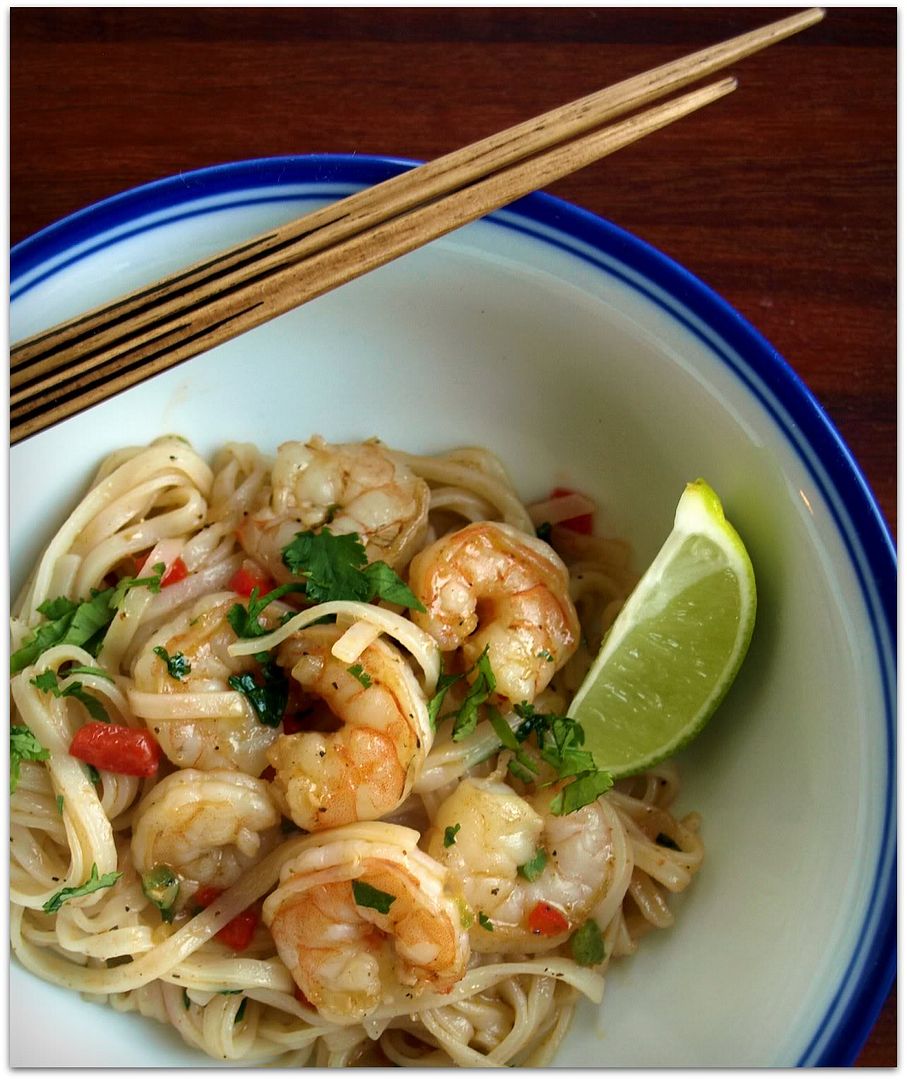 This meal has been on my mind ever since I made it.
Sing it Willie...
Which is saying something because this last week was crazy-flaming-toads-on- a-pogo-stick-busy. I am surprised anything at all stayed on my brain. And since it was so crazy busy... bonus points for this dish taking all of maybe 30 minutes to cook. I swear it took under 20 but I don't really remember because of that flaming toads on a pogo stick thing I just mentioned.
Game Show Time: You are at the grocery store and are standing in the middle of the aisle debating which kind of rice noodles to get. Do you get the noodles that have the friendly American packaging and the American price of 4 dollars? Or do you get the cheap ones with instructions in Thai for the price of 1 dollar? Hmmm, which ones are better? American and friendly? Or cheap and in cooking instructions in Thai? The more expensive ones are better, right? You get what you pay for, right?
Wrong, Little Johnny! You get the cheap ones with the cooking instructions in Thai!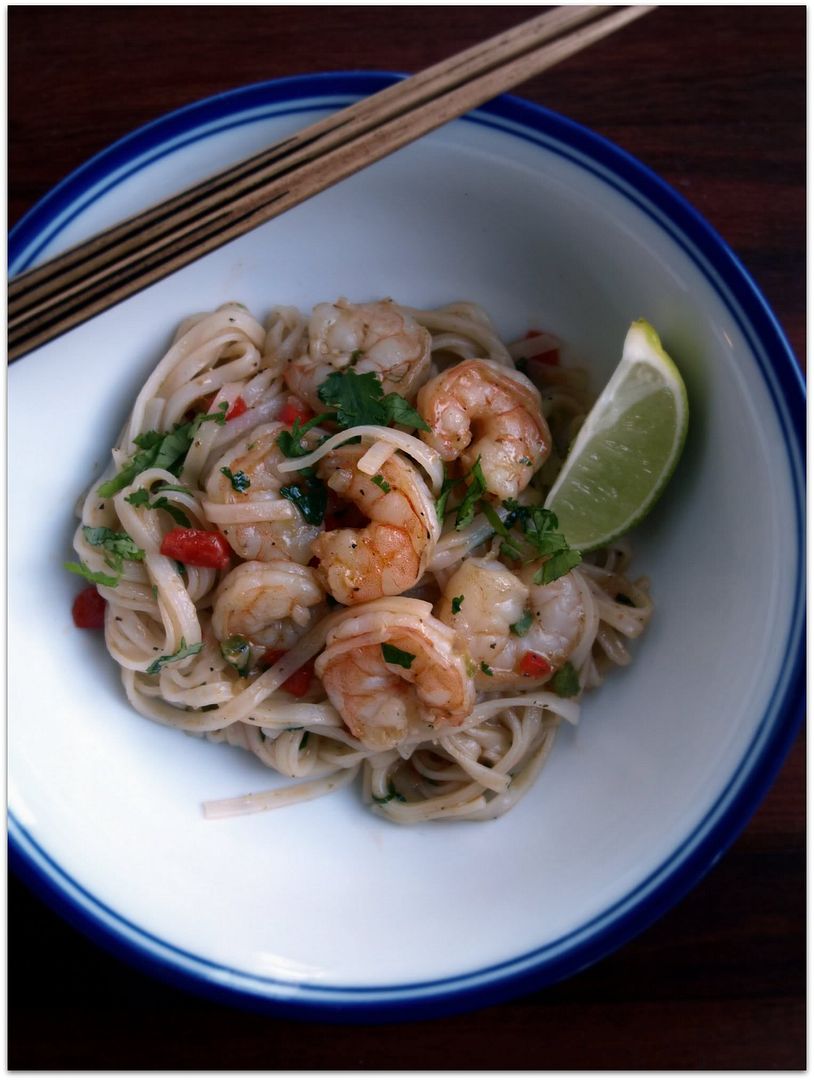 boooo! this dish is way more colorful than it photographs.
spicy rice noodles with shrimp and cilantro
: fine cooking april/may 2010
kosher salt
6 oz. 1/4-inch-wide dried rice noodles (pad thai)
2 medium limes, 1 juiced and 1 cut into wedges
1-1/2 Tbs. packed light brown sugar
2 tsp. soy sauce
1 tsp. fish sauce
3/4 lb. peeled and deveined large shrimp (31 to 40 per lb.)
3 Tbs. canola or peanut oil
1/2 tsp. ground coriander
Freshly ground black pepper
1/2 medium red bell pepper, cored, seeded, and finely diced
1 medium jalapeno, seeded and finely diced
1 large shallot, finely diced
1/4 cup chopped fresh cilantro
Bring a medium pot of well-salted water to a boil. Add the noodles, lower the heat to a gentle simmer, and cook, stirring occasionally, until the noodles are just tender, 5 to 7 minutes. Transfer to a colander and run under cold water to cool slightly. Drain well.
In a small bowl, combine the lime juice, sugar, soy sauce, and fish sauce; set aside.
In a medium bowl, toss the shrimp with 1 Tbs. of the oil, the coriander, 1/2 tsp. pepper, and 1/4 tsp. salt.
Heat the remaining 2 Tbs. oil in a 12-inch nonstick skillet over medium-high heat until shimmering hot. Add the red pepper, jalapeno, and shallot, sprinkle with 1/4 tsp. salt, and cook, stirring, for 1 minute. Add the shrimp and cook, stirring, until it turns pink and is almost cooked through, about 2 minutes. Add the lime juice mixture and cook, stirring, until the shrimp is cooked through, about 1 minute more. Add the noodles and half of the cilantro; toss until the noodles heat through and pick up the sauce, 1 to 2 minutes.
Serve sprinkled with the remaining cilantro, with the lime wedges on the side for squeezing.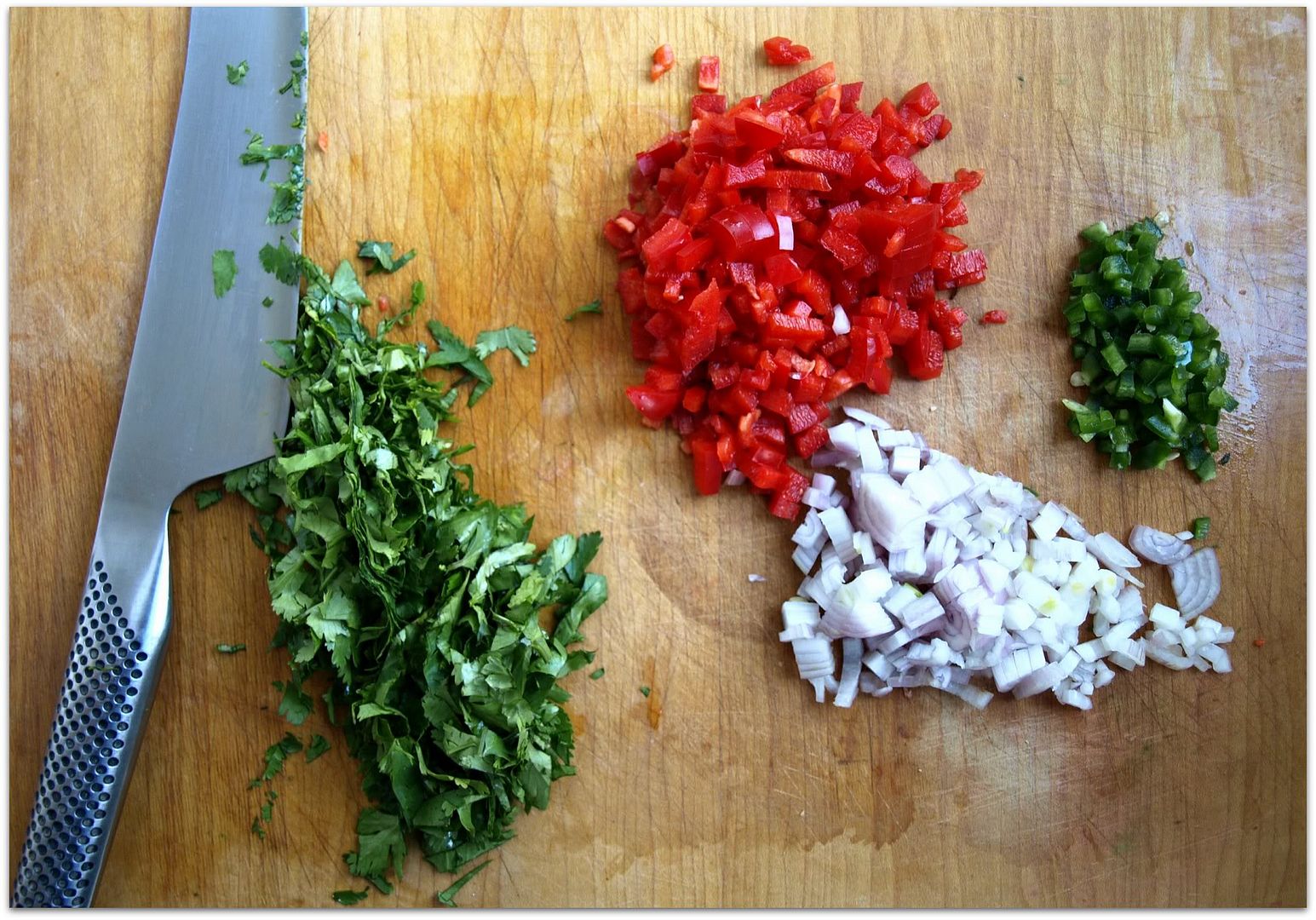 Tasting Notes: So good... the food itself was colorful, the shrimp were buttery and tender, and the noodles were the right texture (yay me for going with scary cheap noodles with cooking instructions in Thai!) If you are worried about the jalapenos, they didn't add too much heat. Matter of fact, I would have preferred a little bit more spiciness but that can be remedied with a little more jalapeno or a bit of sriracha added at the end.
tomorrow: my birthday dinner at ad hoc!