In February Rich broached the idea of going to French Laundry for my birthday. I shot it down so quick it wasn't even funny. It was all a question of money, quite frankly. I knew that we had some things that were coming up around and on my birthday.
:::
Like senior prom. A trip to Preview Day at Mills the day after prom. Andrew who needs to have 6 teeth pulled before braces... among other things. So we compromised (*cough* I said no and he came up with an alternative suggestion) and decided on Ad Hoc.
Reservations were made. I was excited, Rich was so thrilled that he came up with a great idea for my birthday. Then I dug in my heels and started to tell him I didn't want to go. Crazy, right?
At this point the schedule for my birthday weekend went along these lines: drive to Palo Alto to pick up the in-laws, swim meet, baseball practice, baseball game, prom errands, prom pictures, baseball game, cook dinner, drive to Oakland to drop off Katie, take tour of school, go talk to financial aid people, drive back to Oakland and pick up Katie, drive to Yountville and eat dinner at Ad Hoc, volunteer at new school, soccer sign ups, doctor's appointment, orthodontist appointment, and dentist appointment. Lather, rinse, repeat. That was my schedule, I hyperventilate just reading it. It felt like Ad Hoc was just another thing to cross off the to-do list and I didn't want it to feel like that.
Thank goodness Rich just ignored me and kept the reservation.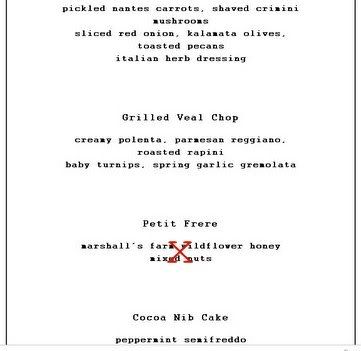 Before I give my review of dinner, I have one complaint about Ad Hoc. ONE... that's it. The tables are beautiful... a slick and shiny surface with what looks like silver leaf inlaid in the top. That's the problem... slick. There are no tablecloths or placemats under your plates... so when you are cutting into that beautifully cooked 2 inch thick veal chop, your plate slides around the table. No matter how deft you are with a knife, your plate shifts and slides around. So much so, Rich and I both remarked upon it and if that happens I know it's a big deal.
All right and I wanted to mention one other thing I know from reading every crazy little thing about Keller. I know that his philosophy is little bites, leave them wanting more... and it works to great effect.
Salad: The lettuce was crunchy and chilled. I don't really recall shaved mushrooms in it. The pecans were really fresh and crunchy. Now the pickled carrots? I wanted more and more. I reached over and stole carrots off of Rich's plate. What? It was my birthday. The first thing I did when I came home was grab my Ad Hoc at home cookbook to see if there is a recipe. The were crunchy, a bit sour, sweet, super carrot-ty like something Bugs Bunny dreams about, and they had a little bit of spice that I was pretty sure was curry and two points for my taste buds! They were right. (and can I use the word crunchy any more than I did in that last paragraph? I think not.)
Main: Oh good lord this right here is the reason The New York Times will never hire me as a food critic. Perfectly cooked. If I was at home and no one was looking I would have picked up my veal chop and gnawed on the bone to make sure I got every little morsel. And the polenta? Again if no one was looking I would have licked the bowl clean. Gluttonous... very. Gross, yes. But I have no doubt that you would wanted to do the same thing. I get all the fuss about polenta now and Rich feels like he has been deprived. He asked why don't you make this?
Cheese Course: Remember Trivial Pursuit and every time you answered a certain subject right you received a wedge? We were served an adorable little tiny wedge of creamy stinky cheese with buttered toast and apple compote. I wanted more cheese.
Dessert: Okay... I have a second complaint but this has to do with me and my taste buds. I do not like peppermint. I hate hard candies, candy canes, and peppermint gum. It gives me an Insta-headache. Once peppermint has passed my lips -BAM- I get a migraine instantly. So when I saw the peppermint semifreddo, I thought 'it won't be bad' and I was definitely not going to tell the waiter I do not want the semifreddo because I get headaches from peppermint, that just sounds silly. I wish I did. It tasted like I was eating a piece of Orbit gum. The cake was dense and moist and wonderful. The peppermint semifreddo, not so wonderful but that's just me.
dinner was so awesome that rainbows appeared... really.... even mother nature loves ad hoc.
That was dinner. It was awesome and we had a blast especially when Journey's Don't Stop Believin' came on the sound system. It's a law: you have to sing it when it comes on the radio. You have to let your inner gleek out... even in a restaurant... even if you have to sing it at a whisper. You just have to sing...
Just a small town girl
Livin' in a lonely world
She took the midnight train goin' anywhere
Just a city boy
Born and raised in south Detroit
He took the midnight train goin' anywhere
A singer in a smoky room
A smell of wine and cheap perfume
For a smile they can share the night
It goes on and on and on and on