My little nephew, Bub, just turned 3... and let me tell you the boy is freaky smart and I'm not saying that because he's my nephew.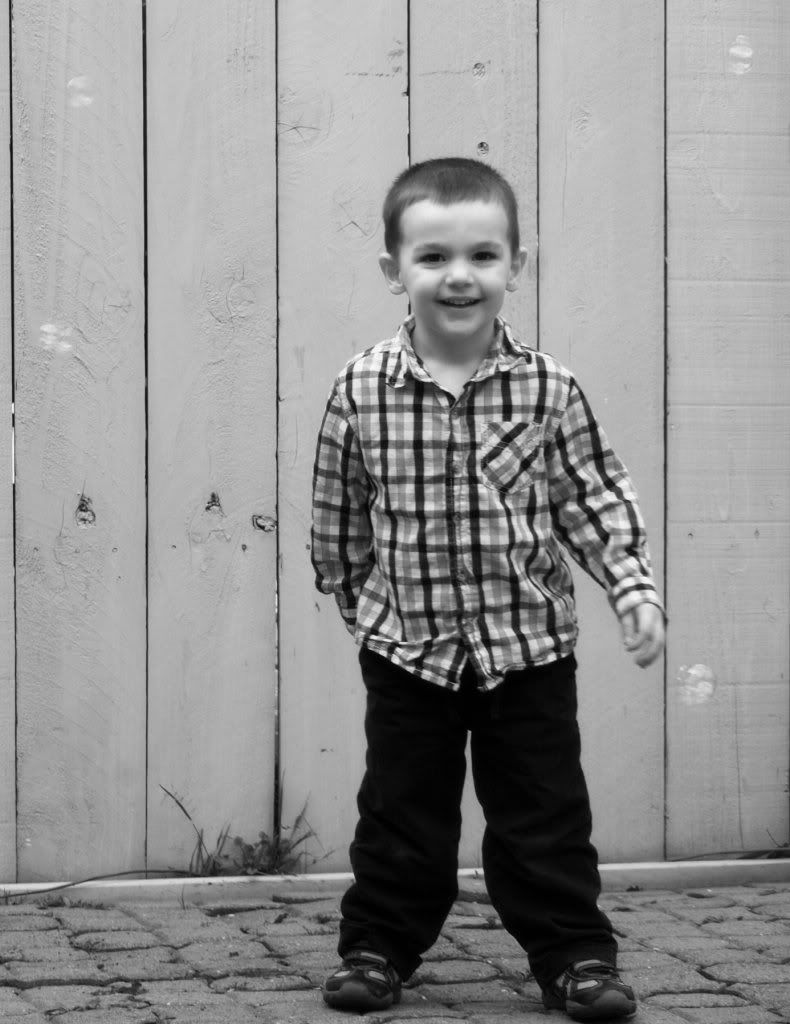 (doesn't he look like he's got it all figured out.)
Bub knows his cars. Take him for a walk in your neighborhood and he will name every car... Silver Volkswagen, Red Chevy Truck, Black Volvo. Ford, Dodge, Mercedes Benz, BMW, he knows them all. I'm not sure if he knows: Lotus, Ferrari, Lamborghini and Aston Martin but I wouldn't doubt it.
update: my sister, bub's mom, informs me that yes he does know aston martin.
He tells me, 'Auntie Ta-Ta drives her blue Toyota.' when he sees my cars keys.
Last Christmas he saw Katie pull up in our Toyota Sienna. He said, 'Katie drives a
Cash Cab
.'
... from then on he calls her Cash Cab.
Have you ever seen Cash Cab with Ben Bailey? Where unsuspecting New York City taxi passengers hail a cab, a Toyota Sienna, and Bam! they are contestants in a trivia game show.
The kid put together Katie driving our Toyota Sienna with The Cash Cab Taxi and there you have it. Instant nickname. From now on please refer to Katie as Cash Cab.
stir fried red rice with skirt steak and edamame
: heavily adapted from
this recipe
from food & wine march 2010
1/2 cup red rice*
1 cup water
3 tablespoons vegetable oil
2 thai chilies cut in half
2 garlic cloves, minced
6 ounces thinly sliced skirt steak
Salt
1 large red sweet onion, thinly sliced
2 tablespoons minced fresh ginger
4 cups thinly sliced baby spinach
2 cups thawed shelled edamame
3 tablespoons soy sauce
freshly ground black pepper
1/4 cup chopped cilantro
lime wedges, for serving
In a small saucepan, cover the rice with the water and bring to a boil. Cover the saucepan and cook over low heat for about 25 minutes, until the rice is tender and the water is absorbed. Spread the rice out on a baking sheet and let cool.
In a skillet or wok, heat 1 tablespoon of the oil until shimmering. Add the garlic and thai chilies and cook over moderately high heat until fragrant, about 30 seconds. Add the flank steak, season with salt and cook, turning once, until browned, 1 minute; transfer to a plate. Remove chilies.
Heat the remaining 2 tablespoons of oil in the skillet. Add the onion and ginger and cook over moderate heat, stirring occasionally, until softened, about 6 minutes. Stir in the spinach and stir-fry over high heat until wilted, about 1 minute. Stir in the rice and edamame, then the soy sauce and steak and stir well. Season with salt and pepper and transfer to a bowl. Garnish with the cilantro and serve with lime wedges.
* You can find
red rice or Bhutanese
in most Asian stores, I found mine at Safeway in the Asian section. Go figure
Tasting Notes: This was great. End of Story. The red rice was nutty and chewy, the onion added a little sweetness, the thai chilies added some heat, the edmame gave it some bite, and the lime and cilantro finished it off.
update on my other little nephew who was born a week ago: baby marshall is doing pretty good. he opened one of his eyes yesterday and is gaining a little bit of weight. he is still having some issues breathing which most preemies have but he's hanging in there. i want to say thank you for all your kind words and comments and emails. i have passed them along. i have pictures but some might find them a little disturbing so we'll hold off until he's off the cpap breathing machine. but thank you for including him in your thoughts and prayers.