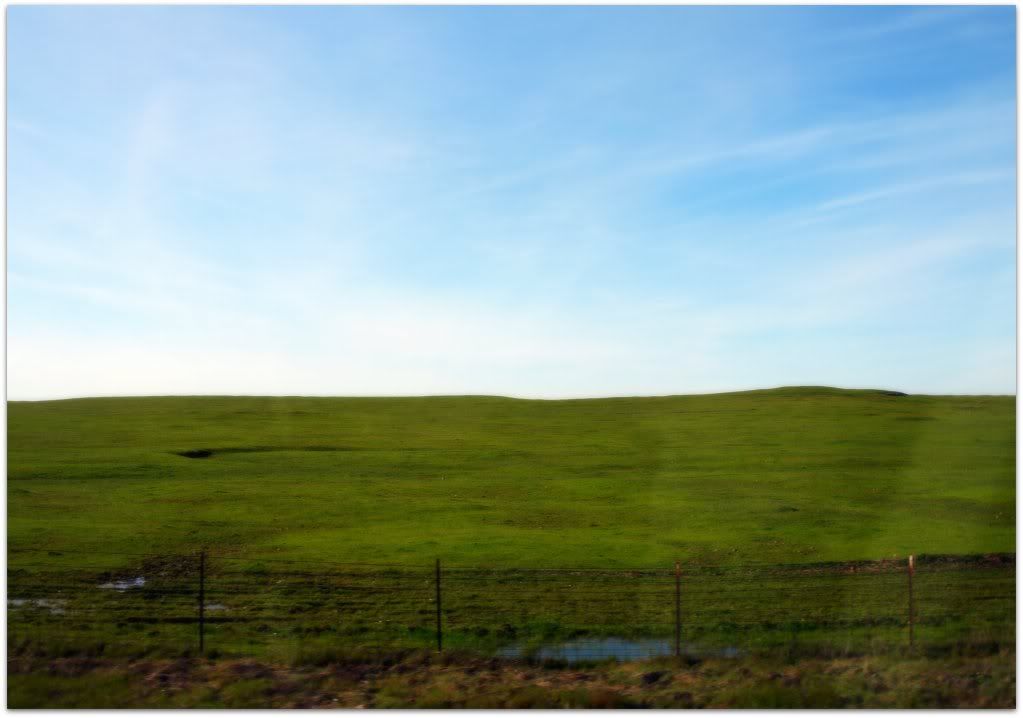 I had this Pollyanna post all planned for you. Sitting in stop and go traffic trying to fight your way to Stanford Medical Center gives you plenty of time to think of posts. Two and half hours of time to be exact. I wanted to write about this is the time of year when I fall back in love with California. High taxes and our legislators can't get along. Smog, traffic and gangs. Google Stockton and see what comes up. I promise you most of it is not pretty. Matter of fact it's grim more often than not. But right now, when Mother Nature puts on this show, it's easy to forget for awhile.
The sky is clear bright blue, free of smog and if you are lucky you can catch a glimpse of the Sierra's and the snow topped mountains to the east, a hundred miles away. The leaves and grass are electric green, so bright it hurts your eyes to stare at it too long but you need to because in a few months the hills and grass with turn a gold color, dry and burnt from the unrelenting summer valley heat.
The air smells sweet from the almond and cherry blossoms and that will only last a week or so before the wind rains down the blossoms. It's all very romantic.
That there are farm workers on street corners selling strawberries, huge and sweet.
And that there is local asparagus for sale. Thin as a pencil or as thick as you thumb. Take your pick.
Asparagus is huge in Stockton and the whole Delta region, if I have my facts straight, our growing region produces most of the asparagus in North America. We even have a
festival celebrating asparagus
.
I was going to write about all of this in some M.F.K. Fisher way but yesterday evening we had a plainsclothes policeman come to the door and say in the alleyway behind our house someone had spray painted a
swastika on a car and house
and in all honesty there went the post. It's hard to write about the good stuff when the ugly, mean, nasty, hateful stuff happens in your own backyard.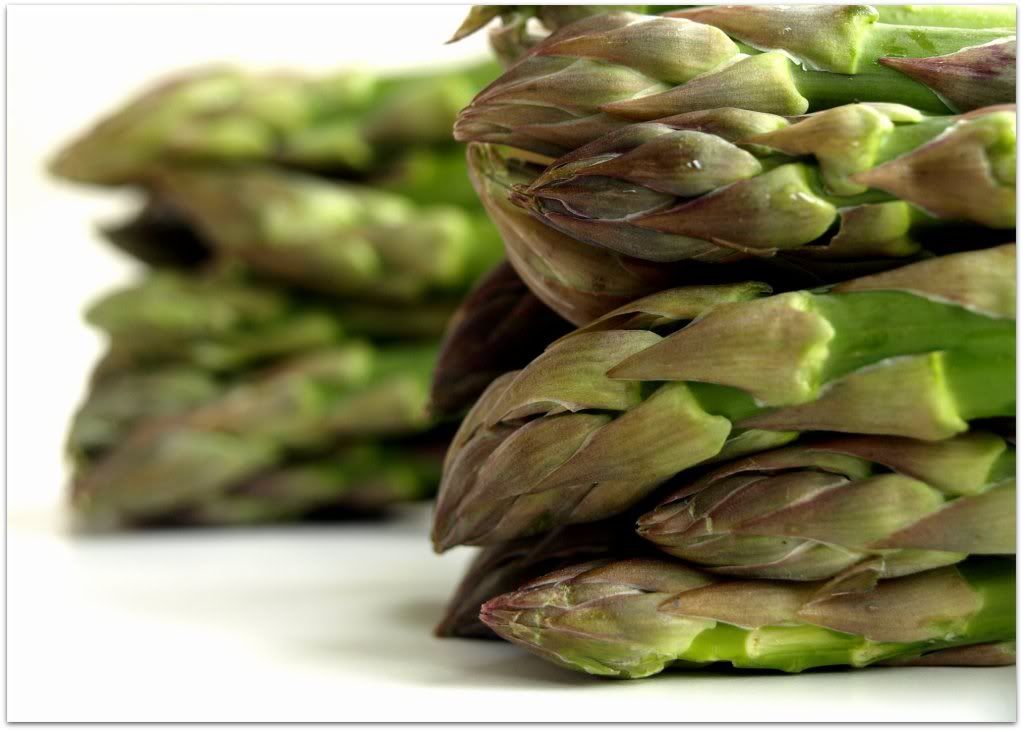 I could keep it light and goofy but this is my way of keeping it real. This is what is going on in my neighborhood and I feel hopeless. The only way I can make it right is by not ignoring it. Bake some cookies and deliver them to our neighbors and ask them is there anything I or my family can do.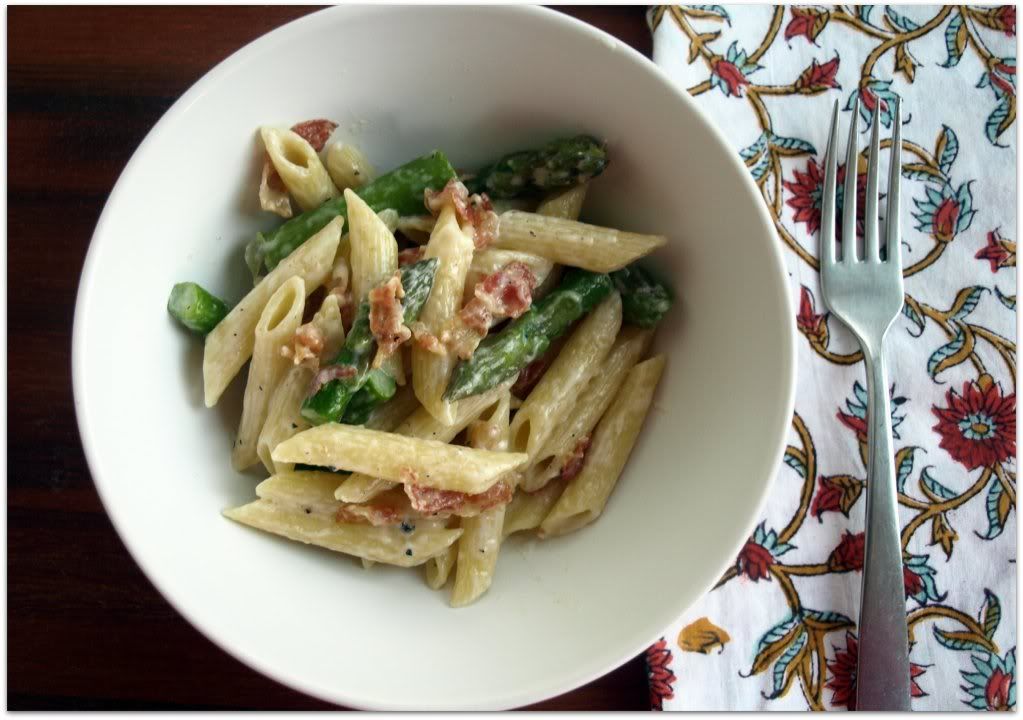 fettuccine alfredo with asparagus
:
*I double this recipe
1 pound of asparagus, washed
1 pound of fettuccine (i didn't have any fettuccine so i substituted penne)
4 tablespoons butter, cut into pieces
1 cup of heavy cream
4-6 ounces of pancetta, thinly sliced
pinch of freshly grated nutmeg
3/4 teaspoon salt
1/8 teaspoon freshly ground black pepper
1/2 cup grated Parmesan, plus more for serving
juice of 1/2 lemon
Snap the tough ends of the asparagus and discard them. Cut the asparagus spears into 1-inch pieces.
While waiting for the water to boil, in a pan, fry up the pancetta until lightly crispy and set aside, grease and all.
In a large pot of boiling salted water, cook the fettuccine until almost done, about eight minutes. Add the asparagus and lemon juice, cook until the asparagus and pasta are done, about 4 mintues longer.
Drain the pasta and asparagus. Toss with butter, cream, nutmeg, salt, pepper, Parmesan, and pancetta (grease and all... unless there is alot of it, then you might want to drain it). Serve with additional Parmesan.
Tasting Notes: This dish is Spring and as a bonus since you should be outside enjoying the lovely weather... this dish takes under a half hour to cook and doesn't leave you with many dishes to wash. All good in my book and right now I will take any good I can.