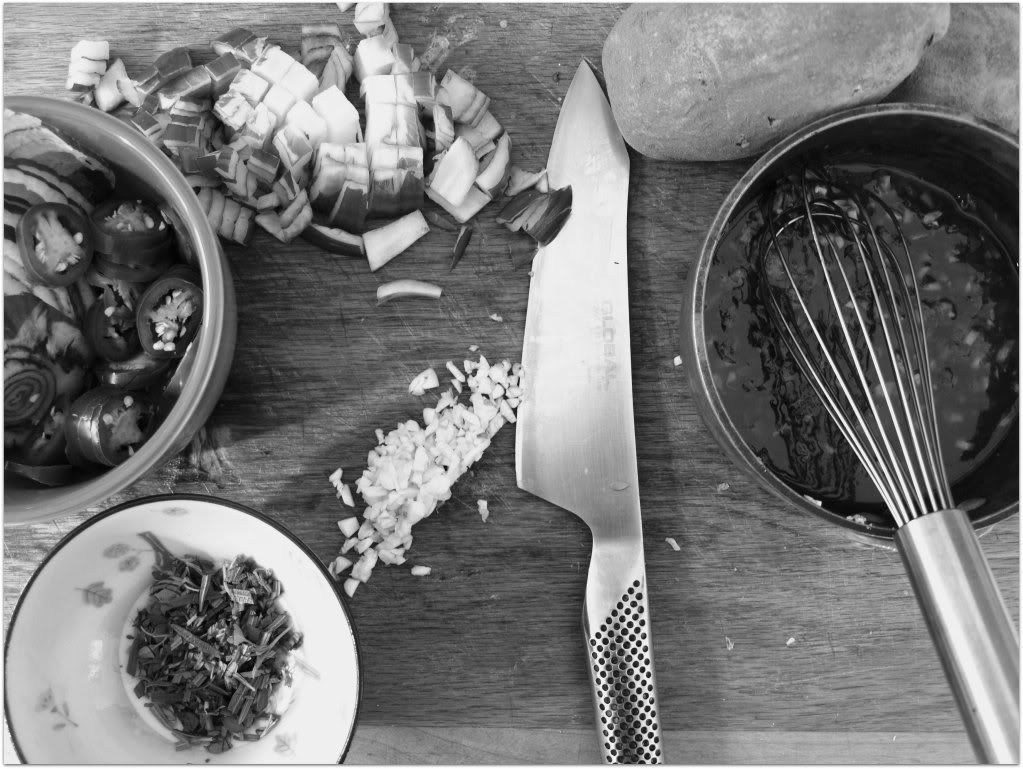 so here i am prepping in the kitchen for last night's dinner when an unexpected guest arrived...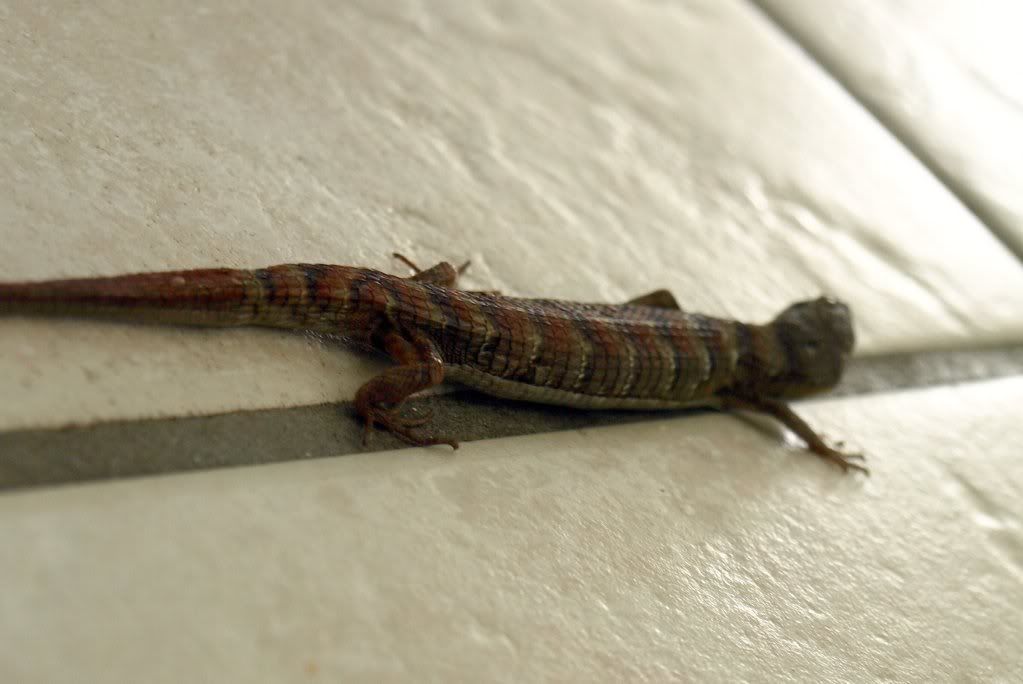 thumbelina (the de-clawed-yet vicious-size of a kitten-all fur-no body-14 year old-chatterbox-of a cat) decided to drop off a little present for us. i guess she thought i'd grill him up just for her. roxy, the dumb and scaredy dog chihuahua just sniffed and ran away after the lizard snapped at her. silly kids don't want to catch the damn thing to keep it as a pet. oh no, no, no! they grab my camera to take pictures.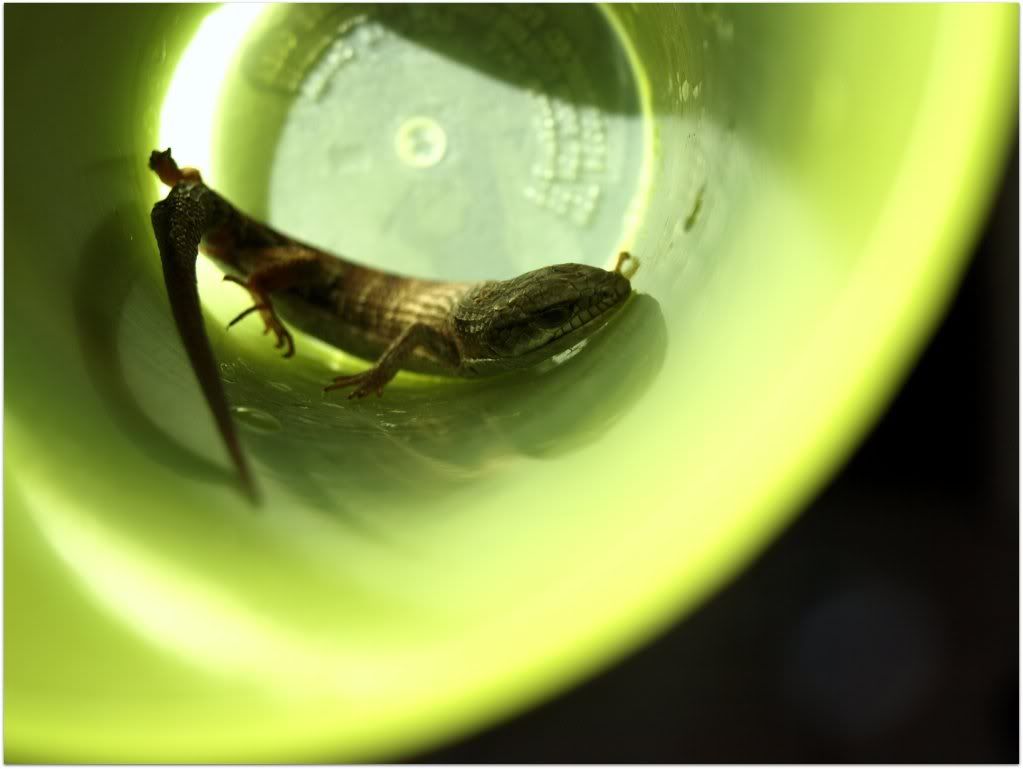 say hello to bobby! he was decidedly unhelpful with prep work so i kicked him off the line and dropped him off in a demilitarized animal zone so kitty couldn't have fresh lizard sashimi for dinner.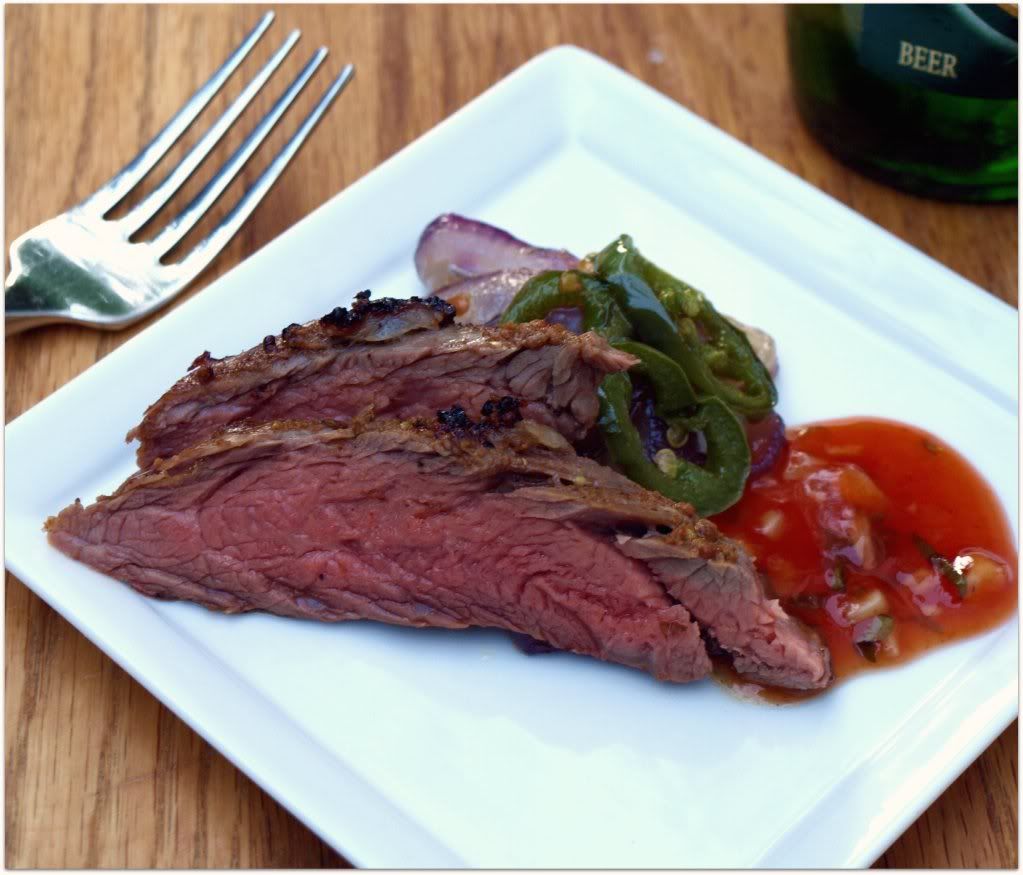 mustard-slathered grilled flank steak w/smoky jalapeno-honey sauce
: (adapted from let the flames begin by chris schlesinger & john willoughby)
serves 4-6
1/2 cup grainy mustard
2 tablespoons ground cumin
3 tablespoons chili powder
2 flank steak, about 1 1/2 lbs. each
kosher salt and black pepper to taste
2 tablespoons catsup
3 tablespoons honey
3 tablespoons red wine vinegar
1 teaspoon minced garlic
1/4 cup finely chopped fresh oregano
1 red onion, peeled and sliced into disks about 1 inch thick
4 jalapenos, left whole
2 tablespoons vegetable oil
prepare your grill and charcoal.
in a small bowl, combine the mustard, cumin, and chili powder and mix well. sprinkle the flank steak generously with salt and pepper and spread the mustard mixture all over them on both sides. place the steaks in a shallow baking dish and refrigerate for 1 hour.
in a small saucepan over medium heat, combine catsup, honey, vinegar and garlic and mix well. bring to a simmer, stirring to blend, and remove from heat. stir in oregano and set aside.
rub onion slices and jalapenos with the vegetable oil and sprinkle with salt and pepper. place on grill and cook until nicely browned. remove from grill and chop them fine before adding to the sauce. (if you want less heat, remove seeds and ribs from jalapenos before chopping them.)
grill flank steaks until cooked to your desired temperature. remove steaks from grill, cover loosely with foil, and allow them to rest for 5-10 minutes.
while steaks are resting, reheat sauce. Slice steaks thinly against the grain on the bias. Serve with sauce on the side.
tasting notes: there's a lot going on with this dish. good, spicy, some sour notes with the vinegar, bites of mustard and onion, garlic and jalapeno but it takes some prep and is messy grilling also it leaves you with, to put it mildly, very strong breath. invest in a bottle of mouthwash. i served this with some crispy potatoes -out of the urban italian cookbook- but i think some warm tortillas would be good or this steak in a salad would be tasty.
:::
no lizards were harmed in the making this post or dinner for that matter
:::