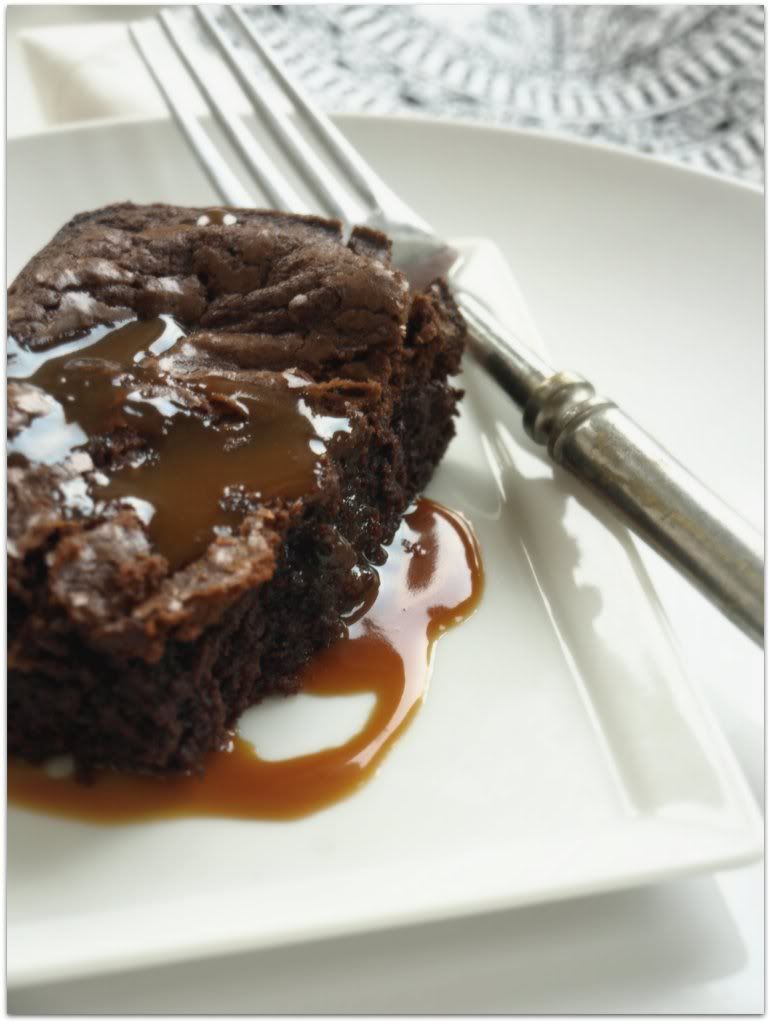 or the post where i get a little preachy...

Most of the time when I do a post, I try to write a funny little antidote and then hit you with a recipe and then go about my merry little day. Easy peasy lemon squeezy.
But today I want to preach a little.
I know when most people hear Thomas Keller they either go, 'who?' or 'I can't make his stuff'. I can say I really don't blame you if you are looking at
The French Laundry Cookbook
or even his
Sous Vide
one. I mean the heft of these books, the serious thunk they make on the kitchen counter when you set them down is intimidating and it doesn't help that they are the size of academic textbooks. Those books are just so serious.
So scary.
...or that's what she said. (blame watching a marathon of The Office when I was sick)
If you break them down into a series of steps, it isn't so bad. Sure there is shit you just think is too persnickety to do but trust me when I say it's well worth it in the end.
Thomas Keller's Ad Hoc at Home is home cooking/family meals but brought up to eleven because he could.
Despite it's size and weight, this book is fun, happy, and above everything else easy to cook from. Let me repharse that and say
pretty much easy to cook from
because the first recipe I cooked from Ad Hoc was the hardest (even
The New York Times
called Keller out on it.) but resulted in the best chicken soup and dumplings I have ever had. The work, frustration, and more importantly, THE DISHES, were worth it.
When most bloggers cook from a Keller book, they will not type the recipe in their post. The enormous respect for Keller, his food, technique and maybe the shear pain in the ass it is to sit at a computer screen and type a recipe is enough to deter us all. All I know is that it seems to be a unspoken code... which I am going to break once again.
I want to show you, step-by-step, a recipe so you can understand how easy it is to cook from Ad Hoc at Home. Hopefully by the end of this post, you'll be encouraged to spend your hard earned money on this book.
ad hoc at home: brownies with caramel sauce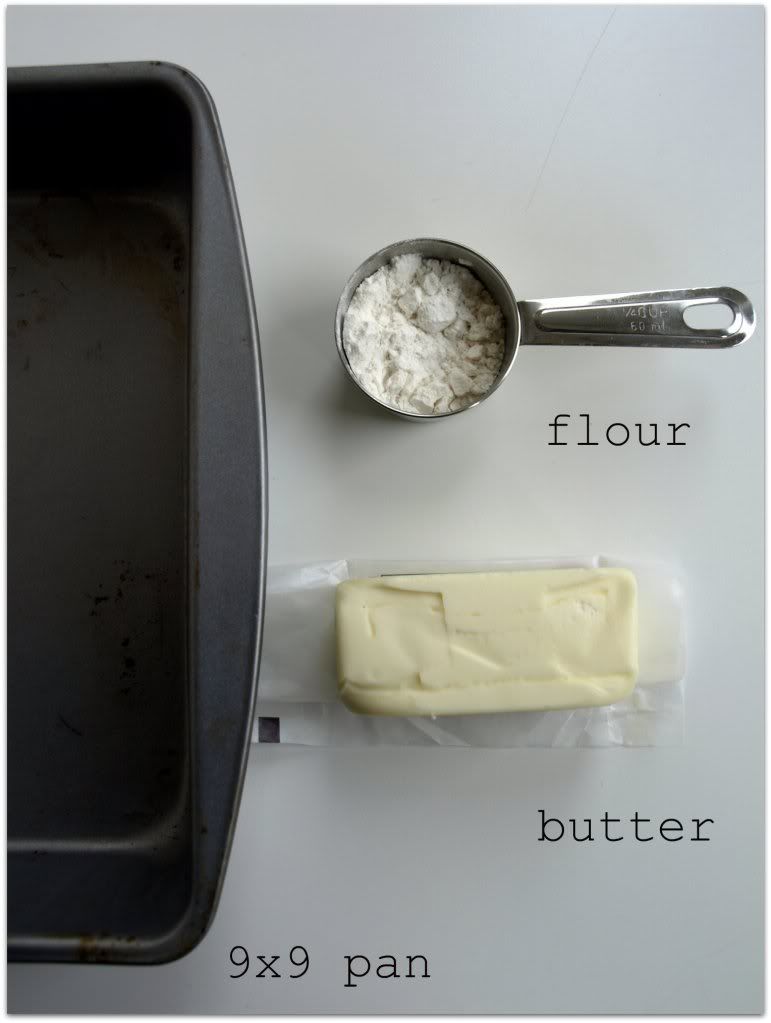 Preheat oven to 350 degrees. Butter and flour a 9x9 square pan.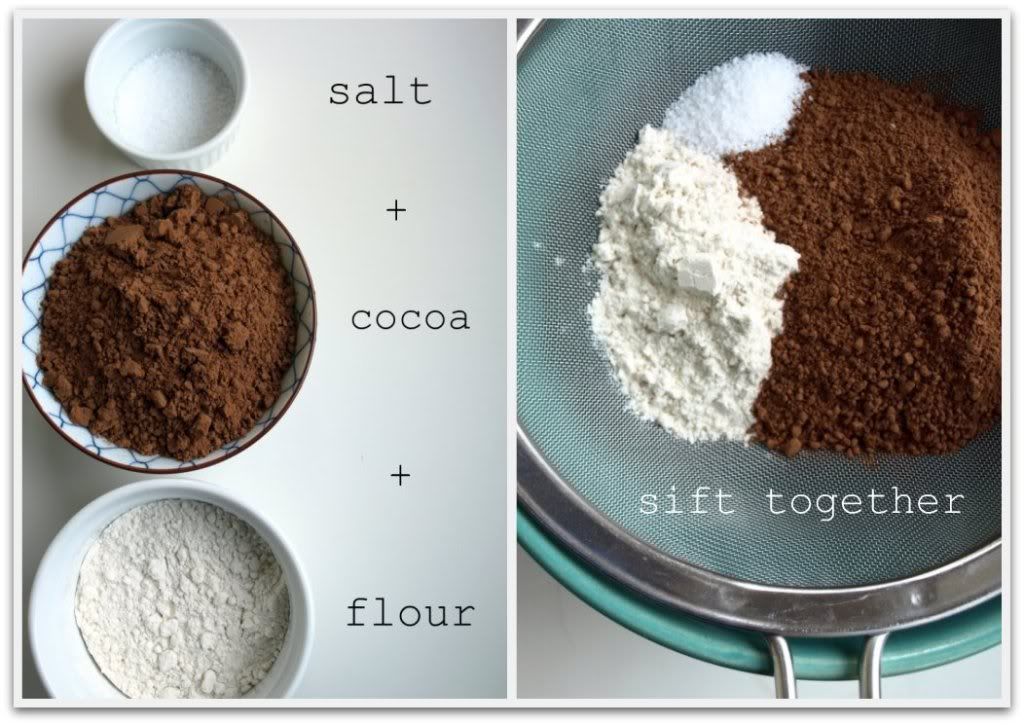 Sift flour, cocoa powder, and salt; set aside.
Take 3 sticks of butter cut them into 1 tablespoon pieces. Melt half of the butter in saucepan. Place remaining butter into a medium sized bowl.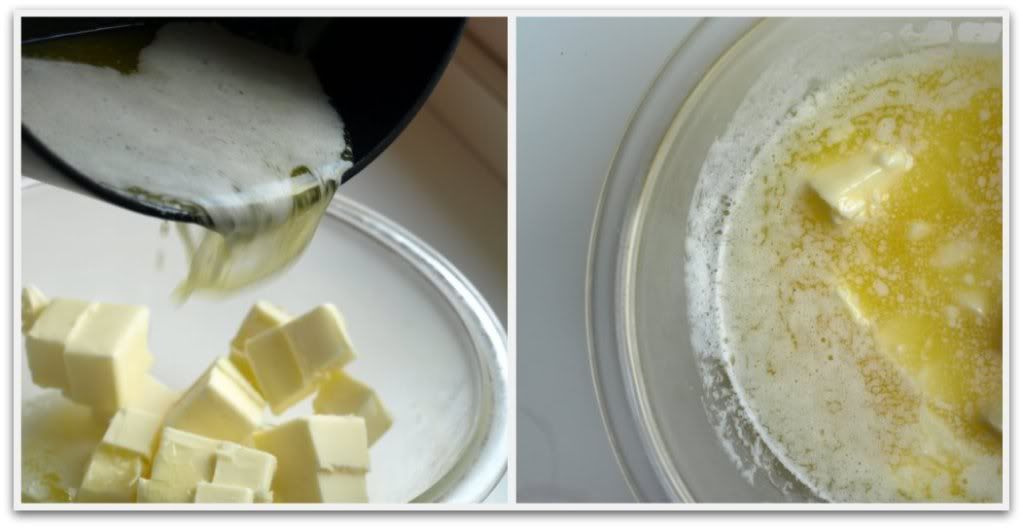 Pour melted butter oven the bowl of butter and stir to melt.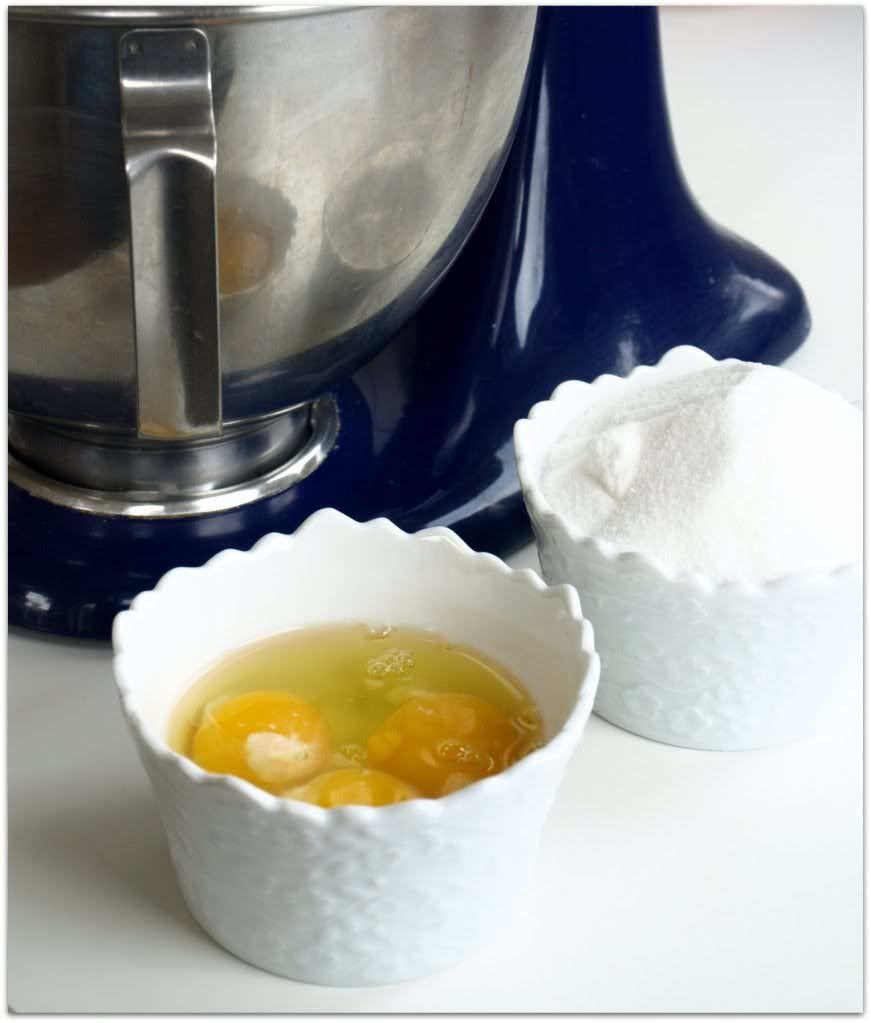 In the bowl of stand mixer, mix together eggs and sugar.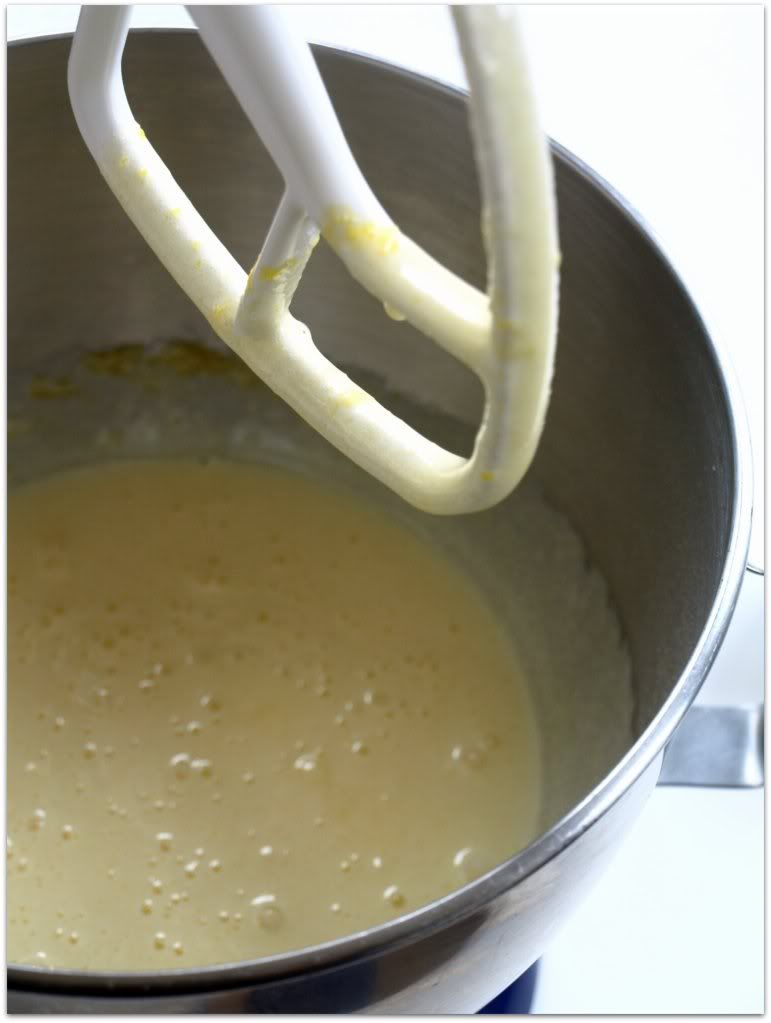 It should look pale and very thick.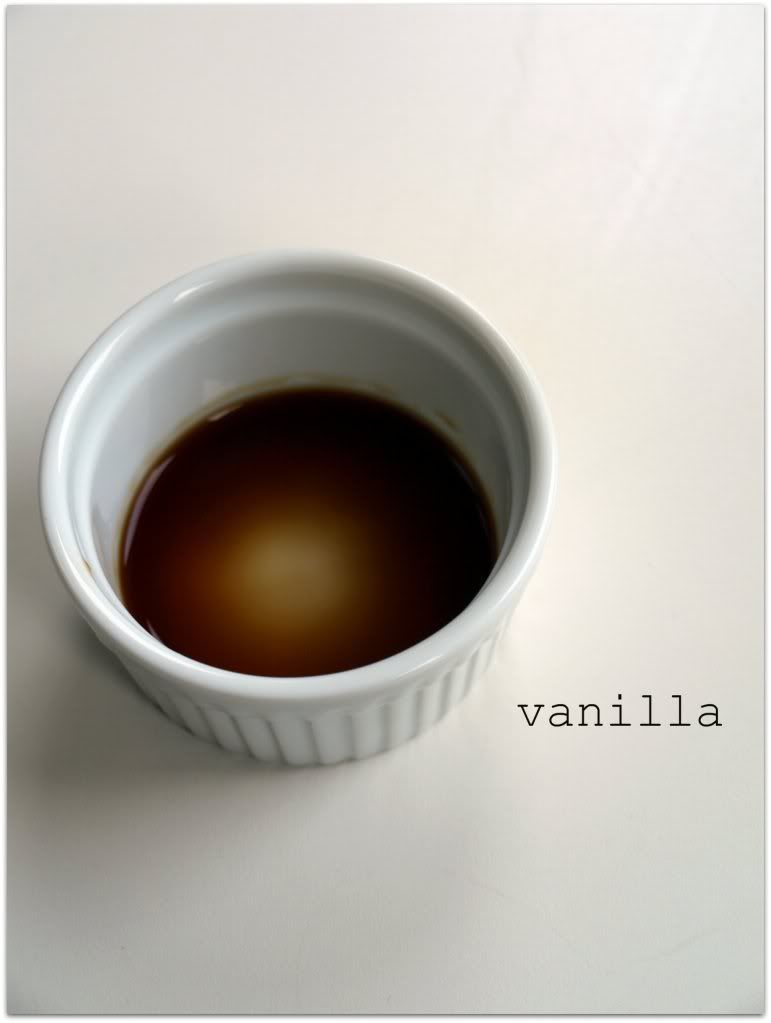 Mix in vanilla.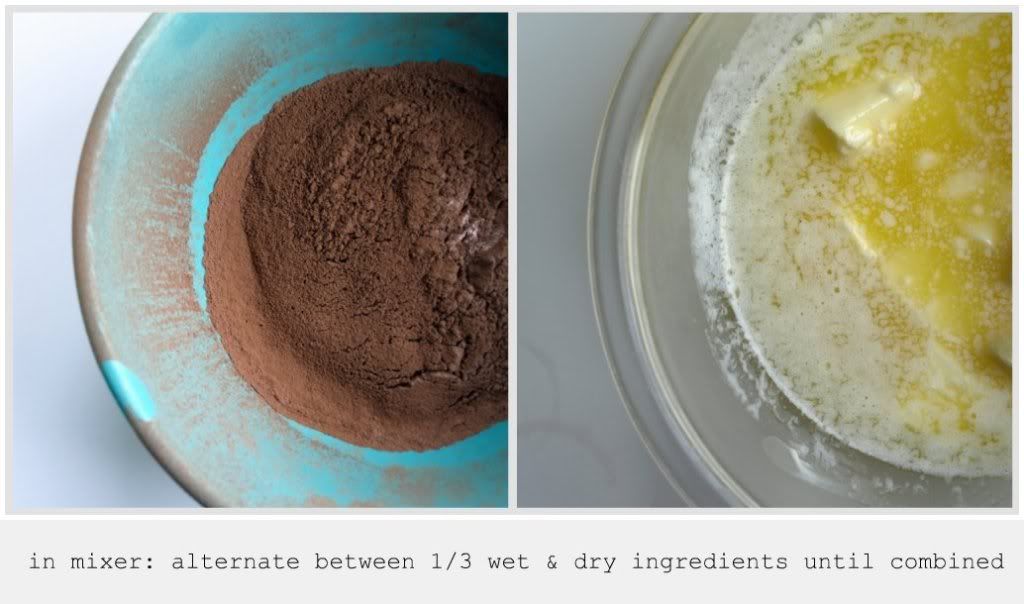 Add chocolate and mix to combine.
Spread batter into a pan and bake for 40-45 minutes.
brownies
:
3/4 cup all purpose flour
1 cup cocoa powder
1 teaspoon of kosher salt
3/4 pound, 3 sticks, unsalted butter, cut into 1 tablespoon pieces
3 large eggs
1 3/4 cups sugar
1/2 teaspoon vanilla extract or
vanilla paste
if you've got it (i do not)
6 ounces of 61 to 64% chocolate, chopped into chip sized pieces (about 1 1/2 cups)
Preheat oven to 350 degrees. Butter and flour a 9x9 baking pan. Set aside.
Sift together flour, cocoa powder, and salt; set aside.
Melt half the butter in a small saucepan, stirring occasionally. Put remaining butter in a medium bowl. Pour melted butter over the bowl of butter and stir to melt. The butter should look creamy, with small bits of unmelted butter, and be at room temperature.
In the bowl of a stand mixer fitted with a paddle attachment, mix together eggs and sugar on medium speed for about three minutes or until thick and very pale. Mix in vanilla. On low speed, add one third of the dry ingredients, the one third of wet ingredients, and continue alternating between the remaining flour and butter. Add the chocolate and mix to combine.
Spread the batter evenly in the pan. Bake for 40 to 45 minutes, until a toothpick poked in the center comes out with a few crumbs. If the tooth pick comes out wet. Test again because you may have hit a chocolate chip. Bake longer if needed.
Cool brownies in pan until room temperature. Cut into 12 rectangles and serve with caramel sauce. Recipe below.
caramel sauce
:
3/4 cup of plus 2 tablespoons sugar
1/4 cup plus 2 tablespoons light corn syrup
1/4 cup water
1 1/2 cups heavy cream, warmed
2 tablespoons unsalted butter, at room temperature
Combine the sugar and corn syrup in a medium saucepan and stir in water. Set over medium high heat and bring to a simmer, then adjust heat as necessary to simmer and cook without stirring, for 30 to 35 minutes, until caramel is a rich amber color.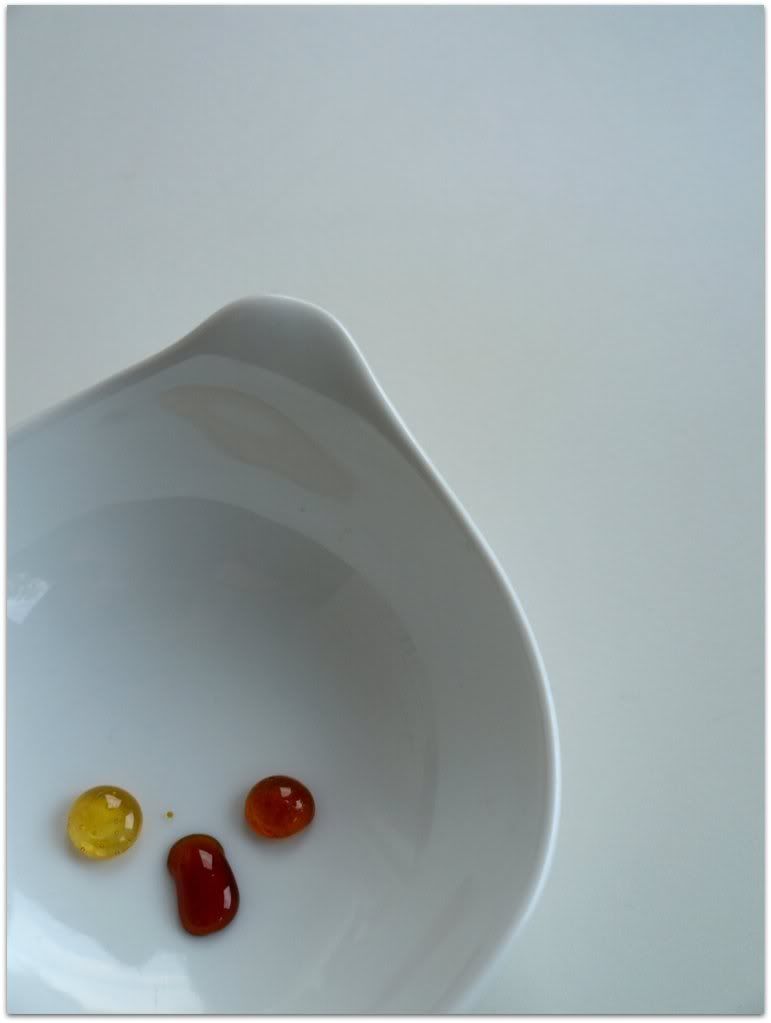 If you want to check the color, use a small spoon to drop a small amount on a white plate. You want a dark caramel so the finished sauce will be a rich caramel color.
Remove from heat and SLOWLY whisk in the cream. (IT WILL BUBBLE UP) If the sauce seizes, stir over the heat to slowly remelt any hardened caramel. Whisk in the butter.
Serve over brownies. You will have extra so put it into a covered container and place in the refrigerator, it will last a month. Use it in your coffee, put it over ice cream, eat it straight out of the fridge.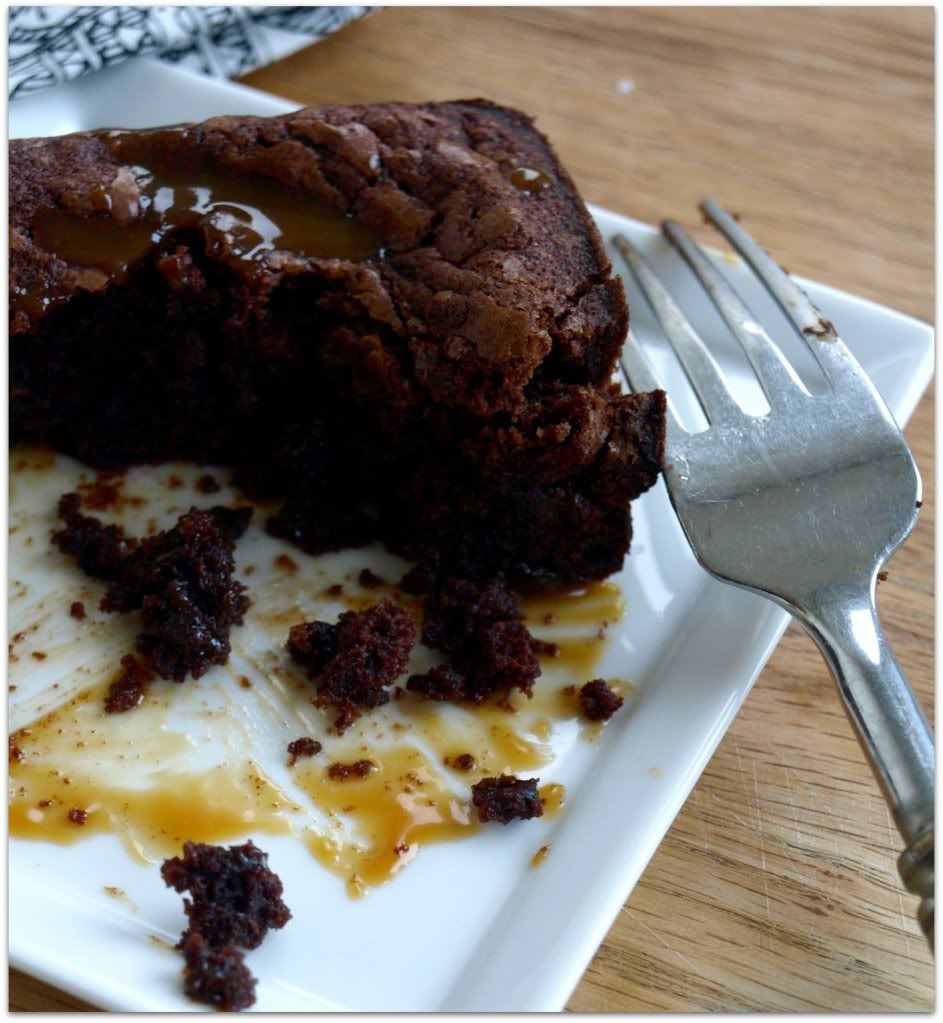 Tasting Notes: Seriously, this is easy. Take the time and make something that is not out of the box and is from a very gifted chef that is trying to make good food accessible to everyone and remember not to stick your finger into hot caramel sauce no matter how good it looks.