This morning it snowed.
It doesn't really mean much to you but around here, it's a huge deal. It doesn't stick but you can see these big fat snow flakes lazily drift down until they hit the ground and quickly disappear.
You have to trust your eyes.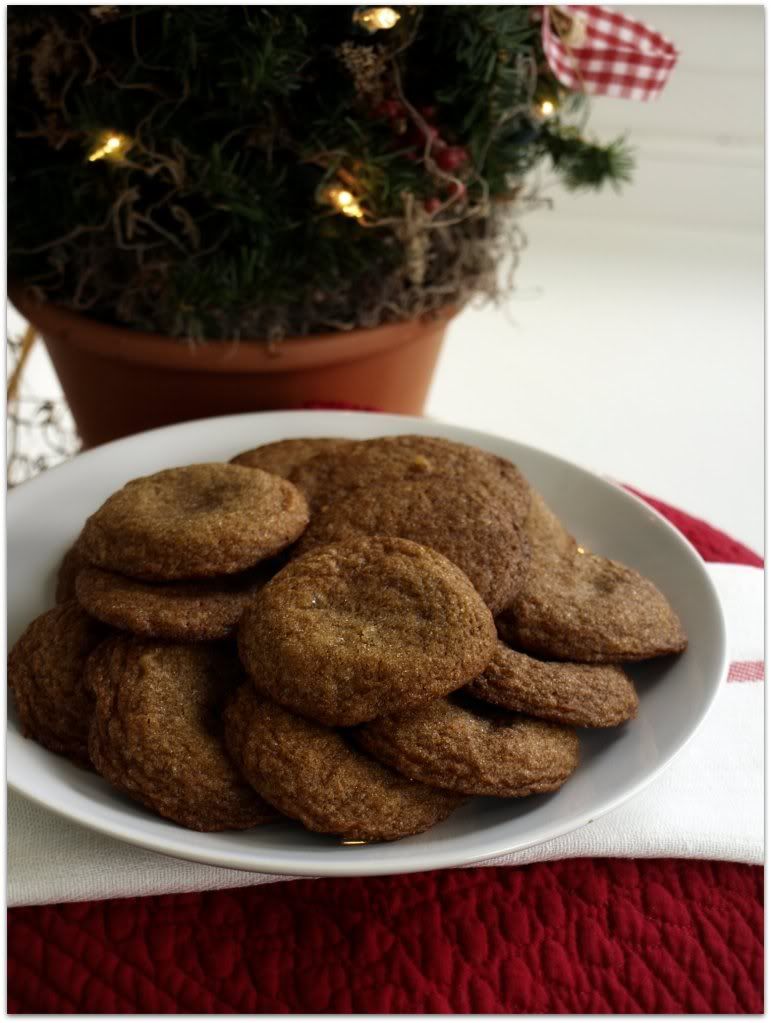 The house smells of ginger. Smells of butter, sugar, and warmth. Christmas. It's the elusive smell that even the best candles cannot capture.
It's a lovely smell.
When you read this recipe it is going to seem like a lot of ginger. An overwhelming amount, even. Trust me. These cookies are soft, spicy, sweet.
Perfect.
triple ginger cookies
: adapted from bon appetit dec. 2009
2 1/2 cups all purpose flour
1/3 cup minced crystallized ginger
2 teaspoons baking soda
1/4 teaspoon salt
3/4 cup (1 1/2 sticks) unsalted butter, room temperature
1 cup dark brown sugar, packed
1 large egg, room temperature
1/4 cup light mild flavored molasses
1 1/2 teaspoons finely grated fresh peeled ginger
1 1/2 teaspoons ground ginger
1 teaspoon ground cinnamon
1/2 teaspoon ground cloves
1/3 cup sugar
Preheat oven to 350°F. Line 2 baking sheets with parchment paper. Whisk flour, crystallized ginger, baking soda, and 1/4 teaspoon salt in medium bowl. Using electric mixer, beat butter in large bowl until creamy and light, about 2 minutes. Gradually beat in brown sugar. Beat on medium-high speed until creamy, about 3 minutes. Add egg, molasses, fresh ginger, ground ginger, cinnamon, and cloves. Beat to blend. Add flour mixture in 2 additions, beating on low speed just to blend between additions. Chill for 30 minutes.
Place 1/3 cup sugar in small bowl. Measure 1 tablespoon dough. Roll into ball between palms of hands, then roll in sugar in bowl to coat; place on baking sheet. Repeat with remaining cookie dough, spacing cookies 1 1/2 to 2 inches apart.
Bake cookies until surfaces crack and cookies are firm around edges but still slightly soft in center, *about 15 minutes. Cool completely on sheets on rack.
*it took my cookies 7 minutes to bake. so i would advise keeping an eye on them while baking. also, these cookies spread an awful lot. so make sure to space appropriately if you decide to make them a little larger.
about this month's header
.