The Crunchy Sock Conundrum
Doing laundry for 6 people has become an issue. It started innocently enough. Separate laundry, do laundry, fold laundry, tell kids to put their laundry away. Standard stuff. Then it morphed into something else.
It became a little like
Chester the Terrier
.
"When is the laundry going to get done? Is the dryer done? Did you wash my pants? Are their any clean towels? Mom, where is my yellow shirt? Is my soccer uniform clean? Mom, this needs to be hand washed, this needs bleach, this needs to dried flat, this needs to be dried on low heat, this needs to be washed in cold water on delicate. I don't like the smell of our detergent. Can you put fabric softener on this but not that? Huh Mom, huh Mom, huh Mom?"
Imagine high maintenance movie star.
Exactly what I was dealing with. I just compared my kids to Joan Crawford. Not me,
them
.
So to save my sanity and my body from wire hangers. I decided it was high time my kids started doing their own laundry. The boys and girls separate their laundry and wash, dry and fold it. I do Rich's and my clothes... plus the towels and the whites. I only do the whites because between all of us there is only one load. It's a big load but one single load nevertheless. I fold the whites which by the way is a lot of socks. We all use the same brand of socks even though they are different sizes and are men's and women's but here's the conundrum, Andrew and Will's socks are crunchy. Even after they have been washed in hot water with fabric softener and lovingly dried. They are crunchy.
My husbands socks...
not crunchy
, my socks...
not crunchy
, the girl's socks...
not crunchy
.
What the hell are they doing to their socks to make them crunchy? Besides the obvious. I will not go there because I try to keep this blog sort of family friendly.
*
pumpkin pecan bread
: great coffee cakes, sticky buns, muffins, & more by carole walter
1 3/4 cups all-purpose flour, spooned in and leveled
1 1/2 teaspoons ground cinnamon
1 teaspoon baking powder
1 teaspoon baking soda
1/2 teaspoon salt
1/2 teaspoon ground nutmeg
1/4 teaspoon ground allspice
2 large eggs
3/4 cup very fresh dark brown sugar
1/3 cup granulated sugar
2 teaspoons freshly grated navel orange zest
1 teaspoon freshly grated lemon zest
1/2 cup vegetable oil
1 1/4 cups canned pure pumpkin puree
1/2 cup medium chopped, toasted pecans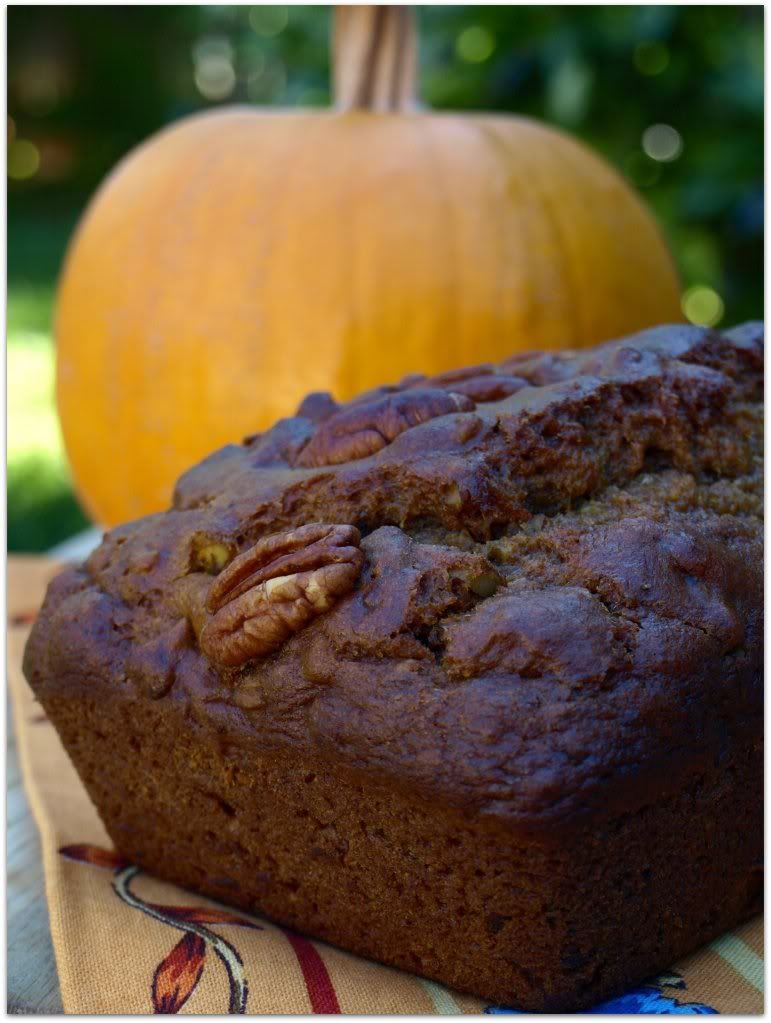 to toast the pecans
:
Line a heavy-gauge rimmed cookie sheet with aluminum foil. Toast the nuts in a single layer in a moderate to low oven (300-325 degrees) The length of toasting time will vary depending on the size, oil content, and volume of the nut. Color and fragrance are the best way to determine whether it is toasted or not. Pecans normally take about 8-10 minutes.
for the bread
:
Position the shelf in the middle of the oven. Heat the oven to 325°F. Butter the loaf pan. Line the bottom with baking parchment, then butter the parchment. Set aside.
Combine the flour, cinnamon, baking powder, baking soda, salt, nutmeg, and allspice in a medium bowl and whisk until thoroughly combined. Set aside.
In the bowl of an electric mixer fitted with the whip attachment, beat the eggs on medium-high speed for two minutes or until lightened in color. Add the brown sugar, taking about 2 minutes, and the granulated sugar taking about 1 minute. Add the orange and lemon zests and beat for one minute longer. Scrape down the side of the bowl as needed.
Reduce the mixer speed to medium-low and drizzle in the oil in a steady stream, taking about 2 minutes. Reduce the mixer speed to low and add the pumpkin puree. Mix until thoroughly combined. Add the dry ingredients, in two additions and blend for 10-15 seconds just until incorporated. Remove the bowl from the mixer and using a large rubber spatula, fold in the pecans.
Spoon the batter into the prepared pan and bake for 60-65 minutes or until the top feels springy to the touch, or until a wooden skewer or a toothpick inserted deeply into the center comes out clean.
Remove from the oven and place on a cake rack. When the loaf is almost cool, invert it onto the rack. Remove the pan, peel off the parchment paper and turn the loaf top-side up. When ready to serve, cut the bread into half-inch slices.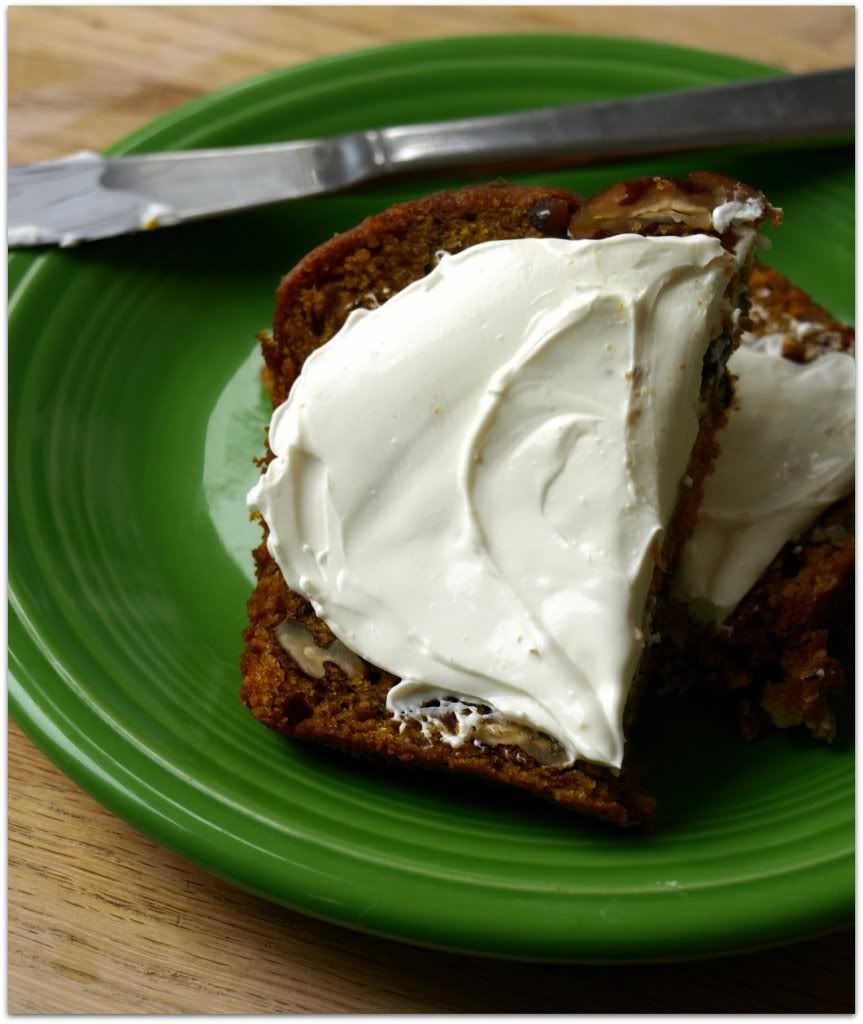 Tasting Notes: So the directions for this recipe are a little persnickety but well worth it. I'm the minimalistic with adjectives food blogger. I don't like to do the words: yummy, soft, moist, delicious...yada, yada, yada. But this bread is heady with fragrance and taste. Swear to God, that's what popped in my head while making this. Heady. So this bread is some pretty heady stuff. It has been by far the best pumpkin bread I have eaten.
*
I was told by some big-wig that the people they worked with thought I was too crude and this is why people will be
and
are hesitent to work with me. That if I toned down my blog I could be really succesful being a mommy blogger. I still wonder why we didn't end up working together.