Welcome to my kitchen... come on in.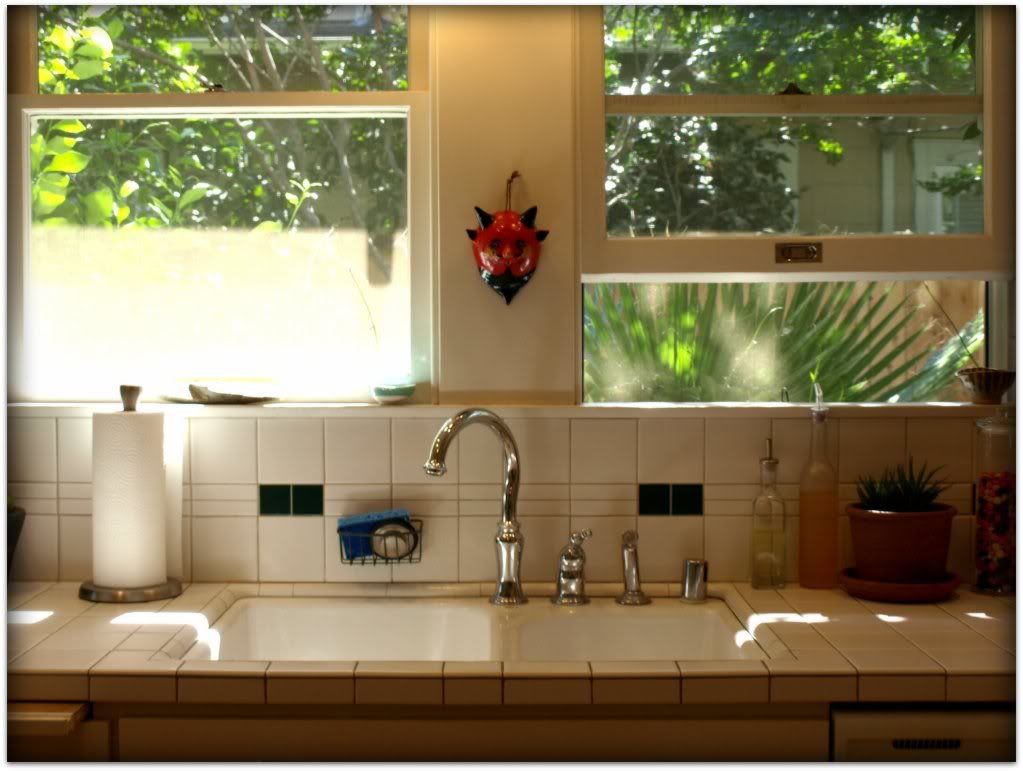 so... let me start off by saying my kitchen is a rectangular 16 feet long by 8 feet wide (not including the breakfast nook). Breakfast nook and lots of counter space. I'm talking so much counter space, I can layout a few cookbooks, have some mixing bowls and pans out plus ingredients and if I wanted to dance a jig for my husband on the counters, well I would have enough room for that too. But you might want to leave the room if that happens, you might go blind.
There is an orgy of space! It's wonderful but scary at the same time. Every kitchen I have ever had has been only half the size of this one, I'm not complaining or anything but my mind
spazes
at the mere thought of cooking in here. My brain is all like, "Dude, you
can't
cook in here! You'll make a mess and it will take forever to clean AND you don't even know where you put the measuring spoons, now do you? HA! That's what I thought. What an idiot... thinking you can just come in here and cook. This kitchen is for a cook, not a hack, now
go grab some pine
and go sit on the bench, meat."
Yes, my brain and I do have these conversations.
I know now what "now you're cooking with gas" means. Oh dear lord...I love my oven and stove. I'd have little baby
Thermadors
and it would give new meaning to the term "bun in the oven".
[insert your own joke here]
What's this?
I am moving on up in the world. I, now am the proud owner of an appliance garage with eight plugs. Count them... 1,2,3,4,5,6,7,8....
Crazy. Between the counter space, an appliance garage (doesn't that sound a little pretentious?), under the counter lighting, plus the other 2 lights and recessed lighting, the Sub Zero fridge, and the umpteenth million drawers and cupboards... you can now understand why my brain hurts every time I try to cook? It's enough to make my head
a

splode
.
It will be my kitchen renaissance. I will create grand operatic meals fit for_____
ahhh
forget it!
POOF!!!