I think I am getting old. Wait let me clarify that, I think I am maturing. Let me explain.
When I was a kid and I had to do that every other weekend custody deal between my mom and dad. I would stay at my dad's and read magazines all weekend, that way I didn't have to interact too much with anyone or get into any trouble. Reading was my coping mechanism.
Anyways, my dad and stepmom had an impressive amount of magazine subscriptions. My favorites were: Gourmet (don't get me started on how depressing Gourmet's shuttering is), Bon Appetit, Smithsonian, and National Geographic. After I read through those magazines I'd go on to what I thought were the second tier magazines. Magazines that were boring but kept me occupied: House Beautiful, Architectural Digest, Field and Stream, and Sunset.
I didn't understand Sunset magazine. Gardening (lots of it...
BORING!
turn the page). Pictures of houses (
Who Cares!
turn the page). Where to eat
(I'm stuck here at my dad's so I can't go out to eat!
turn the page). Recipes (
where's the articles about food like Gourmet?
UGH! throw the magazine on the floor in a huff) What can I say? I was a pain in the ass as a kid.
If my past self could see me now she would be HORRIFIED. I like Sunset magazine. Gardening?
(More please
.) Pictures of houses? (
Please sir, may I have some more?)
Recipes? (
Damn, they have some tasty stuff
.) I guess what I'm saying is I've matured and I totally get Sunset now.
OHHHHNOOOOO!
that was my inner child. She wants to be Peter Pan.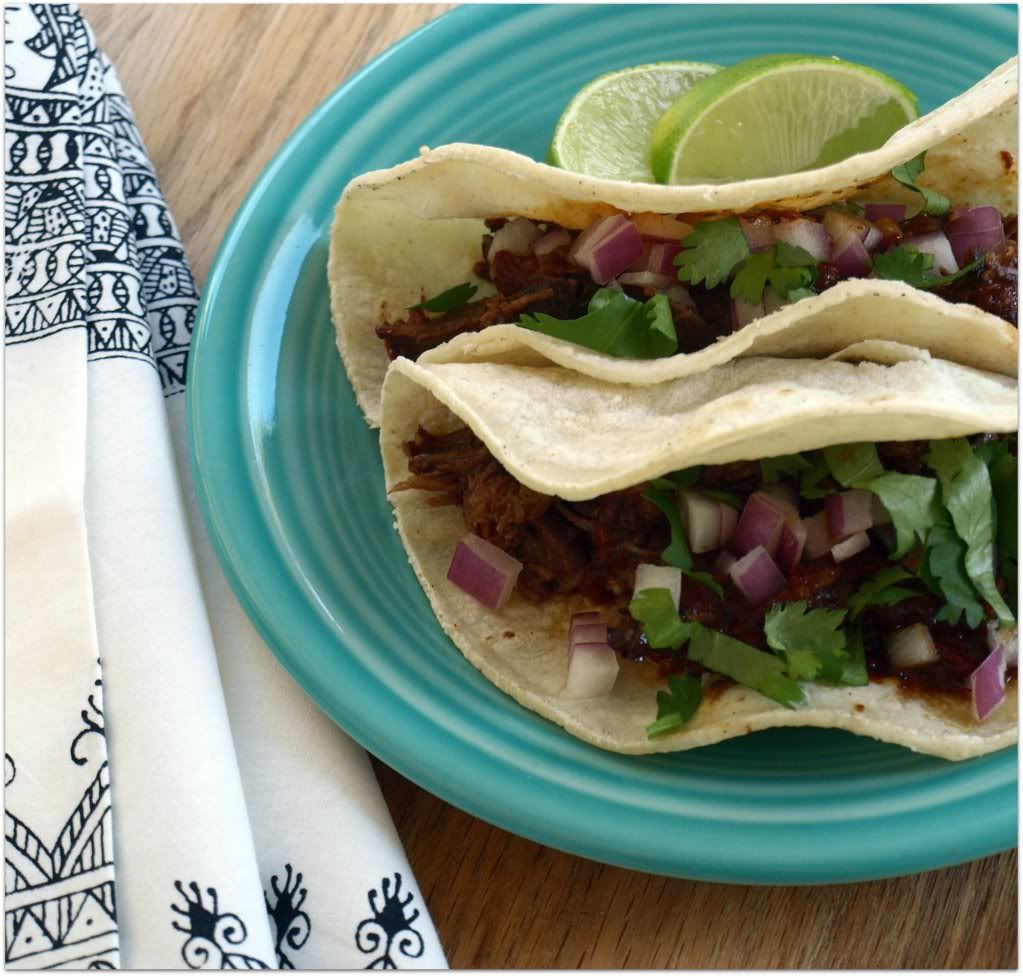 cola shredded beef tacos
: sunset magazine october 2009
beef:
3 medium dried ancho chiles
2 large dried guajillo chiles
2 tablespoons canola oil, divided
1/4 cup finely chopped red onion
2 large garlic cloves, sliced
1/2 teaspoon cumin seeds
1 cup canned diced tomatoes
1 teaspoon dried Mexican oregano
2 teaspoons kosher salt, divided
2 pounds chuck roast, cut into 4 pieces
1 dried bay leaf
1 1/2 cups Mexican Coca-Cola (cane-sugar sweetened) or another cola (not diet)
condiments for the tacos:
12 to 24 warm corn tortillas (6-in. size; use 24 if they're thin and floppy)
Accompaniments: chopped avocado, red onion, and cilantro; thinly sliced pickled jalapeños; and crema Mexicana or regular sour cream.
sauce for beef:
Wipe chiles clean with a damp cloth, stem and seed, and tear into pieces. Heat 1 tbsp. oil in a heavy medium saucepan over medium heat. Sauté onion and garlic until softened, 1 to 2 minutes. Add chiles and cook, stirring, until fragrant, 1 to 2 minutes. Add 1 1/2 cups water, the cumin, tomatoes, oregano, and 1 tsp. salt. Bring to a boil, then reduce heat and simmer, covered, until chiles are softened, about 10 minutes. Purée sauce in a blender until very smooth.
Meanwhile, season beef with the remaining tsp. salt. Heat the remaining tbsp. oil in a 5- to 6-qt. pot over medium-high heat. Brown beef, turning occasionally, 10 to 14 minutes. Discard fat, if any.
Pour sauce into pot and add bay leaf, cola, and a little water if needed to barely cover meat. Cover, reduce heat, and simmer until beef is very tender, 3 hours.
With a slotted spoon, transfer beef to a plate. Let cool slightly, then tear into shreds, discarding any fat or gristle. Meanwhile, boil sauce over medium-high heat, stirring occasionally, until slightly thickened and reduced to about 3 cups, 10 to 30 minutes. Stir in beef and heat a few minutes until hot. Remove bay leaf.
how to serve the tacos:
With a slotted spoon, transfer beef with some sauce to a bowl. Spoon beef into tortillas (double tortillas if they're thin), tuck in accompaniments, and serve with remaining sauce if you like.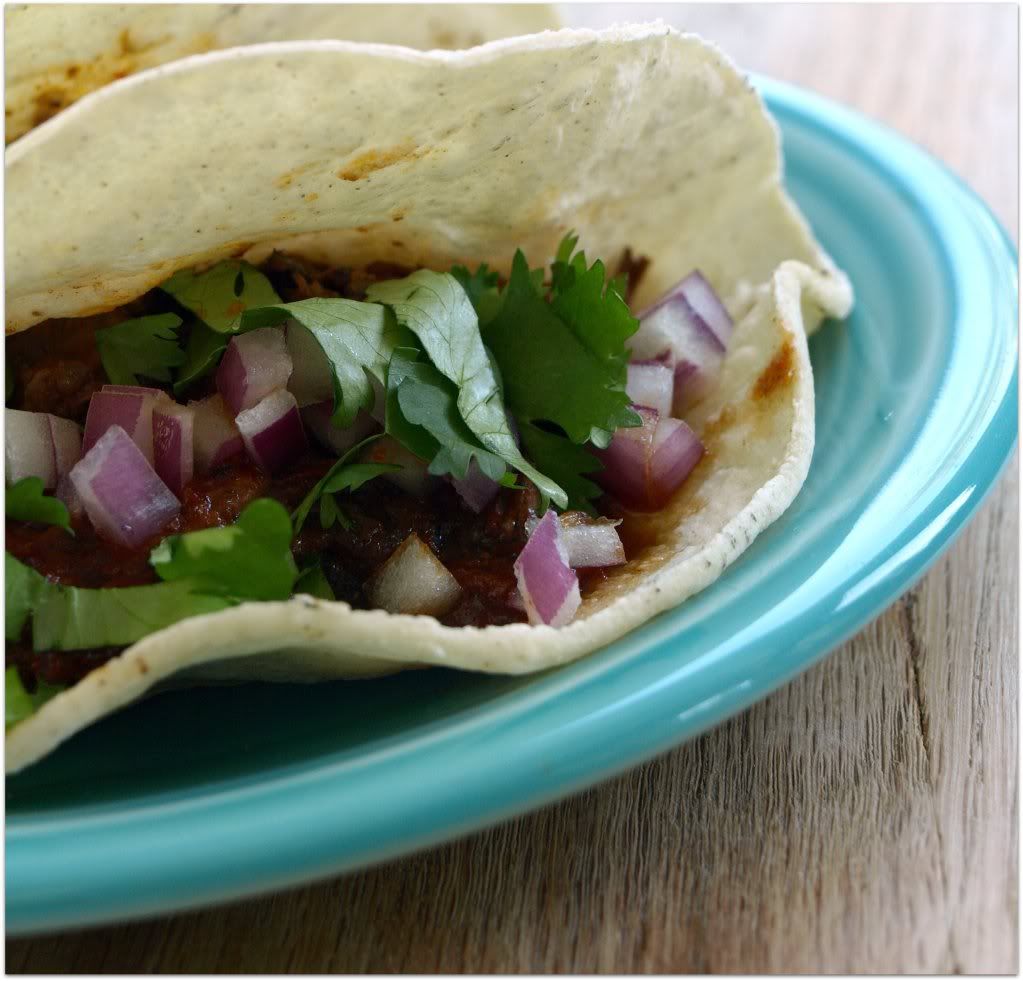 Tasting Notes: Man oh man. I love these tacos... the sauce for the tacos was a little smoky (in a totally good way) and rich and not at all spicy. If you can get your hands on fresh corn tortillas, it will make this dish great.
If you make this dish and you have extra sauce, DO NOT THROW IT AWAY! Here's what you do... serve the sauce over really thick tortilla chips and add some cheese, cheddar or monterey jack. Zap it in the microwave for a minute and then try not to lick the bowl clean
.