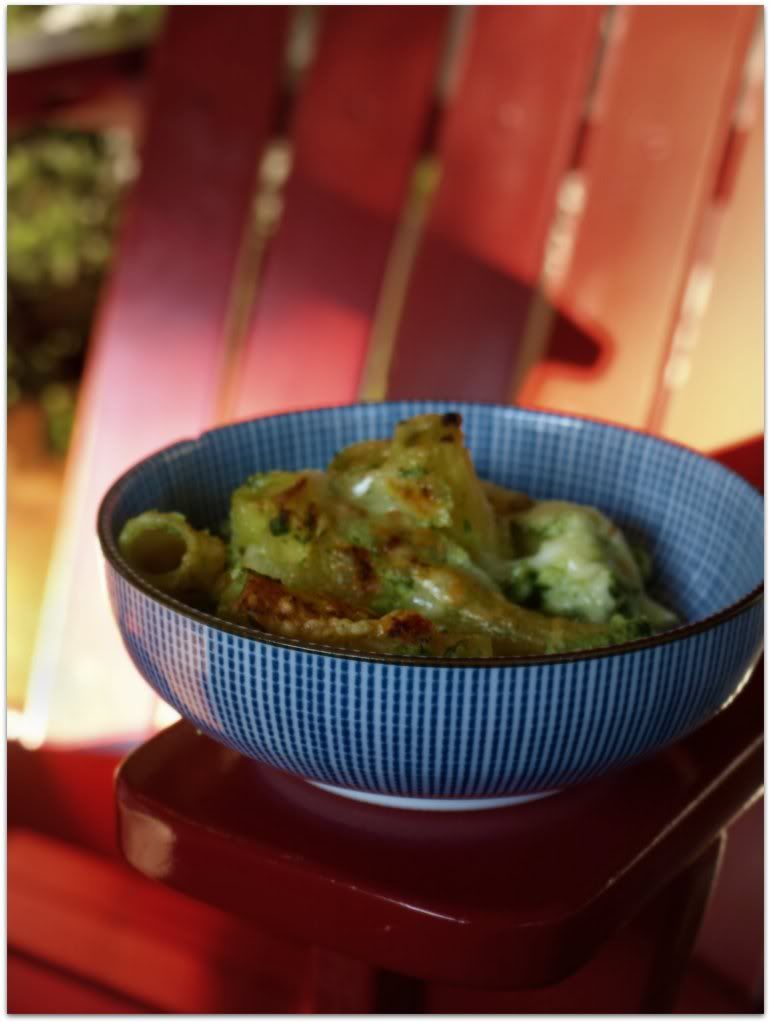 Sometimes....
not always, but sometimes the stars line up and during one magical Sunday
there is no to-do list
you get to sleep in
the kids get along peacefully-
all day-
i can not stress this enough
all the chores, housework, and laundry are completed
you can take an afternoon nap
the phone or the doorbell doesn't ring
dinner is simple
sometimes...
you are able to eat dinner on the front porch, watching the sunset.
sometimes...
you feel a slippery glimmer of peace, knowing you cannot grasp at it because it will soon enough leave on it's own.
baked rigatoni with spinach, ricotta and fontina
: food and wine quick from scratch italian cookbook
1 pound rigatoni
3 tablespoons olive oil
1 10-ounce package frozen spinach, thawed
2 cups (about 1 pound) ricotta
5 tablespoons grated Parmesan
1/2 teaspoon grated nutmeg
3/4 teaspoon salt
1/4 teaspoon fresh-ground black pepper
6 ounces fontina, grated (about 1 1/2 cups)
Heat the oven to 450°. Oil a 9-by-13-inch baking dish.
In a large pot of boiling, salted water, cook the rigatoni until almost done, about 12 minutes. Drain. Put the pasta in the prepared baking dish and toss with 1 tablespoon of the oil. Meanwhile, squeeze as much of the water as possible from the spinach. Put the spinach in a food processor and puree with the ricotta, 3 tablespoons of the Parmesan, the nutmeg, salt, and pepper. Stir in half the fontina. Stir the spinach mixture into the pasta. Top with the remaining fontina and Parmesan. Drizzle the remaining 2 tablespoons oil over the top. Bake the pasta until the top is golden brown, 15 to 20 minutes.