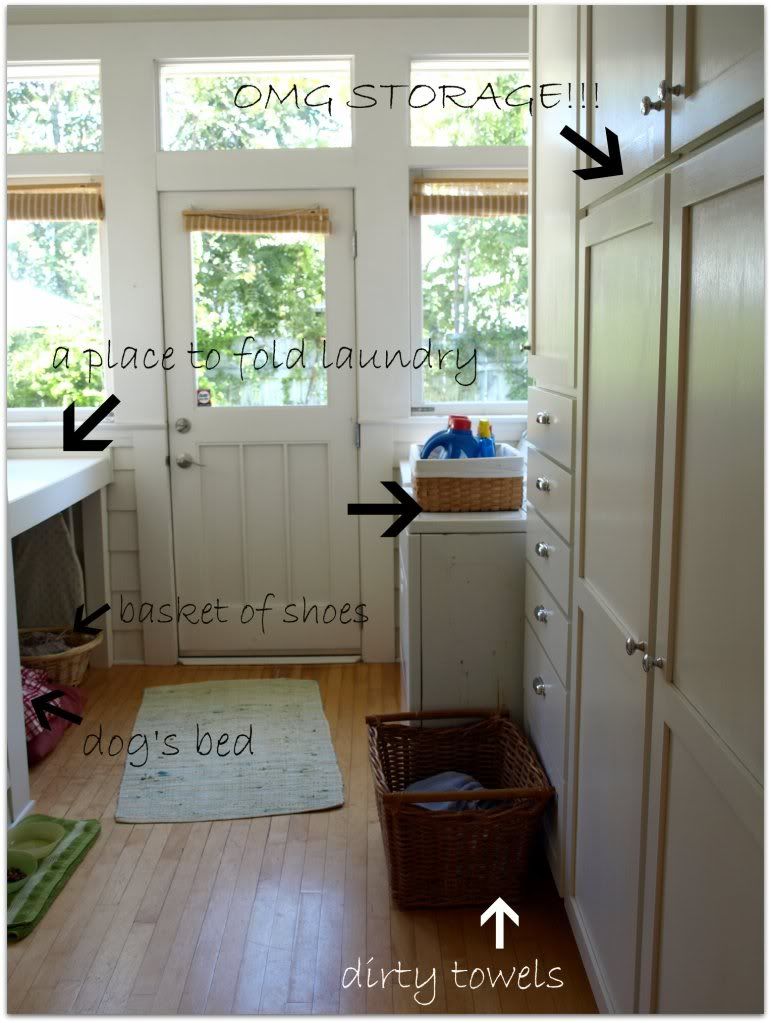 okay, so i might be over exaggerating here but i really do love my laundry room/mud room.
see, every laundry room i have ever had has been either cramped or dark OR cramped
and
dark so it's nice to have a huge light filled room.
i love the light. i love the storage. OH MY GOD THE STORAGE! can you see how much storage there is? except it's made for tall people and i am short, folks, real short... but who cares because THERE IS STORAGE!!!! i will just have to use a ladder that i can store in the cupboards.
i love that there is a place to fold laundry... except i never use it to fold laundry, i use it to take pictures because of the light... wait until you see the light.
okay here's a picture of the washer and dryer, not a big deal but... it is.
in our old house there wasn't a place to vent the dryer. you know that little hole cut out in the wall to feed the dryer vent? yeah, our old house lacked it because our landlord wanted to keep the house "original" [eyeroll...as much as i like my landlord this was a point of contention... it was a hole for a dryer vent it wasn't like we wanted to put in a window, for christsake!] so we had to open a door in the laundry room to let out all the hot steamy air the dryer created, even in the winter and if the temperature was over 90 degrees you could forget doing the laundry. we had to replace the heating element in our dryer two to three times a year because the dryer overheated. it was a pain in the ass and a pain in our pocketbook... multiply 40 dollars by twice a year then multiply that by 7 years = 560 dollars (conservatively) all because our landlord wanted to keep the house "original".
what laundry room isn't complete without a disneyland tiki room poster?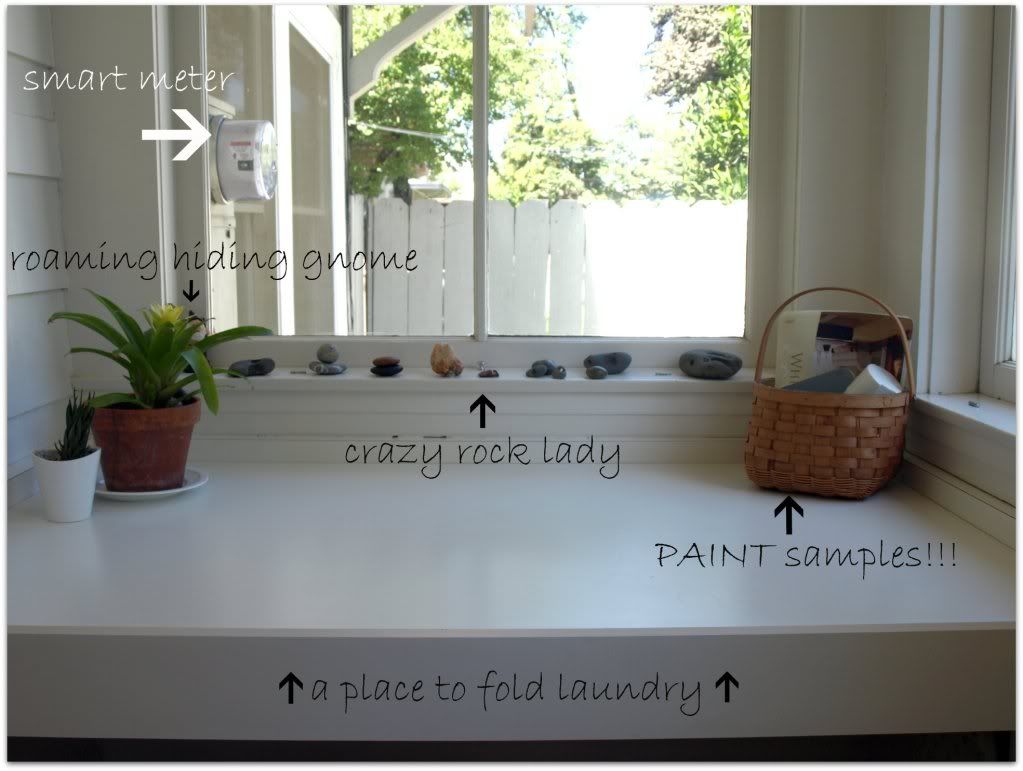 the light isn't great in this picture but here's where i am now taking the bulk of my pictures and storing all my paint samples but that's for another post.
so here's the thing, i collect rocks. i have rocks in probably every room in my house. i'm like the crazy cat lady but i have rocks. they are from the ocean, the mountains, the front and backyards. i don't want to know what it says about my personality.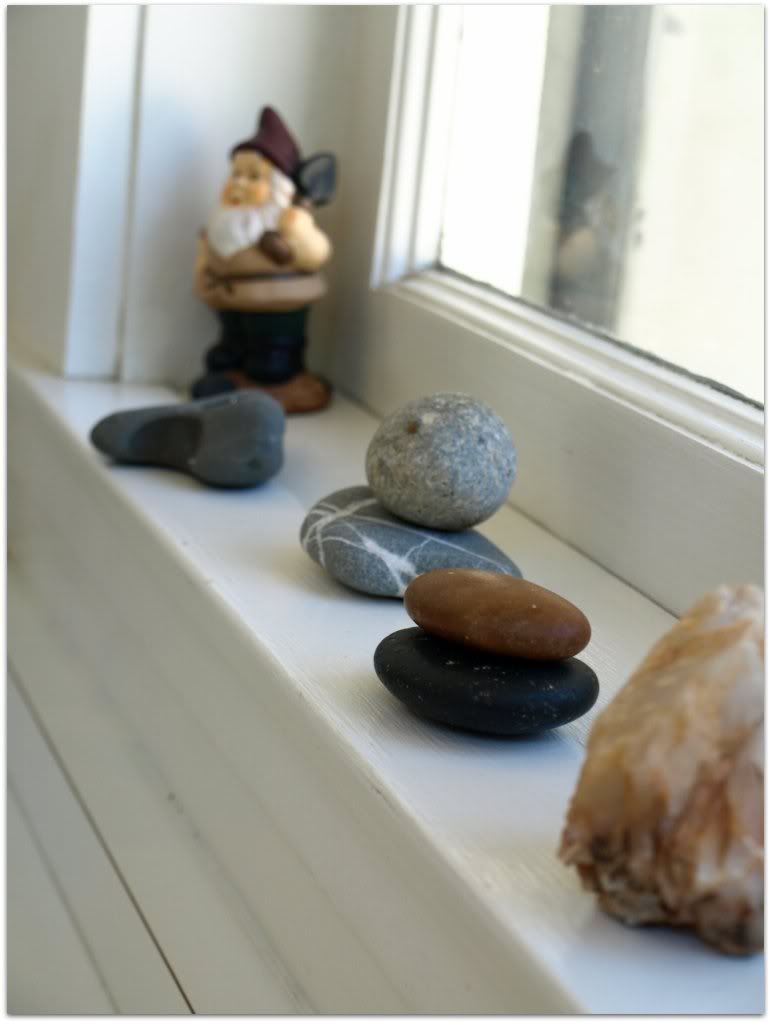 this picture shows my roaming gnome and the LIGHT!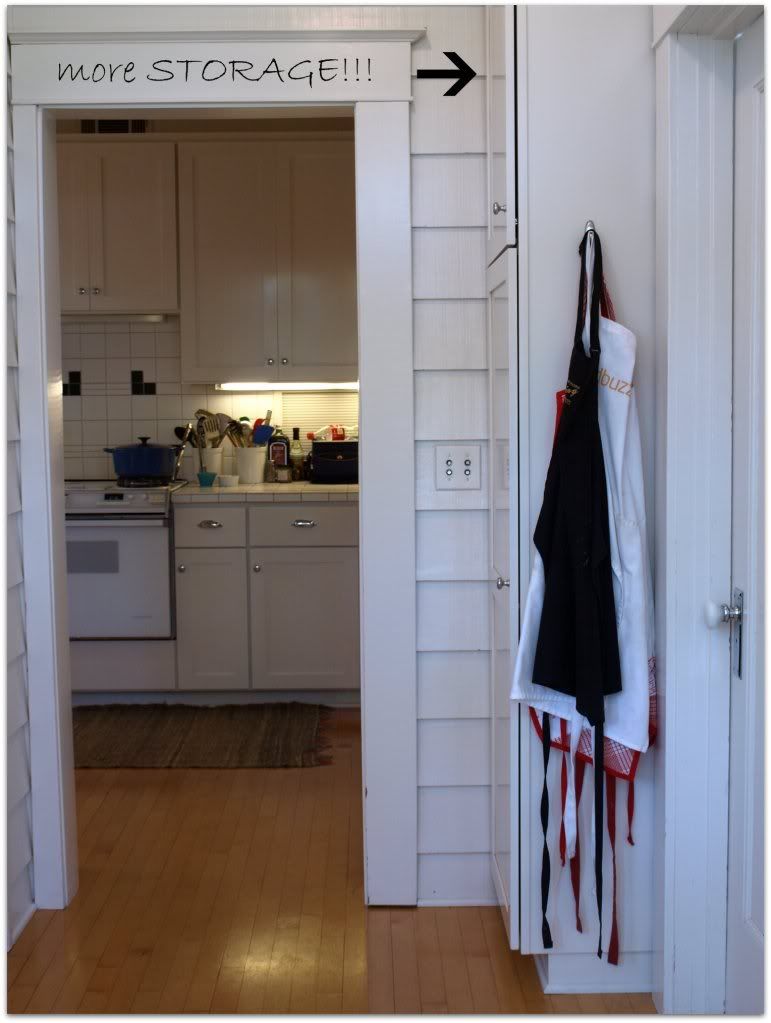 more STORAGE!!!
cool story about the floors...
an architect friend of ours came over and told us that our maple floors in the kitchen and laundry room were quite common for this neighborhood. what happened was when these houses were being built, a few miles down the road a huge old gymnasium was being torn down and they used the floors from the gym as kitchen floors for the new construction around here... in the early 1900's. back then i am sure it wasn't called being green, it was just being thrifty.
we have recycled basketball floors, isn't that cool? i'm tempted to figure out a way to paint a basketball key on the floor.
next stop on the tour, the kitchen.