Dear Summer,
It's time for you to pack your bags and leave. I'm sorry to say that so bluntly but you really have over stayed your time here with me. I mean your gifts were wonderful... the fresh ripe sweet fruit and the glorious tomatoes, I can never thank you enough for that but the multiple 100 degree days, the dirty air, that is just being a bad lover. Really, how do you expect me to love you when you treat me so badly?
Anyways, my oven feels neglected. He is distraught that no one has payed him any attention. My friends... jeans, turtleneck sweaters, scarves, and boots have threatened to not to talk to me if they don't see the light of day soon and don't get me started on my new fireplace. He whispers sweet nothings into my ear every night. Summer, he is so very hard to resist.
Let's just end this now before it gets messy. Really, it's not you it's me. No, I haven't an affair yet but if we don't end this soon, someone will suffer from a broken heart and I like you well enough not to want to hurt you. Fall is calling and he's such a handsome and kind man. I know we'll run into each other in about 6 months or so. Don't be sad because soon enough I know I'll regret this letter.
With Love,
Krysta
P.S. Here's my parting gift to you...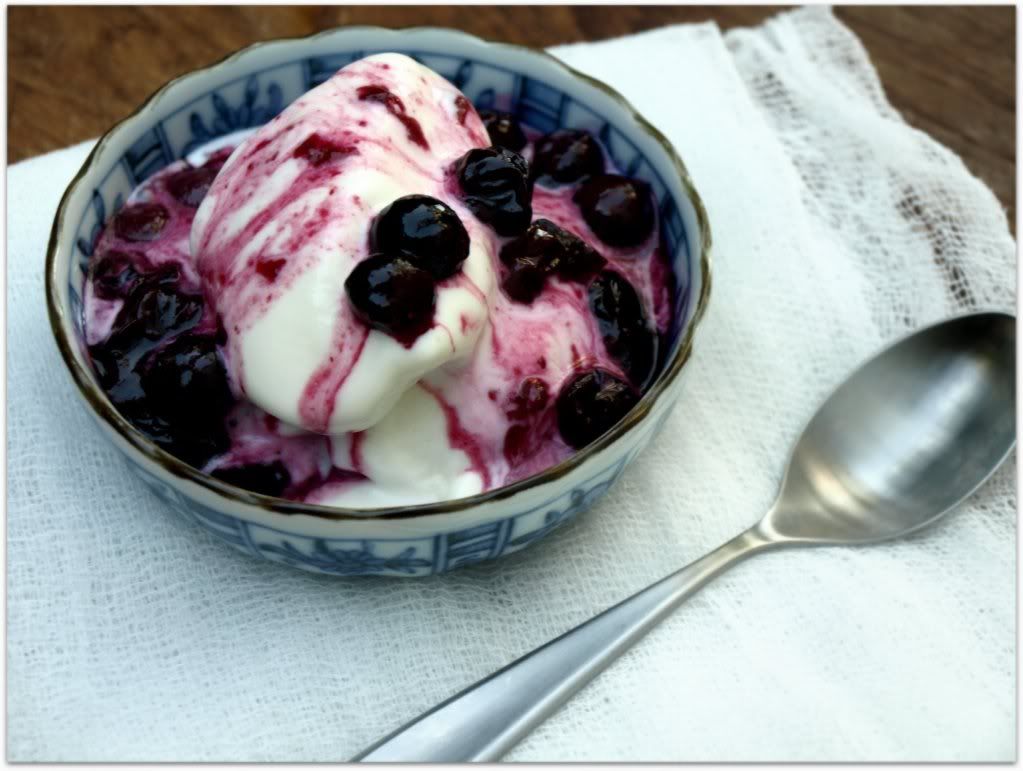 lemon frozen yogurt
: sunset magazine
32 ounces (about 4 cups) plain nonfat yogurt
2/3 cup lemon curd
In a medium bowl, whisk together yogurt and lemon curd. Spoon mixture into an ice cream maker and freeze according to manufacturer's directions. Transfer yogurt to a container and freeze until firm, about 3 1/2 hours. Make ahead: Freeze up to 1 week. Let soften at room temperature about 45 minutes before scooping, or microwave a few seconds until softened.
blueberry coulis
:
1 pound fresh or frozen blueberries (3 1/2 cups)
3/4 to 1 cup sugar
1 to 2 tablespoons freshly squeezed lemon juice
2teaspoons cornstarch
2 teaspoons water
Combine the blueberries, 3/4 cup of the sugar, and one tablespoon of the lemon juice in a saucepan and bring to a simmer over medium heat. simmer until the sugar has dissolved, about 10 minutes. Taste the mixture and, if necessary, add more sugar. Continue to heat until any additional sugar is dissolved. Strain the coulis through a fine-mesh sieve. After straining, place the coulis in a clean saucepan and bring to a simmer.
Make a slurry by blending 2 teaspoons cornstarch with 2 teaspoons cold water. Drizzle the slurry into the simmering coulis gradually, adding just enough to lightly thicken the sauce.
Tasting Notes: I have said plenty of times that I don't like ice cream and that also went for frozen yogurt. Did you not the past tense in the last part of that sentence? This frozen yogurt is so good and easy. It's sweet and tart and very refreshing on those days wher summer is over staying his welcome. I actually like it better with some raspberry jam and thyme served on the top but blueberry coulis is pretty darn good too.