alternative title: This could be a John Hughes Movie with a Killer Soundtrack!
Did anybody notice the new banner? Yeah, well ignore that for a second. I thought I would be clever and sly when I put that up that maybe someone would catch the significance...
Until yesterday when the bank giving us our loan said they want to re-appraise the house. They think the house is worth less than what it was appraised for. From now on let us compare all banks to any and all douchey/slimy
James Spader
characters. Agreed?
When I was told were the words out of my mouth...
A. You have to be fucking kidding me.
B. Oh Shit!
C. Ugh.
If you said all three, you would be right.
We had dates
. We told our landlord and had friends all lined up to help us move.
We were going to go all the way with this house. I had bought a sexy little bra and matching underwear from Victoria's Secret... I waxed, Damn it! Only to have to take a cold shower. *le sigh*
This is where your knowledge of any and all 80's John Hughes movies will come into play.
We had watched it afar (think
Samantha Baker and Jake Ryan
with a little
Lisa
thrown in) we passed it notes... we flirted and fretted. (think about a combo of
Cameron Fry
/
Keith Nelson/Amanda Jones
) We went on a few dates. We went to second base. We made out hot and heavy in the car (you know it was some awesome 80's convertible!) We even let it have a pair of our underwear! We thought we slipped the sweaty grasp of
Rooney
. But all we got in return was a never ending trip to
Wally World
... without Christie Brinkley. And really all I want to be is
Home Alone
or maybe have
Uncle Buck
to show up. At this point I don't care as long as Jake comes over and brings me a cake. I have a lovely cake stand to put it on.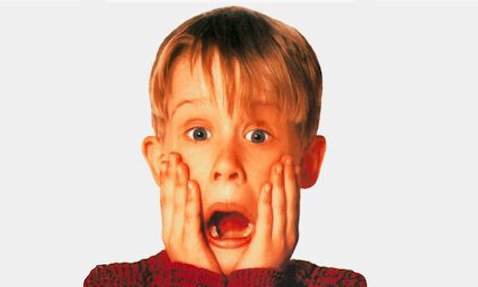 peach frozen yogurt
: the perfect scoop by
david lebovitz
1 1/2 pound ripe peaches (about 5 large peaches)
1/2 cup water
3/4 cup sugar
1 cup plain whole milk yogurt (trader joe's european whole milk yogurt is especially tasty and delicious)
a few drops freshly squeezed lemon juice
(i add a tiny bit of freshly grated nutmeg before putting the mixture into the ice cream maker)
Peel the peaches, slice them in half and remove the pits. Cut peaches into chunks and cook them in water in a medium nonreactive saucepan over medium heat, covered, stirring occasionally, until soft and cooked through, about ten minutes. Remove from heat. Stir in sugar and chill in the refrigerator.
When peaches are cool, puree them in a food processor or blender with the yogurt until almost smooth. You want some chunkage! Mix in a few drops of lemon juice. Freeze the mixture in your ice cream maker according to the manufacturer's instructions.
I serve mine with a honey drizzled on top, sprinkled with mint and more sliced peaches.
and since it wouldn't be a good 80's movie with out some music. I think some
Smith's
would be in order. Songs that would give this post meaning and teenage angst like...
How Soon is Now?
What Difference Does it Make
Please Please Please Let Me Get What I Want
Back To The Old House
Heaven Knows I'm Miserable Now