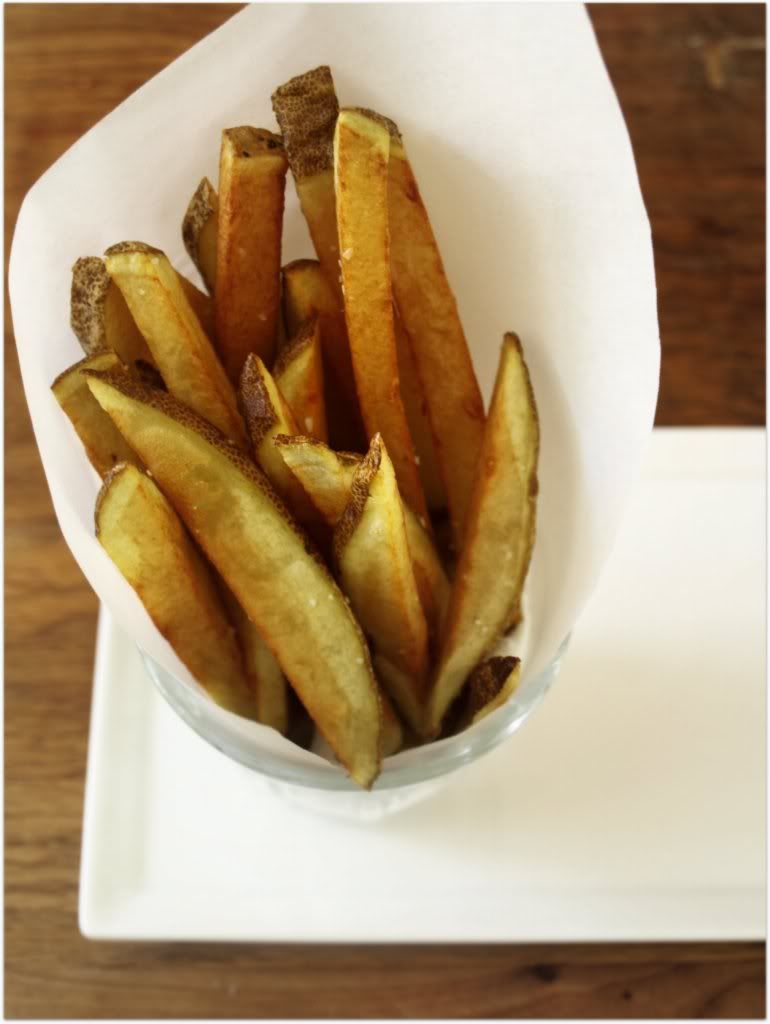 Okay so yesterday we talked a little about
french fries in general
and in the discussion it was mentioned that certain people have the fear of frying... either it would be from getting popped and snapped from the frying grease or they were worried about fire. So let's hit upon those subjects for a second before we start. Make sure your potatoes for french fries and all utensils are clean and dry (this will prevent popping/snapping). Also have a kitchen fire extinguisher on hand or a well fitting lid for the pot of oil and let me make this clear.... DO NOT USE WATER IF YOUR GREASE CATCHES ON FIRE! That would be a very bad thing. If you don't have a fire extinguisher and your pot catches on fire put the lid on the pot for a few minutes or if you don't have a lid place a towel on it, find the lid and place it on the pot quickly. If all else fails have a phone nearby to call 911. Okay now that we've addressed that issue let's carry on.
Let's think of french fries as a big ol' mise en place before we do anything, let's set up our kitchen.
russet potatoes, well scrubbed and dry
a cutting board
a knife
a large bowl of cold water
a colander
2 cookie sheets
a clean kitchen towel
a roll of paper towels
a heavy duty pot
Crisco
salt
tongs
a candy thermometer
working from left to right...
In your sink, set up a bowl of large cool water and beside it a colander. To the right of that on the counter, set up a clean dry dish towel.
Place heavy duty pot on stove burner... in reach, have Crisco (or any other neutral flavored oil like canola or peanut oil will do) candy thermometer, and tongs.
Next to your oven, hopefully, you have a place to set two large cookie sheets lined with paper towels.
On your cutting board you want to cut your potatoes into sticks about 1/4 inch thick. You can cut them until they are all the same length but what fun would that be?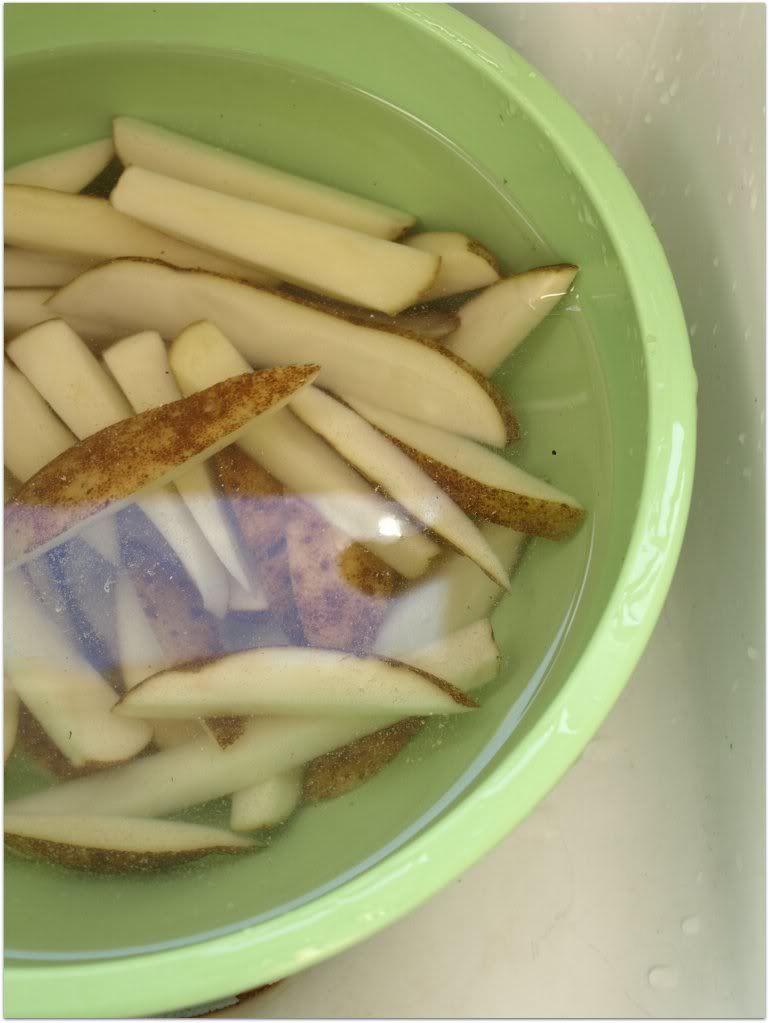 Place them in the water. When all the potatoes are cut, change the water a couple times until the water is clear.
Next step is to warm up your pot. I set the pot on the burner, empty and turn it on to medium high, when the pot warms up after a couple of minutes, I place the Criso in and let that warm up. Place in thermometer and heat Crisco to about 320 dergrees. I'm sure at this point you are like,"Krysta, you never told me how much Crisco or oil to use." It's true, I didn't. Here's where ratio comes in...use twice as much oil as you have potatoes. I hate math but even I understand this one.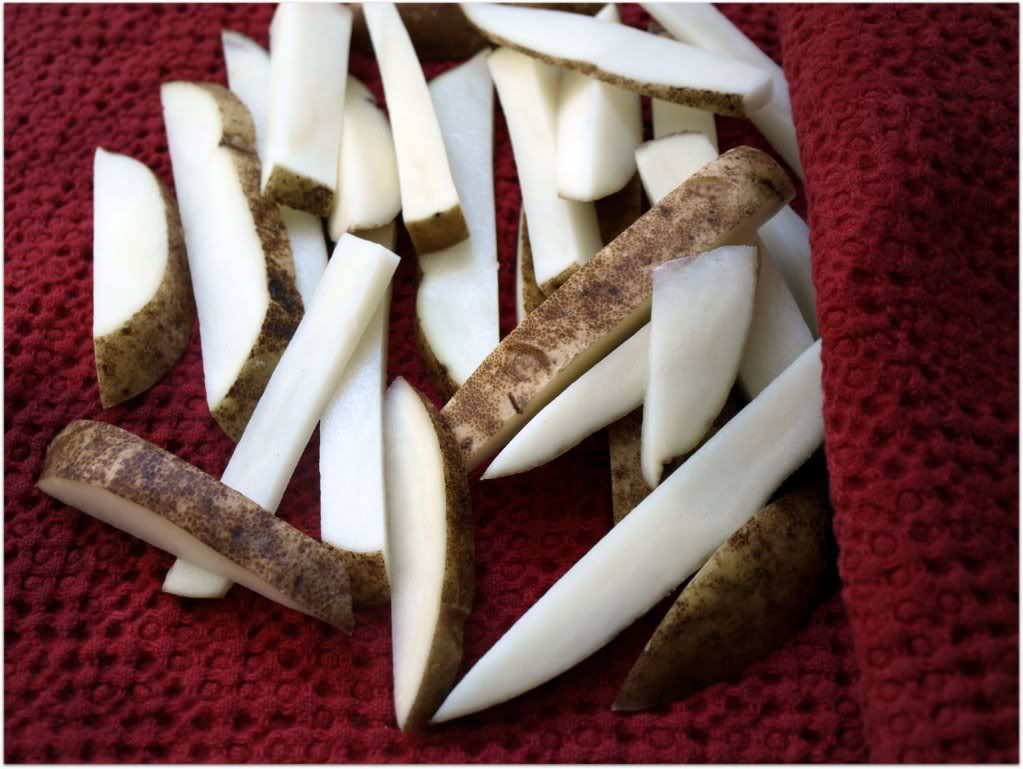 While the oil or shortening is warming up. Grab a handful of potatoes in the cool water> drain them in the colander > then pat dry on clean kitchen towel. See how that worked from left to right? Genius!

At this point, I want to stress that potatoes are solitary creatures,
they DO NOT like overcrowding or to be fiddled with to much.
They become soggy in anger. Let's keep the potato happy people! And so you don't get popped, do not just throw the potatoes in the oil because you are scared of getting popped. That makes not a lick of sense. Use something to slowly ease them into the oil like if you were achy and 100 years old and you wanted to get into the bathtub, you wouldn't risk breaking a hip by just flopping in the tub, would you?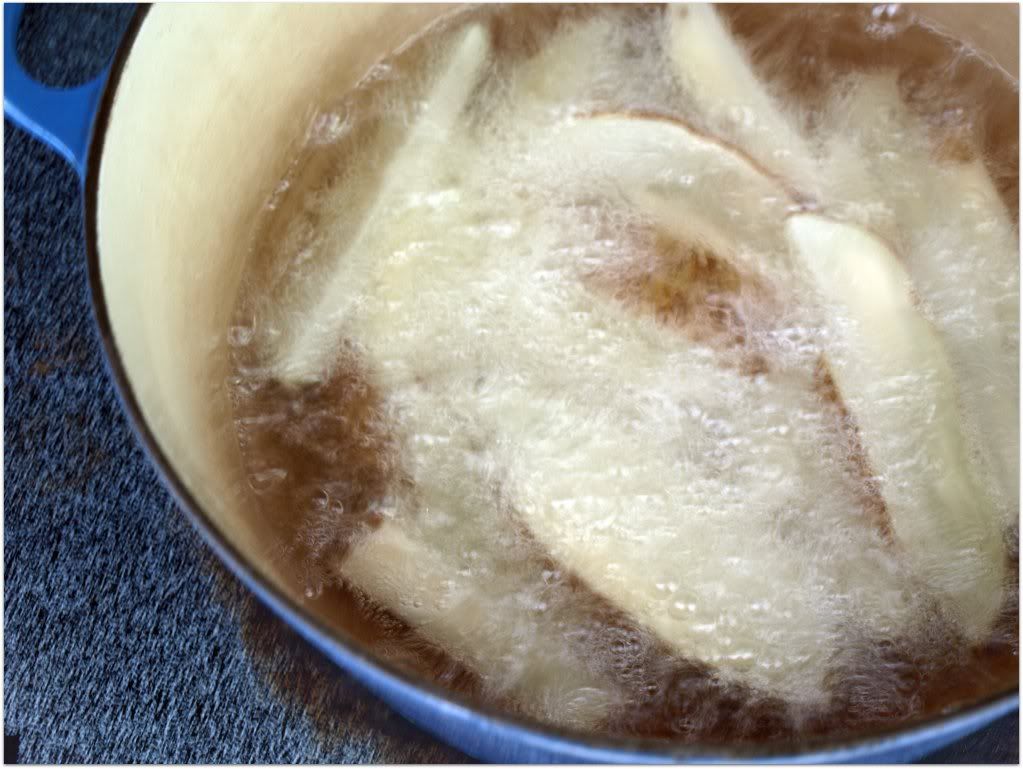 don't do this at home! professional stupid food bloggers only
.
sorry about the blur, i'm stupid but not an idiot. take picture of potatoes in boiling oil very quickly and then get the hell out of there!

Fry the potatoes until they are cooked through about 5 minutes. Giving them a stir once or twice. They should be a pale golden color. Remove the potatoes and place them in a single layer onto lined cookie sheet. Remember NO OVERCROWDING!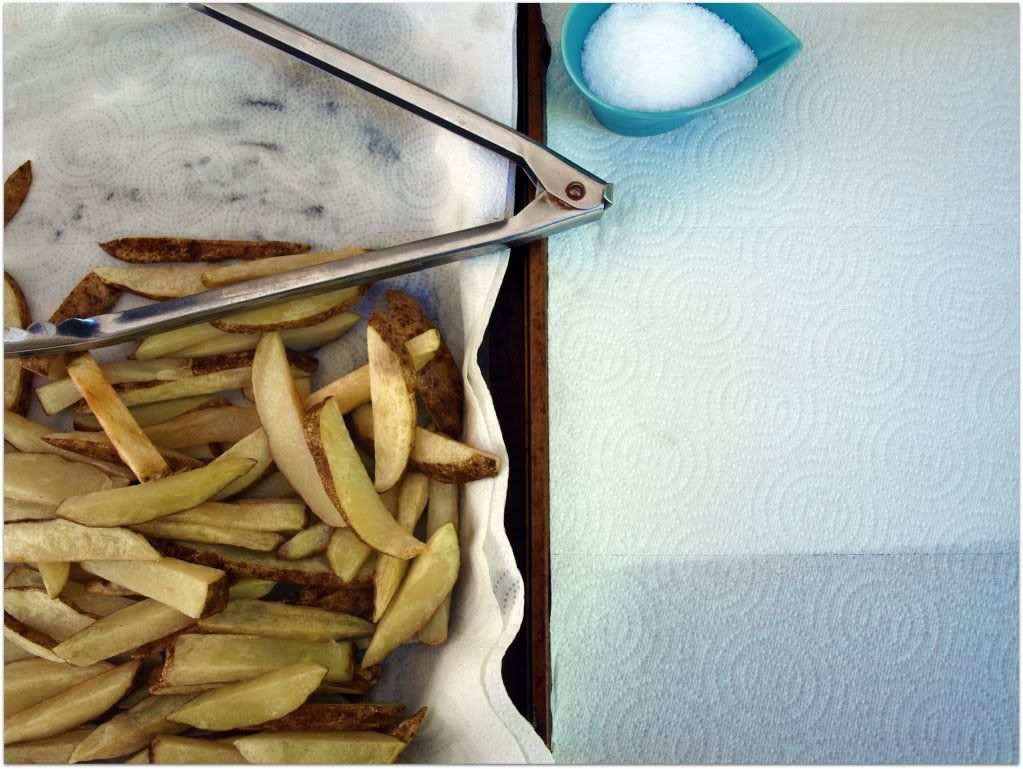 Lather, Rinse, Repeat with the remaining potatoes.
For the second fry...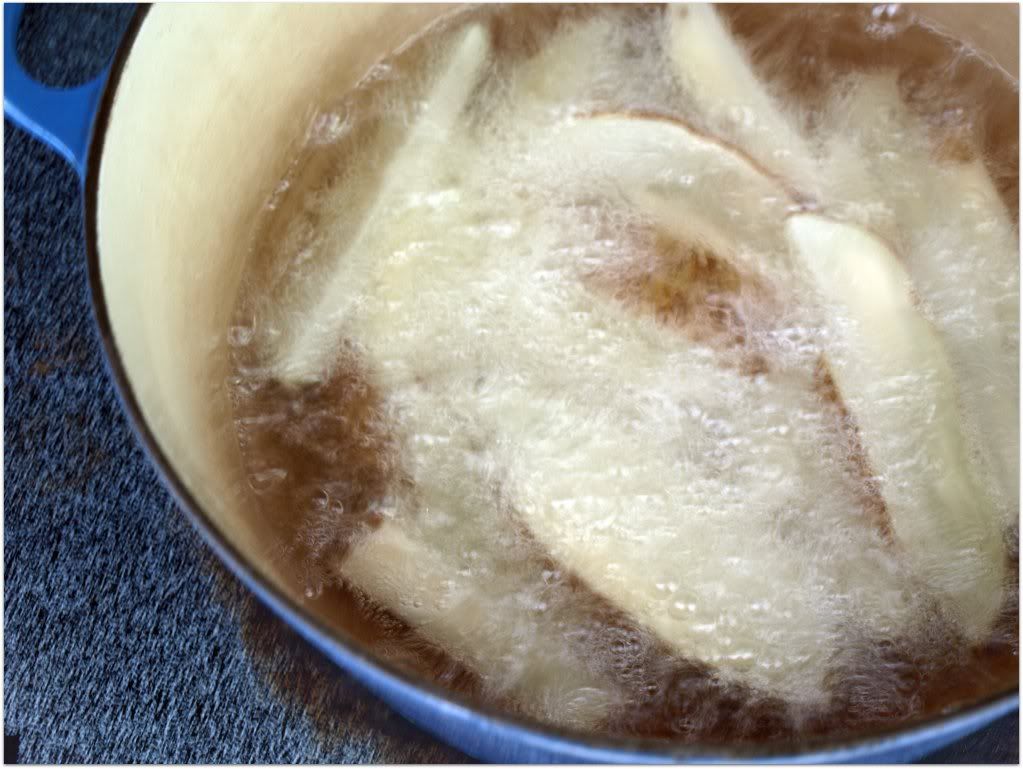 Heat the oil to 375 degrees and add a handful of potatoes at a time, place potatoes in the oil and fry until potatoes are crispy and a dark gold color, about 3 minutes. Place on the other lined cookie sheet.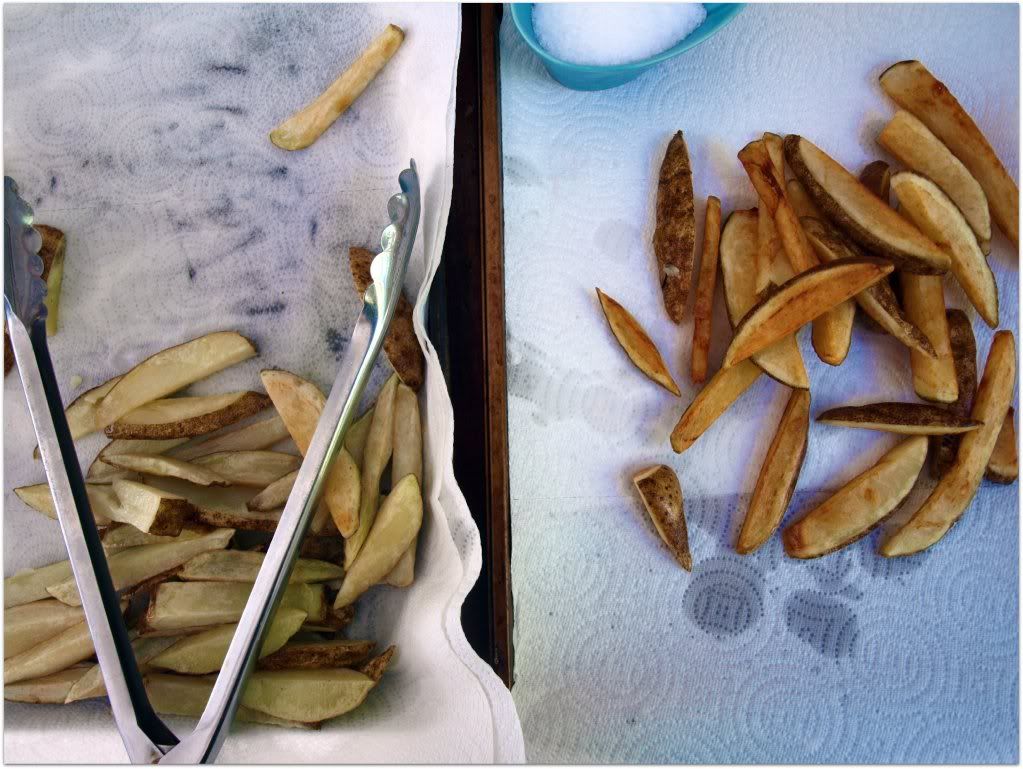 on the left: 1st fry- on the right: 2nd fry
Lather, Rinse, Repeat.
Sprinkle with salt and serve.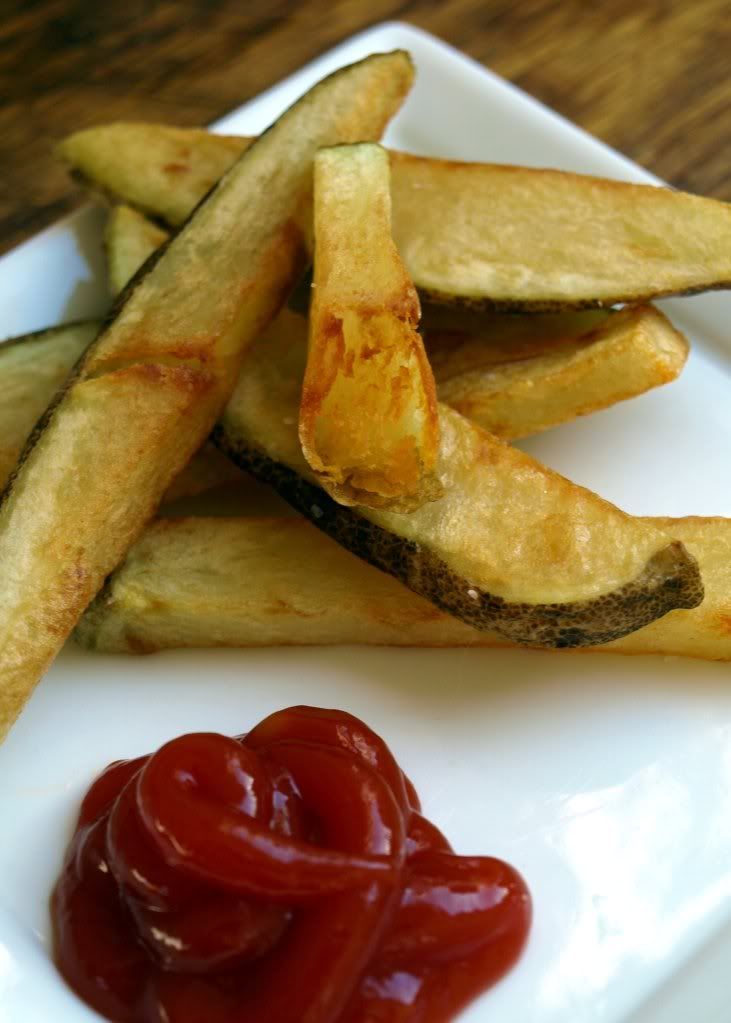 Really, it's not hard. It just takes some planning. Now since I have given you a step by step tutorial... go and treat yourself to some homemade french fries!