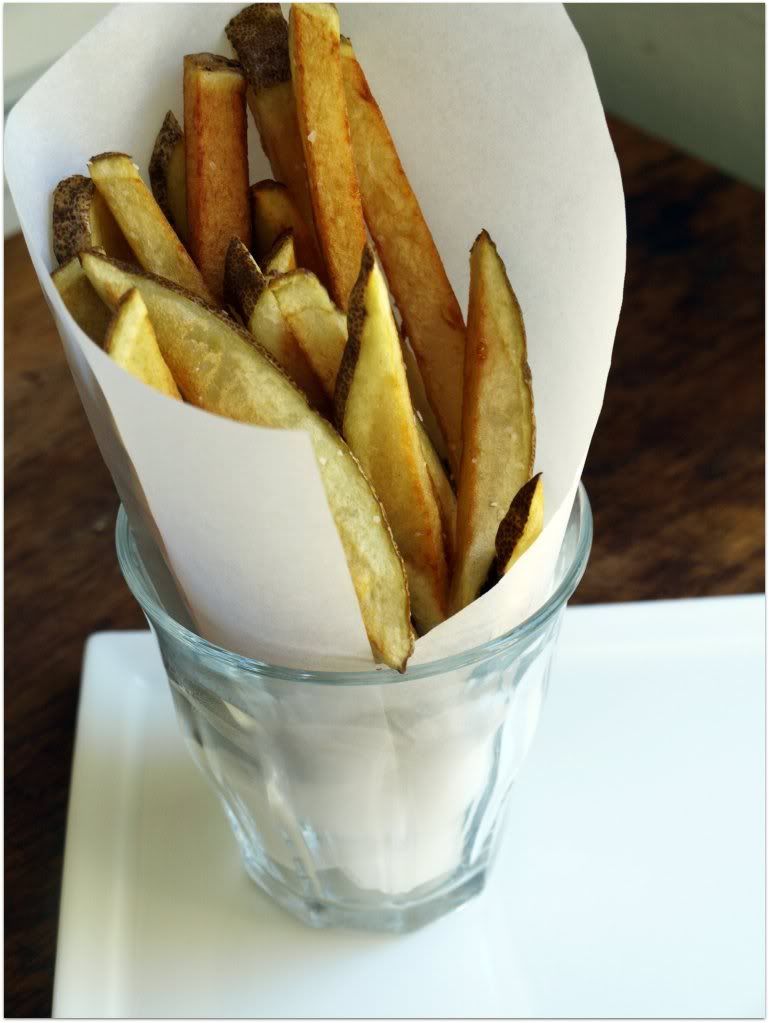 Good Afternoon everyone. Today we are going to discuss the potato.
Calm down
Ms. Tigerlily
, I know that for extra credit you did an essay with diagrams, charts, and illustrations about the history of the potato. You will be getting credit for it.
And
Ms. Kristen
, I'm well aware that you grow your own potatoes, so you are well versed in all things potato. Extra credit for that as well.
Lisa
, as we are now in college, going to the bathroom is done on your own time. No hall passes here.
I am an esteemed member and one of the founders of
this club
and as a potato laureate, I do not want to talk about the
history of the potato
. What I'd like to do is wax poetic about french fries. Maybe wax isn't the appropriate word because waxy is not what you want in a french fry. Get it? I love a little potato humor.
So how many of you have actually made french fries? A show of hands, please.
Okay, so most of the class.
Now let me ask how many of you made french fries in the past six months?
Ah yes, that's what I thought. Except for Kristen most of you haven't made them lately.
Why is that?
You hate to fry.
Too much work, not worth the payoff.
Never as crispy as you'd like.
A disappointment.
All those are very good reasons but I can assure you after you are done with my class these things will be in the past. With a little effort, forethought, planning, and grease (another little witticism) your french fries will shine and not because of the oil.
A little story first... when I was little, once and awhile my mom made french fries. I was like the Tasmanian devil for those fries. Running in and out of the kitchen, trying to steal whatever fry I could get my grubby little hands on. As a family we didn't eat out a lot and that's pretty much the only time anybody ever eats fries so I knew homemade french fries were a special treat and boy was I ever going to make it special by eating as much as I could possibly stuff in my mouth!
Funny the things you remember, I don't remember my mom giving me much advice about boys or help with all the high school drama but I always hear my mom saying that the key to making good fries is to fry them twice. You know what, she's right.
For the lab tomorrow you will need...
russet potatoes, well scrubbed and clean
a cutting board
a knife
a large bowl
cold water
a colander
2 cookie sheets
a clean kitchen towel
a roll of paper towels
a heavy duty pot
Crisco
salt
tongs
a candy thermometer
Class dismissed and remember to be safe out there!