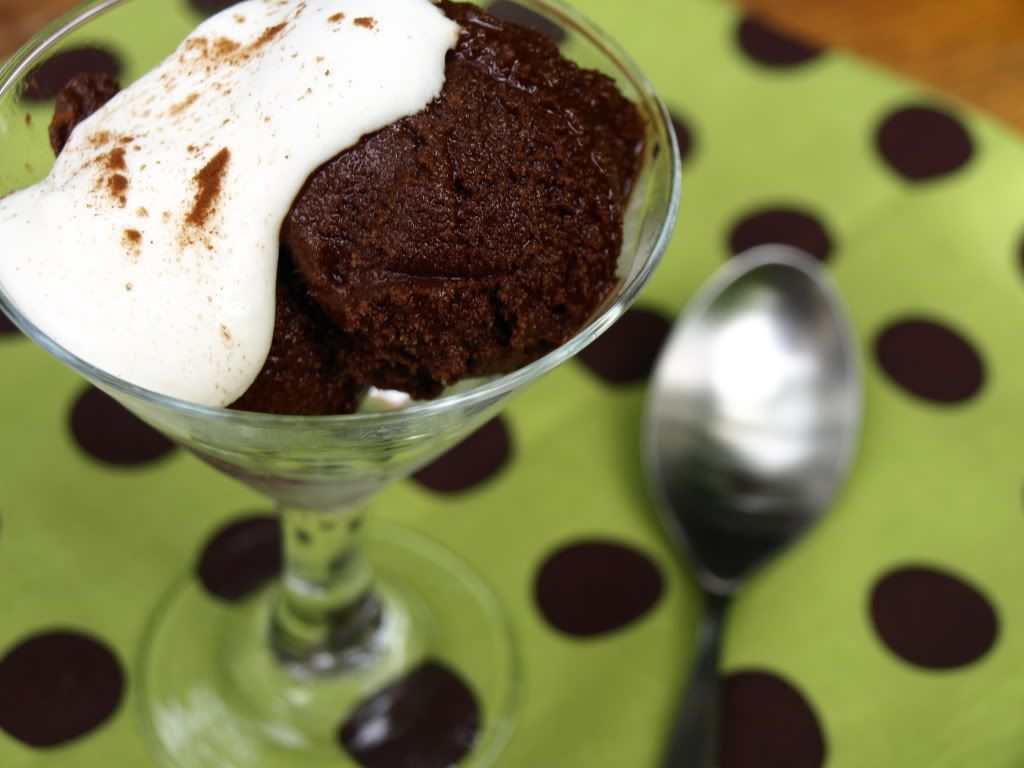 so....
Here's the thing. We'll call this a love/hate type thing. What I love about food blogs is all the ideas and recipes and whatnot. What I hate is the same thing mostly because when it's asparagus time.... everybody and their mother's cousin's aunt's father-in-law is blogging about, well, asparagus. Same with the holidays.
I know, I know, I know it's not like you can blog about Chinese New Year on
Yom
Kipper.
Ignore me, I just sent Nancy off to Science Camp then I went bra shopping needless to say my mood is not lifted, smoothed, seamless, or concealed.
Why florescent lights,

whyyyyyyyyy

?
-shaking my fist up to the heavens-
so... let's try this again. I sold out to the man. I'm posting a recipe meant specifically for
Cinco
De Mayo or otherwise known as... "white people's excuse to get drunk and call in sick to work the next day."
oh, I am indeed grouchy.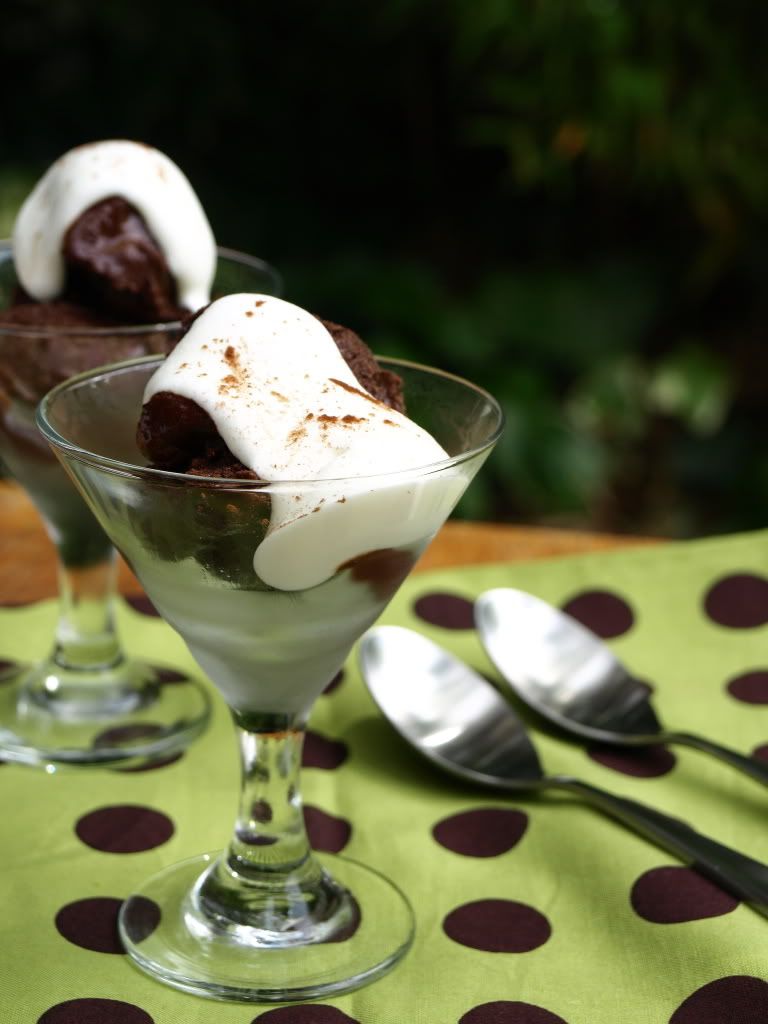 mexican

chocolate sorbet
: (inspired by The Perfect Scoop)
2 1/4 cups water
1 cup sugar
3/4 cup unsweetened Dutch-process cocoa powder
Pinch of salt
6 ounces
mexican
chocolate, finely chopped (I used
Ibarra
)
1/2 teaspoon vanilla extract
In a large saucepan, whisk together 1 1/2 cups of the water with the sugar, cocoa powder, and salt. Bring to a boil, whisking frequently. Let it boil, continuing to whisk, for 45 seconds.
Remove from the heat and stir in the chocolate until it's melted, then stir in the vanilla extract and the remaining 3/4 cup water. Transfer the mixture to a blender and blend for 15 seconds. Chill the mixture thoroughly, then freeze it in your ice cream maker according to the manufacturer's instructions. If the mixture has become too thick to pour into your machine, whisk it vigorously to thin it out.
Tasting Notes
: This is straight in your face chocolate flavor. If you like chocolate, this is your crack. Addictive, pure chocolate. Mainlined into your body via a spoon. Just warning you.
*if you don't want to use Mexican chocolate, feel free to replace the 6 oz. of chocolate with 6oz. bittersweet or semi-sweet chocolate.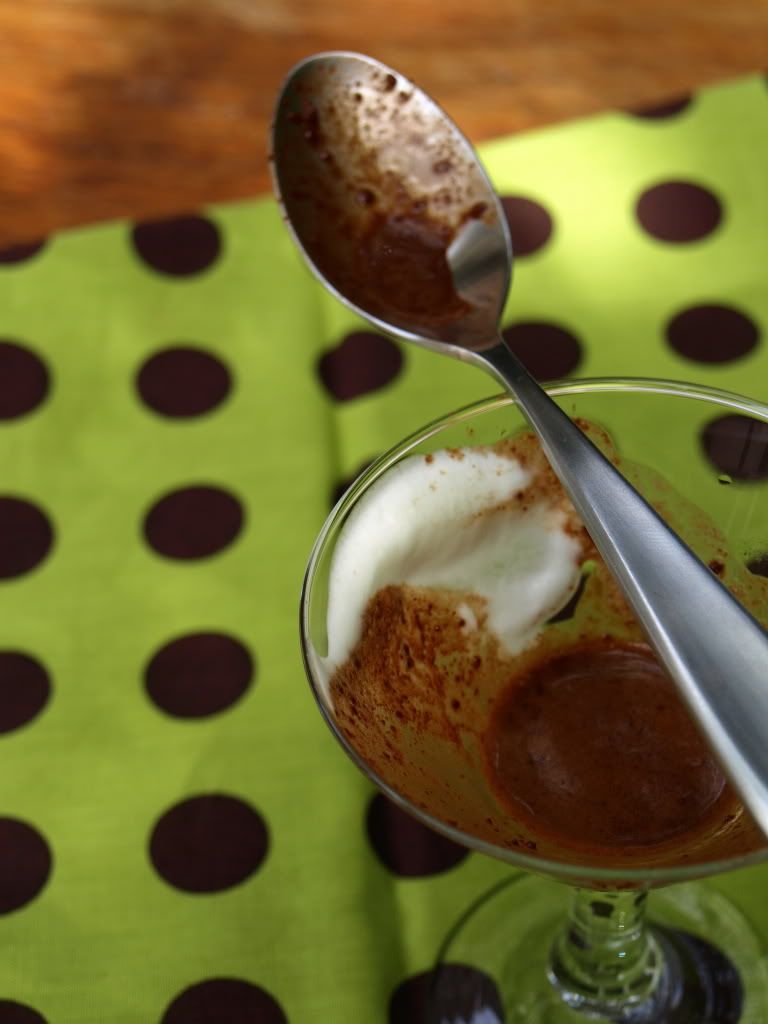 Also... I promise -scout's honor- no more ice cream recipes for at least one week.
I have been receiving a crazy amount of e-mails asking about what kind of ice maker do I use and do I have any recommendations. I use a
Cuisinart ICE-30BC Pure Indulgence 2-Quart Automatic Frozen Yogurt, Sorbet, and Ice Cream Maker
. I love it. The only problem is that it has a freezer bowl that takes up to 24 hours to chill. If you don't have room in your freezer to store the freezer bowl permanently it takes some thought and time to make ice cream instead of just making a batch and the freezer bowl is ready to go. Does that make any sense? I know that
KitchenAid
makes an
attachment
to use with their mixers. And if I was some
billzionaire
chef I'd buy
this
. But I'm not, so I continue to dream
about it. But
this one
looks like fun.
One last thing... Coming from California and living in a city where there are
mercados
on every corner and every store, even the snooty ones, carry Mexican products, Mexican chocolate can be found everywhere around here but it's been pointed out to me that might not be the case for other parts of the country. I know you can buy Mexican chocolate on line at Amazon, Cost Plus World Market still carries it (I think). Anyways, find it and give it a try.