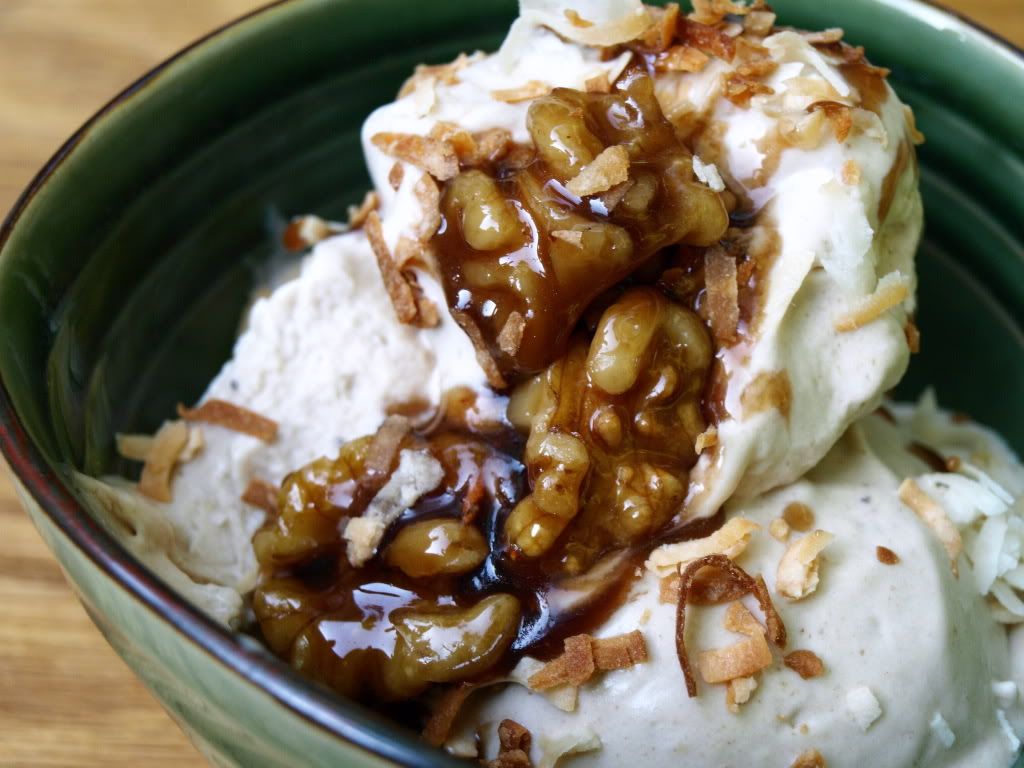 I have a secret to share with you. It's more like a confession. I feel like I've mislead you especially since I've posted multiple recipes on this one particular food group. Come in close, closer...I really don't want this to spread around the Internet but I really don't care for ice cream. I can think of twenty other things I'd rather eat than ice cream. Let me repeat that... I really don't care for ice cream but I love making ice cream. The work is relatively easy and the payoff is huge. I get smiles every time I say I'm making ice cream. All I know is that ice cream is magic and a fun way to bring out your inner mad scientist.
:::::::::::::::::::::::::::::::::::::::::::::::
There they were sitting on the counter. Bananas. Spotty almost completely brown... four of them muttering, "What?!!! We ain't good enough for you?" I was a little taken aback. There are never bananas left on the counter, I didn't know they could even talk. But there they were ripe with possibilities (ba dum dum dum). I thought maybe I could make some banana bread, banana pancakes, or some type of cookie. Before I could even get out the measuring cups, Katie came up with the idea she was going to make roasted banana ice cream and was that okay with me. What's a mom to do but say yes even with her hopes of banana bread dashed? I said okay but what about some walnut praline and some toasted coconut for toppings? She agreed.
Even I couldn't resist a couple spoonfuls...
Roasted Banana Ice Cream with Walnut Praline and Toasted Coconut
: (adapted from The Perfect Scoop)
makes about 1 quart....(Katie has come to the conclusion that this recipe needs to be doubled)
3 medium-sized ripe banana, peeled
1/3 cup of dark brown sugar
1 tablespoon butter, cut into small pieces
1 1/2 cups heavy cream
2 tablespoons sugar
1/2 teaspoon of vanilla extract
1 1/2 teaspoons of freshly squeezed lemon juice
1/4 teaspoon coarse salt
Preheat the oven to 400 degrees.
Slice the bananas into 1/2 inch pieces and toss them with brown sugar and butter in a 2 quart baking dish. Bake for 40 minutes, stirring just once during baking, until the bananas are browned and cooked through.
Scrape the bananas and the thick syrup in the baking dish into a blender or food processor. Add the cream, sugar, vanilla, lemon juice, and salt, and puree until smooth.
Chill the mixture thoroughly in the refrigerator, then freeze it in your ice cream maker according to the manufacturer's instructions.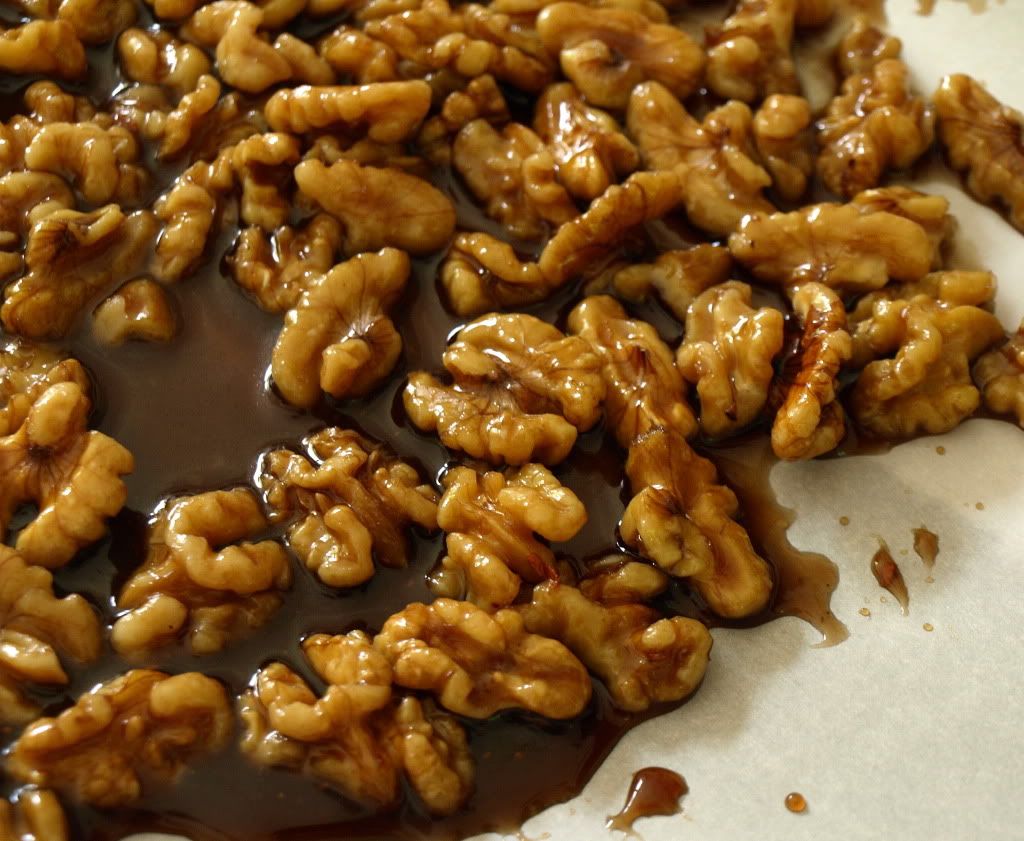 Walnut Praline
:
1/4 cup water
1/2 cup sugar
1 cup whole walnuts
1/8 teaspoon coarse salt
Mix the water, sugar, and walnuts in a large, heavy-duty skillet. Put the pan over medium to high heat and cook, stirring constantly with a wooden spoon, until the sugar dissolves and the liquid boils.
Lower the heat to medium and continue cooking and stirring for just a few minutes, until crystallizes and becomes sandy. Very soon the crystals of sugar on the bottom of the pan will liquefy. Stir the dark syrup at the bottom of the pan over the nuts to coat them. Continue to stir the nuts and scrape the syrup over them until the walnuts are glazed and become a bit glossy and shiny. Remove the pan from the heat and sprinkle the walnuts with the salt. Tip them onto an ungreased baking sheet and allow them to cool completely. As they cool, break up any clusters that are stuck together.
Toasted Coconut
:
sweetened shredded coconut
Preheat oven to 350 degrees. Place however much shredded coconut you need onto a cookie sheet in an even layer. Place coconut into the oven and stir every so often until the coconut is lightly brown and crunchy.
How We Served This Ice Cream: We didn't let the praline cool all the way down. We spooned the praline warm, with the syrup on top of the ice cream and sprinkled toasted coconut over the praline.