Let's try something different today!
Also called avoidance. I don't want to think about packing, moving, paint chips, anything to do with my self esteem, kids, or that my pants are too tight creating the muffin top and what flavor my muffin top would be because that ventures into cannibalism and if we are going to go there wouldn't my muffin top be bacon flavored?
So let's role play and gossip, shall we?
Today you will be playing the part of my new neighbor across the street. Your name will be Smith.
I will be playing...
Mrs. Kravitz. The nosy neighbor.
*Knock Knock*
"Howdy. I'm Mrs. Kravitz. I live across the street. I thought I'd introduce myself and I brought you some nice chocolate cookies."
"Hi, I'm Smith. Thank you for the chocolate cookies. That's very thoughtful."
"You're very welcome. You can return the dish anytime. If you have any questions or need anything, let me know."
"Actually, I do have one question. What's up with that house next door to you?"
"Oh dear. I thought that would slip by unnoticed. Why, what have you seen."
"I saw someone late last night... oh, around ten thirty or so, dropping off boxes."
"Ahh. I don't want to gossip or anything but let me give you the run down that I have heard from the realtor and family members that sold the house... it's quite interesting. Apparently they bought the house sometime in October. Cash... paid for by their parents. When they bought the house they stipulated that it had to close within 45 days. They didn't move into the house until January and even that was strange but maybe I shouldn't be telling you this. Mr. Kravitz tells me these matters are not my business. It is peculiar though."
"What's peculiar, Mrs. Smith? You can tell me."
"I really don't mean to gossip but no one saw a moving van or truck or anyone coming in or out. They were just
there
. No curtains hanging in the windows except for their family room, no furniture in the rooms except for a few bags of fertilizer and the lights blazing in the family room twenty four hours a day. Their electricity bills must be so expensive. They installed a security system but there's nothing in the house that I can see. It's been four months now and they only come and go at night. Such a strange couple."
"Mrs. Kravitz, do you ever smell anything funny?"
"Well, sometimes a skunky smell." Right then the pieces come together and the realization washes over Mrs. Kravitz and in a hushed whisper says, "no."
"I don't want to gossip Mrs. Kravitz but..."
"You think they are growing the Giggle Weed? Mary Jane? Ganja?"
"Well... I wouldn't say
that
but it certainly sounds like they are doing
something
over there."
"Oh."
"Maybe you take these cookies over there. They might enjoy them more."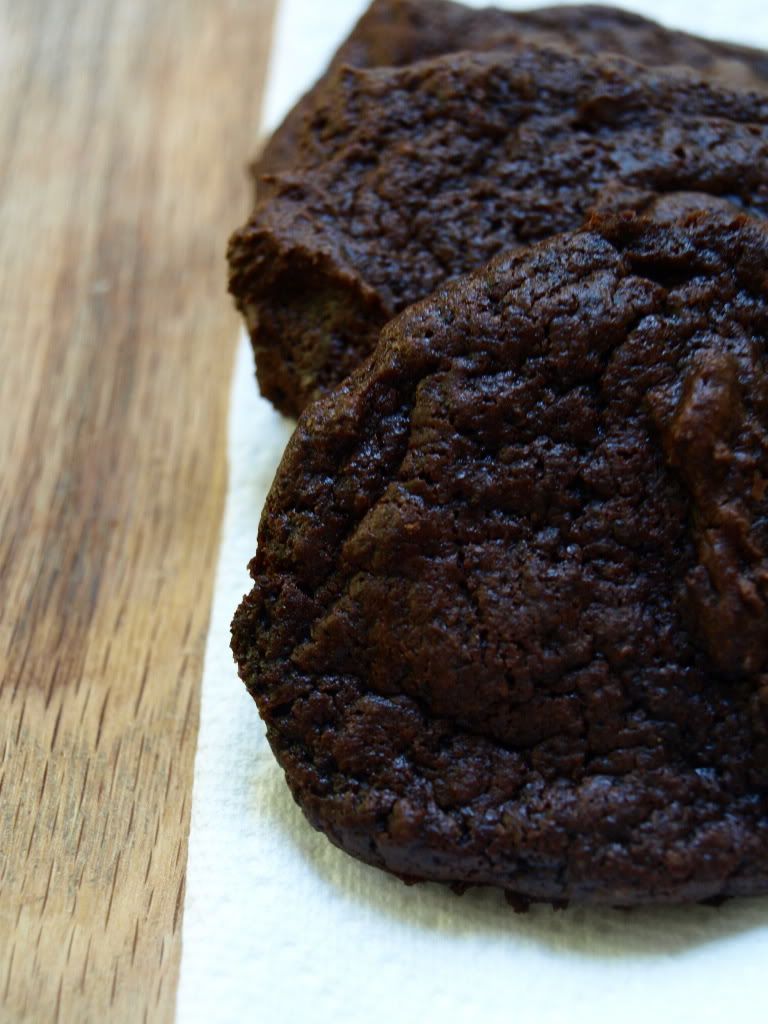 Chewy Chocolate Cookies with Chocolate Chunks
: (Adapted from this
recipe
from Orangette)
A little side note: Katie was suppose to blog this recipe because she is the one who found and made this recipe over and over again and also has a very funny story about it but she's a slacker and I have been waiting days for her to post but since she hasn't (because she is a slacker)... you get my story about my suspected pot growing neighbors!
1 cup unbleached all-purpose flour
¼ tsp. baking soda
1/8 tsp. salt
4 Tbsp. (½ stick) unsalted butter
2/3 cup granulated sugar
1/3 cup light brown sugar
7 Tbsp. unsweetened cocoa powder
1/3 cup plain yogurt, preferably not low- or nonfat
1 tsp. vanilla extract
semi sweet baking chocolate chopped into chunks
Preheat the oven to 350°F. Line a baking sheet with parchment paper or a silicone liner. In a small bowl, whisk together the flour, baking soda, and salt. Place the butter in a medium microwave-safe bowl, and microwave briefly, until just melted. Add the sugars, and sift in the cocoa. Stir to blend well. The mixture will be somewhat thick and pasty, like wet sand. Add the yogurt and vanilla and stir to mix thoroughly. Add the dry flour mixture, and stir to just combine. Add the chocolate chunks and stir to incorporate. Drop the dough by generous tablespoons onto the prepared baking sheet. Bake for 9 to 11 minutes, or until the tops of the cookies have crackled slightly and look set. Transfer the sheet pan to a wire rack, and cool the cookies on the pan for 10 minutes. Transfer them to the rack to cool completely. Repeat with remaining dough.
Tasting Notes: You wouldn't know it by eating these but they are suppose to be low fat. How can that be possible? It was like eating really good brownies. A lot of them and I didn't have the munchies.