(author's note... this post is nsfw. i debated a long time about even putting it up because people i know have personally come up to me and they are reading my blog/or making so-and-so recipe and that has thrown me for a loop. so if i do know you... don't read too much into this and if your kids spend the night i warn them this might happen and that rich will leave the room or my kids will go to theirs or find something to do that will take their friends out of earshot)
fa·nat·ic
Etymology: Latin fanaticus inspired by a deity, frenzied, from fanum temple
definition: marked by excessive enthusiasm and often intense uncritical devotion
Welcome Back Baseball!
Rich is a baseball fan. Well, maybe fan is too light of a word. It doesn't have the heft of what he really is and fanatic really doesn't do it justice either. Let's put it this way he hid his uberfantic tendencies until we were married because I would have seriously considered not marrying him if I knew what I know now. Think of him as a stereotypical Yankee fan and a Red Sox fan rolled into one. When my sous chefs friends come over we warn them that you will hear bad words during a baseball game and it will be loud. Rich will normally go into our bedroom when company is at our house because even he knows that no one wants to hear it but he can't control himself. It's Baseball Tourette's.
So what is it that no one wants to hear?
Rich's Guide of Baseball
Insults
:(Revised Edition)
The short or long clap:
This is just a clap but it has it's own beat. A short clap is good but a long clap (and do I mean long... like all the players have all taken showers and gone to the airport to catch the flight home and he's still sitting there clapping) we know the game or a particular play was good. A job well done.
Jackass:
Anybody on the other team that shows up his SF Giants. Particularly any LA Dodger or a LA Dodger fan. Including my best friend, his best friend, my step mom...
"That
jackass
Manny Rameirez is a cocksucker. He needs to fucking cut his hair."
or
"Hey Jackass! Your team lost last night."
Now here's where it can get tricky... most of the time you would think that these names would be directed at the other team but no they are not. They are directed to his own team... sometimes as a term of affection but more often than not they are screamed as motivational tool to get his team to play better... like they can hear him yelling through the tv.
Note: Goddamn is used before every insult.
Cocksucker:
Error. Okay, that's forgivable. Don't do it again.
"Goddamn
cocksucker
. Get your glove down next time."
Cocksucker motherfucker:
Error/Mental Error. Don't do it again. Big leaguers are not suppose to make that type of error.
"
Goddamn
cocksucker motherfucker
! Stupid base running. Lewis doesn't have his head in the game. Why the fuck was he running?"
Cocksucker motherfucker piece of shit asshole:
Error/mental error/stupid error. Go figure it out in the minor leagues, dumbass.
"Goddamn
motherfucker piece of shit asshole
. What the fuck was he thinking? Throwing that on an 0-2 count."
Cocksucker motherfucker piece of shit asshole dumbass stupid motherfucker:
Stupid ass shouldn't play. Just retire.
The above saying is normally reserved for the pitchers and normally when they give up runs in the eighth or ninth inning after the Giants have been leading the whole game. Especially if the pitcher has walked in a run.
But it also is reserved for Barry Bonds when he would nonchalantly jog in the outfield to catch a fly ball and miss.
goddamncocksuckermotherfuckerpieceofshitassholedumbassstupidmotherfucker:
If that's repeated twice you might want to clear the room.
This is saved for the special times like when Jose Cruz Jr. dropped a ball during the 2002 World Series. Any game in which the Giants lose to the Dodgers.
This is what I have to deal with for 162 games and believe it or not Rich says I'm not a fan because I do not participate in his love of Baseball Tourette's.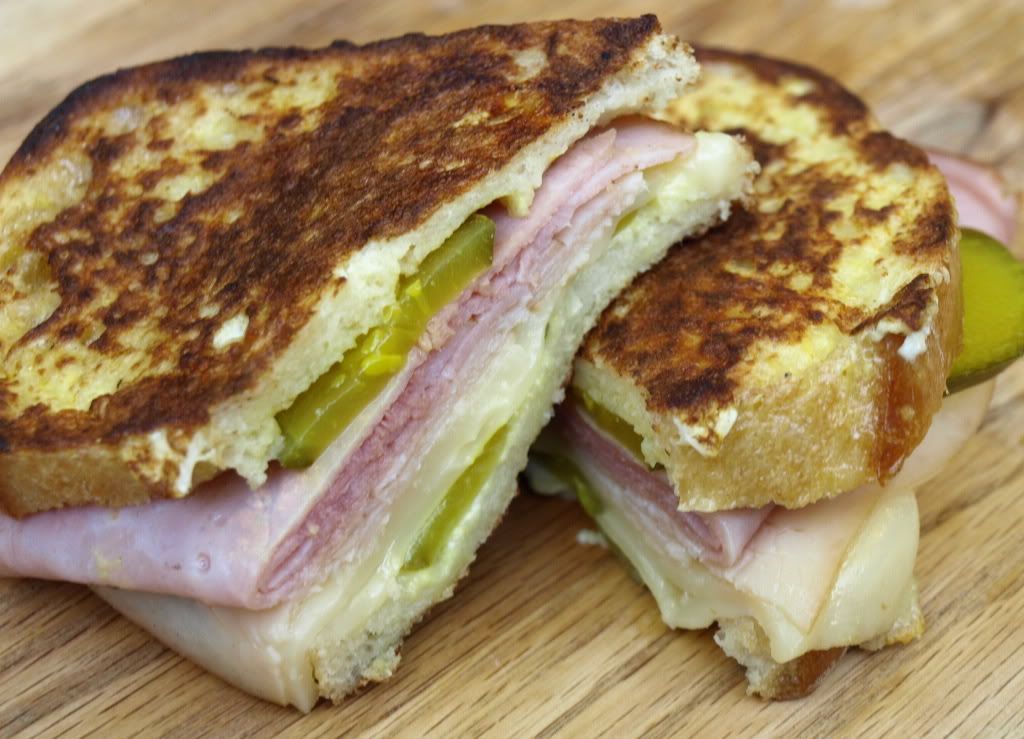 Monte Cubano Sandwich:
Gourmet March 2009
Serves one
2 slices firm bread
1 to 2 teaspoons mustard
4 or 5 dill pickle rounds
2 slices boiled or baked ham
2 slices smoked turkey
3 thin slices Swiss cheese
1/2 garlic clove
1/2 tablespoon mayonnaise
1 large egg
2 tablespoons whole milk
1 tablespoon unsalted butter
Spread 1 slice of bread with mustard and top with pickles, meats, and cheese. Mince and mash garlic to a paste with a pinch of salt, then mix with mayonnaise. Spread on remaining slice of bread and assemble sandwich. Beat together egg, milk, and 1/8 tsp each of salt and pepper, then soak sandwich in egg mixture. Melt butter in a heavy medium skillet over medium-low heat. Cook sandwich, uncovered, until underside is well browned, about 4 minutes. Flip and cook remaining side, covered, until well browned, 3 to 4 minutes. Remove from heat and let stand, covered, 1 minute.
Tasting Notes
: Here's how you eat this sandwich. Make this sanwich then grab a cold beer from the fridge, some chips from the cupboard, then sit on the couch and watch a baseball game and if it all possible try using Rich's Language of Baseball.