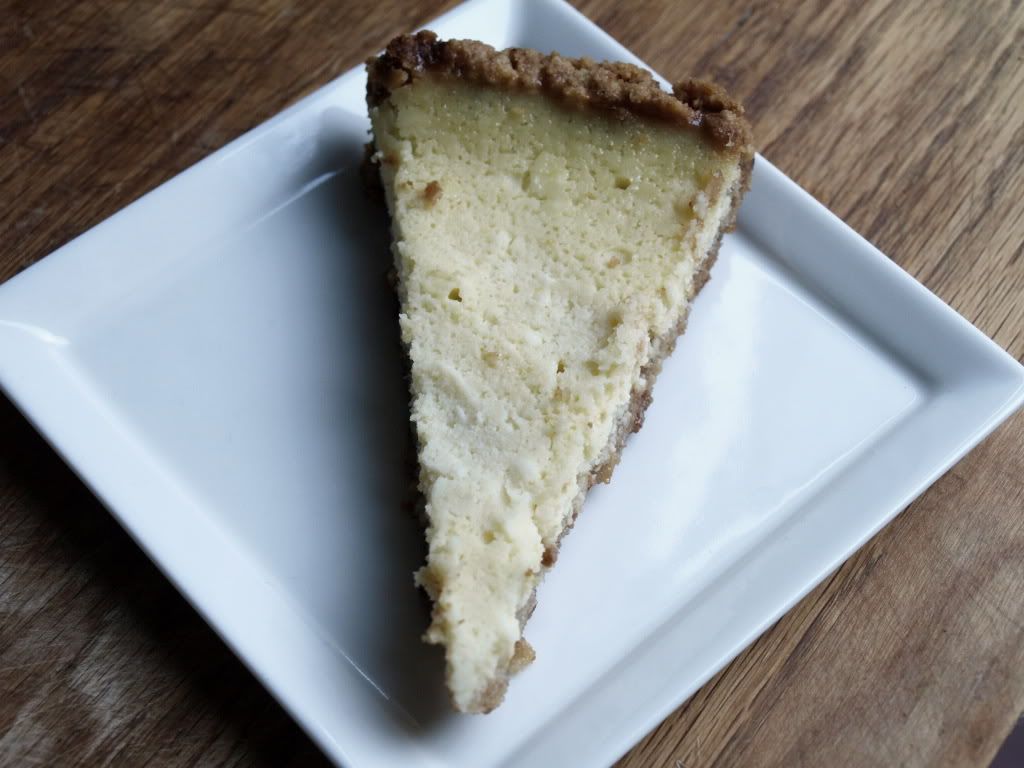 so speaking of crack's cousin... meet cheesecake gone wrong... so horribly, horrible wrong... run away, avert your eyes... i know you can't, it's like a train wreck.
This cheesecake started out innocently enough. I saw this Lemon Ricotta Cheesecake with Biscotti Crust and Candied Lemons in Urban Italian. I mean what's not to like? Biscotti, lemons, cheesecake. Check, check and check. Oh, that's right I don't like ricotta cheese.
But we'll get to that in a second.
Wait, no we won't. I want to talk about it now. Ricotta is Italian for lumpy cheese and when is lumpy good by the way? Lumpy ass? You don't want that. Lump in your Burt and Ernie's? Really Bad. And for you guys, if you have a lump in that area where it hurts when you get kicked? Really bad also. Lumpy pillow? You can't sleep. So you don't want lumps in general... why do you want that in your cheese? Or in your cheesecake. And ricotta is runny... so runny+lumpy= does that really equal tasty?
really?
Mom's Biscotti
: Urban Italian (recipe straight from the book not adapted because one problem is right in the recipe)
makes about 40 biscotti
3 whole eggs
1 cup sugar
4 tablespoons butter
2 cups all-purpose flour
1 teaspoon baking powder
zest 2 lemons
3/4 cup whole shelled pistachios
(i used pine nuts)
1 tablespoon anise seed (or crushed fennel seed)
(i used fennel seed)
1 tablespoon Sambuca
(didn't have it, didn't use it)
Using the whisk attachment on a KitchenAid, whip 2 of the eggs and the sugar together at medium speed (speed 4) until mixture becomes foamy and pale and doubles in volume, about 15 minutes. In the last 2 minutes of the egg-whipping process, pour in the melted butter and allow it to incorporate.
Remove the whisk attachment and replace it with the paddle attachment. Add the flour, baking powder, and lemon zest to the bowl and mix at low speed (speed 2) until everything is combined.
Add the pistachios and mix 30 seconds, so the nuts are combined into sticky dough.
Refrigerate the dough in the mixing bowl for 20 minutes, covered in plastic wrap, so that the dough cools and becomes workable.
Preheat oven to 350.
Line a baking sheet with parchment paper. Remove the dough from fridge: take half the dough out of the bowl and shape it into a log about 9 inches long by 1 1/2 inches wide. Repeat with the remaining dough. Lay these logs out on the cookie sheet, leaving 3 inches between them to allow for expansion during the baking process.
Whisk the remaining egg briskly in a small bowl. Lightly brush dough with this egg wash.
Bake the dough until the loaves start to brown, about 15 minutes. Rotate the tray in the oven, and continue baking until the loaves are golden brown about 10 to 15 minutes more.
Remove the loaves from the oven and let them cool until the logs are warm, but not too hot, to the touch, about 10 to 15 minutes.
Lower the oven temperature to 325.
Place the loaves on a cutting board. Using serrated knife, cut them on a slight diagonal into 1/4- inch biscotti-sized pieces, discarding the end pieces.
Place the cookies back onto the lined baking sheet, one by one, and return the sheet to the oven. Bake until the biscotti are crunchy, another 15 minutes or so.
Allow the biscotti to cool before serving. They will keep in an airtight container for up to 1 week.
Tasting Notes
: The biscotti in and of themselves were great
except that the recipe never states when to add the fennel seeds and Sambuca
. I almost forgot, I'm pretty sure you should add them with the nuts but arg!!!! I added them after the dough had already chilled so stirring them in was not fun. I thought I was going crazy until Rich read the recipe and reread it again and he didn't see it either. So, I'm not crazy... at least I've got that going for me.
Next Post: Cheesecake recipe for all the people who like ricotta, my epic fail, and who's to blame for this mess?