Above is Easter Dinner, which I didn't cook. See I have an excuse, really I do. It's actually a very good reason. My birthday was Friday and my mom decided to combine my birthday dinner with Easter. Cool beans.
My mom asked if I minded and I was all... "Heck No! I always wanted my birthday to be on Easter."
Do you know how long I have to wait for my birthday to be on Easter? Seriously, guess. I'll wait for you to do the math.
whistling...tapping my toes... humming... doing the truffle shuffle
Give up?
2039!!!! 30 years from now.
So not fair...I'll be 65. Noooo, I couldn't have Easter on my birthday when I was 10 or 16. No, no, no... I have to wait until I'm 65. I mean I'll be a young 65 but what the hell... it's still 65. I can't even imagine being 65. Gah.
All I know is that I better get an Easter basket
and
presents that year. Everyone better make a big fuss, damn it.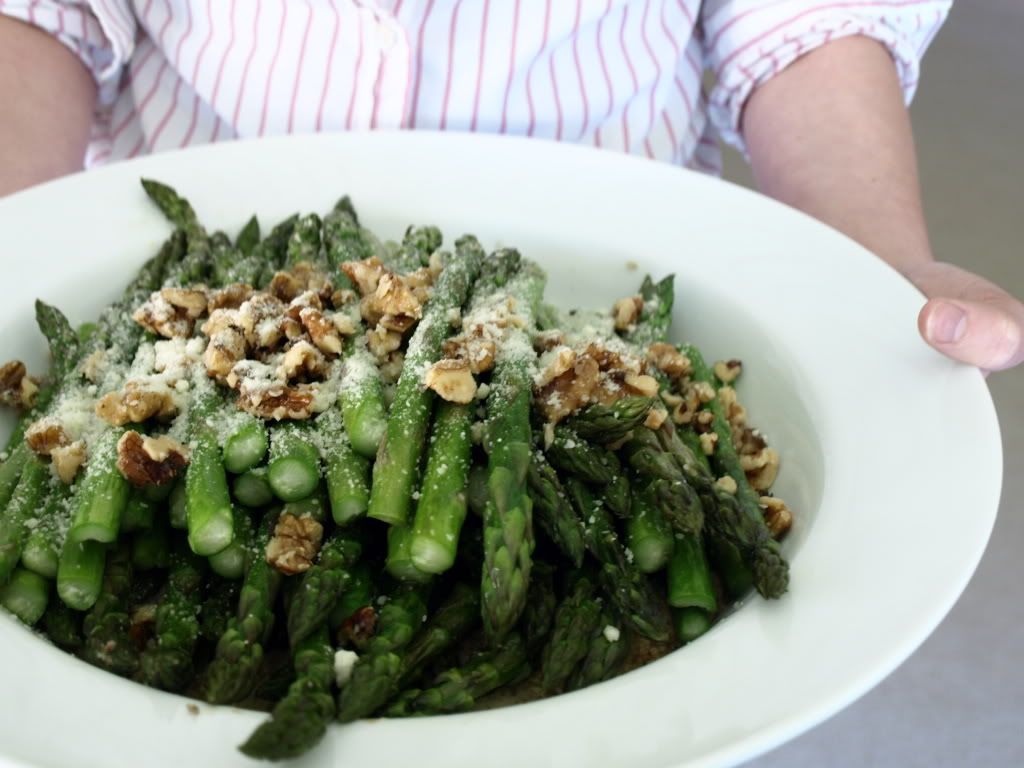 Okay, now that I have gotten that out of my system... I received three cookbooks for birthday presents, A16 Food+Wine, Urban Italian, and Ruhlman's Ratio (which I guess is a cookbook? isn't it?) So that brings my cookbook ownership up to 15 books and 5 of Ruhlman's books not including French Laundry and Bouchon. Which quickly went back to 12 because my mom took these books to get inspiration for Easter dinner.
And look what she made...
Roasted Asparagus with Walnut Crema
: (A16 Food+Wine)
serves 8
Walnut Crema
:
kosher salt
1 1/2 cups walnuts
1/2 cup plus 1 tablespoon extra virgin olive oil
1 small red onion, diced (about 1 cup)
Roasted Asparagus
:
extra virgin olive oil
3 bunches asparagus
kosher salt
1 cup walnuts,
*
toasted and coarsely chopped
grated pecorino
(the recipe calls for pecorino tartufo, which is pecorino cheese studded with black truffles... which cost about $30 per pound. umm, not happening when you need to feed about 20 people)
*

Toasted Walnuts:
Preheat oven to 300 degrees. Spread nuts in a single layer on a rimmed baking sheet and toast, rotating the pan front to back often, for 15-20 minutes. Until nuts are aromatic and golden.
For the Walnut Crema
:
Bring a pot of salted water to a boil. Add walnuts and blanch for 8 to 10 minutes or until tender in the middle. Drain walnuts, reserving 1/4 cup of cooking liquid. Set aside.
In a saute pan, heat 1 tablespoon of olive oil over medium heat. Add onion and a generous pinch of salt and sweat for about 7 minutes, or until golden brown and tender. Remove from heat.
In a food processor, combine the onion. walnuts, and reserved cooking liquid and process until creamy. With the processor still running, slowly add the remaining 1/2 cup of olive oil, processing until creamy. It should be the consistency of creamy hummus. If too thick add some water.
For the Roasted Asparagus
:
Preheat oven to 500 degrees and lightly coat 2 baking sheets with olive oil.
Trim off the tough stems ends from the asparagus. Spread in a single layer on prepared baking sheets. Season with salt and coat each spear evenly with olive oil. Roast asparagus for about 8 minutes, or until blistered and slightly charred and tender when pierced with a paring knife.
In a small bowl, toss toasted walnuts with a pinch of salt and a drizzle of olive oil.
To serve, spoon the crema evenly across the bottom of a platter. Arrange the asparagus spears on top and sprinkle the toasted walnut mixture on top. Grate cheese on top and finish with a generous drizzle of olive oil.
Tasting Notes: Happy Birthday to me! Happy Birthday to me! I loved these asparagus. I'm pretty sure everyone else did too. The asparagus were perfectly cooked and the walnut crema set off the asparagus nicely. I think if anything it could have used a little acidity. Maybe finish off the asparagus with a drizzle of lemon olive oil?
*I was just googling this recipe and it seems everyone squeezes a little lemon on this dish at the end.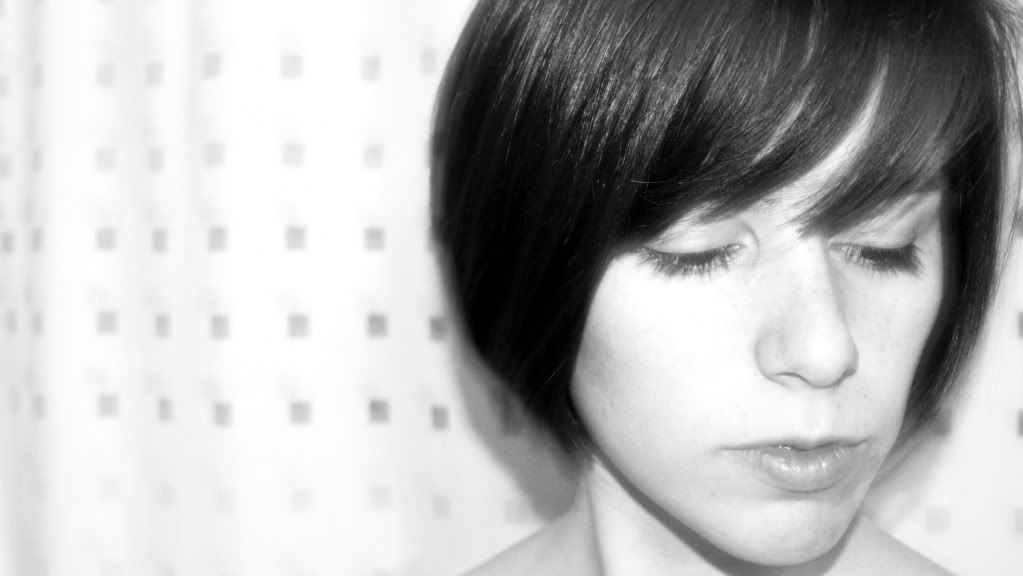 katie self portrait 4.13.09
i think the hair looks good and not at all liza minelli-ish but i'm mom... what do i know?