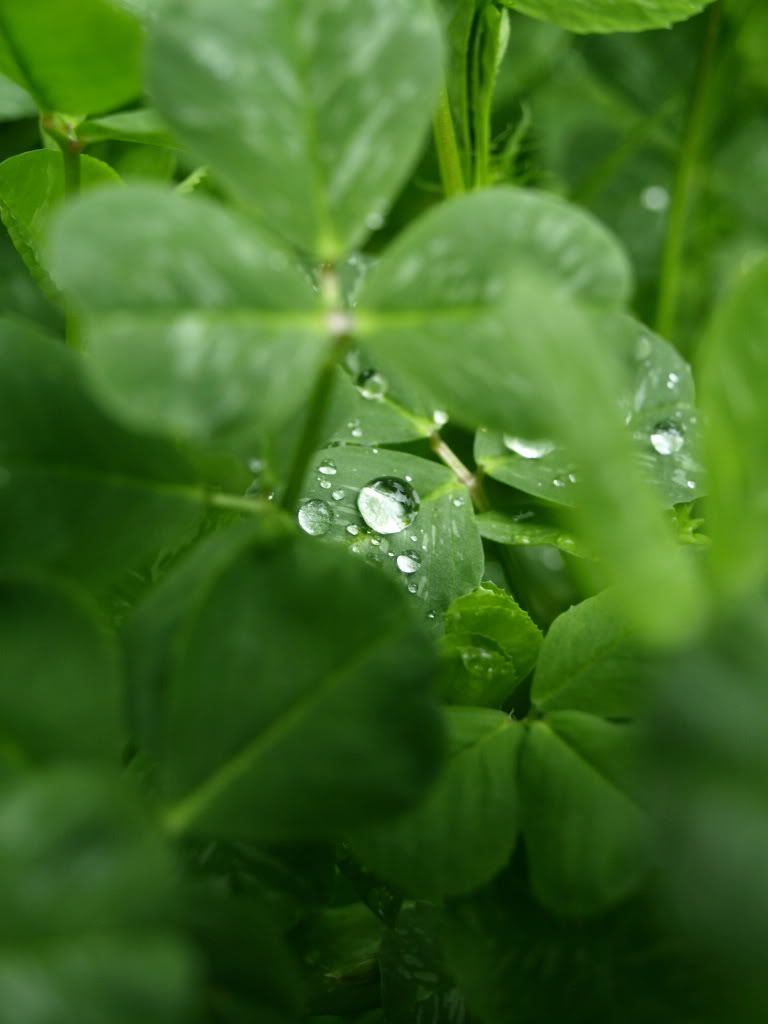 True Story: Part One
"Your family has strange luck."
-CM
When Katie told me her friend Catherine said this about us I understood it immediately. If you have ever had strange luck in your life you understand it too.
Let me explain...
Good luck is when you win the lottery and you have money in the bank.
Strange luck is when the transmission is going out on your car, you are about to spend your last twenty on groceries, payday isn't until next week and you win the lottery but only three thousand dollars... enough to pay for the transmission repairs and groceries. That's strange luck.
"Are you sure you want to do this?" Our favorite realtor asked us.
"Why?"
"Tomorrow is Friday the Thirteenth."
"Sure. What can it hurt?" Rich said.
Which was a little shocking to me. Rich played baseball for a long time. Not in the pros or anything like that but enough baseball to be
superstitious
. And I know realtors and their clients can be
superstitious
too. Some people won't buy houses with the numbers 666 in them. When President Ronald Reagan purchased a house in Bel Air, CA, its address was 666 St. Cloud Road. Johnny Carson, the previous owner, had no problem with the number. The Reagan's asked that the number be changed. The town complied. The new address is 668. Our new address would have the number 44 in it. Forty four is a strong number. The number four stand for paying attention to detail and building a solid foundation for the future. A double 4 supposedly strengthens that effect. Obama is the 44th president, 44 years after segregation was outlawed. At Syracuse University the number 44 is retired for all sports. Twenty five players there have worn that number including
Ernie Davis
and
Jim Brown
. And then there's baseball... which thrills my husband to no end.
Willie McCovey
(one of the three Will's or Willie's to player for the S.F. Giants. Will, our son, one of his many nicknames is Willie Mac after Willie McCovey)
Hank Aaron
(hit homerun #715 two days before I was born)
Reggie Jackson
(When I was a kid my mom drove a school bus. She always used to say "she drove 44, Reggie Jackson's number.")
A hitter's number. A good number according to my husband. A number maybe everyone is reading a little too much into... until I finished reading the papers we were signing, My birthday popped up as the day the sellers bank would give us a final answer.
Fate? Who knows but I can tell you the story gets a little more strange on St. Patrick's Day.
To be continued...
I think whomever came up with this soup had some strange luck too. Take two dirty and dirt poor vegetables, cook them up, and eat like king.
Soupe De Poireaux Et Pommes De Terre or Potato Leek Soup
: Bouchon by Thomas Keller
Serves 6 to 8
2 pounds (about 3 large) leeks
4 tablespoons unsalted butter
heaping 1/2 cup sliced (about 1/4 inch thick) shallots
1/3 cup sliced (1/4 inch thick) onions
salt and pepper
1/2 pound (about 1 large) russet potato, peeled
1 tablespoon minced garlic
sachet (recipe below)
5 1/2 to 6 1/2 cups chicken stock
3/4 cup of warmed heavy cream
1/2 cup minced chives
extra virgin olive oil
freshly ground pepper
Sachet or Bouquet Garni
:
2 or 3 pieces dark green outer leek leaves (6 to 7 inches long)
8 thyme sprigs
2 Italian parsley sprigs
2 bay leaves
1/2 teaspoon black peppercorns
To make sachet or bouquet garni: Lay out 1 leek green. Place herbs and peppercorns on top and wrap remaining leaf or leaves to form a circular bundle; tie securely with kitchen twine in at least three spots.
Or: Wrap ingredients in a 7-inch square of cheesecloth and tie into a bundle with kitchen twine.
Cut away and discard the dark green leaves and roots from the leeks, leaving only the white and palest green sections. Cut them lengthwise in half and rinse under cold water to remove any dirt between layers. Place the leeks cut side down on a cutting board and cut into 1/4 inch thick slices. (You should have three cups.)
Melt the butter in a large sauce pan over medium-low heat. Add the leeks, shallots, and onions, and season generously with salt and pepper. Increase the heat to medium and sweat the vegetables, stirring often, for 3 to five minutes- the vegetables should wilt but not brown.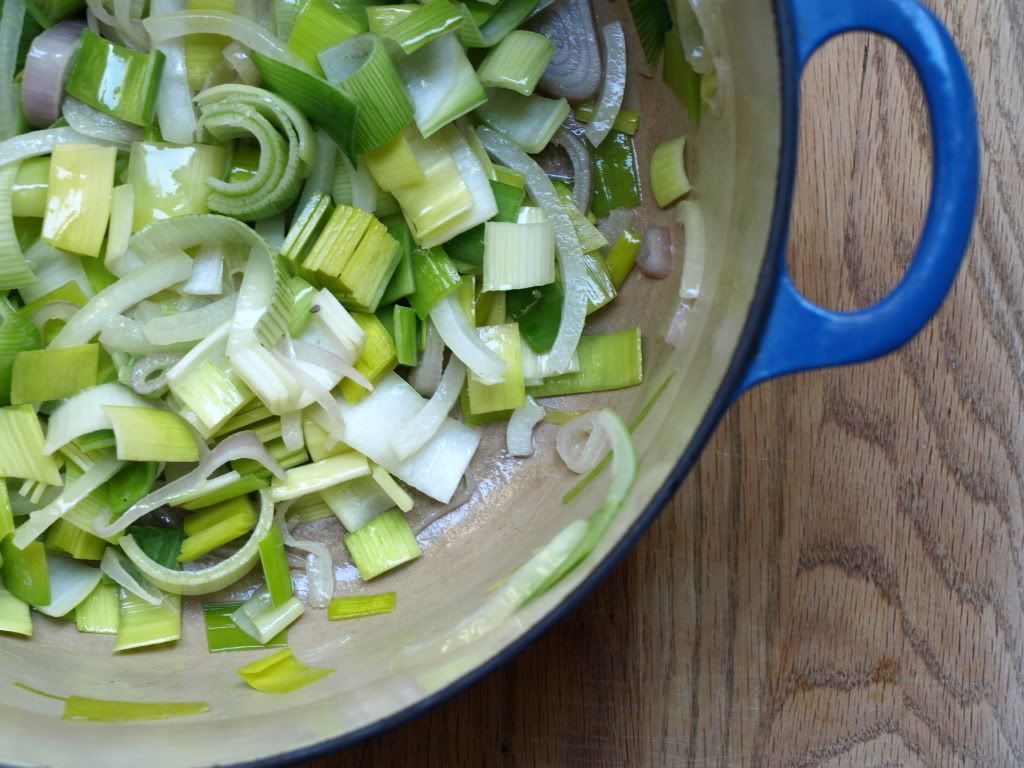 Meanwhile, cut the potatoes lengthwise into quarters, then cut crosswise into 1/4 inch slices. (You should have about 1 1/4 cups.)
Add garlic to the sauteing vegetables and cook for another minute, then add the sachet and potatoes and cook for 2 to 4 minutes longer.
Add 5 1/2 cups chicken stock and adjust seasonings. Bring to a simmer, then reduce the heat and simmer for 30 minutes, or until the potatoes are tender. Remove from the heat and let soup cool for about 15 minutes.
Remove the sachet. If you will be refrigerating the soup, prepare ice bath.
Transfer the soup, in batches, to a blender and puree, starting at low speed (to release the heat remaining in the soup), then slowly increasing the speed until the soup is smooth. Be careful not to overfill the blender, as hot liquid can spurt out from the top. For a more refined texture, strain the soup through a fine-meshed strainer.
To Complete: Return the soup to the rinsed out pan and bring to a simmer. Add the cream and simmer for 5 minuter. Remove from heat. If you are serving the soup hot, stir in the chives, reserving about 1 teaspoon per serving for garnish. If you are refrigerating the soup, pour into a container and place in the ice bath to cool. Reserve about 1 teaspoon of chives per bowl to garnish the soup and stir in remaining chives. Cover and refrigerate for up to 2 days.
To Serve: Sprinkle the soup with reserved chives, drizzle lightly with olive oil, and top each bowl with a grind of black pepper.
Tasting Notes: A Thomas Keller Recipe that doesn't require every dish in the house and tastes like heaven. That's called a win-win situation.