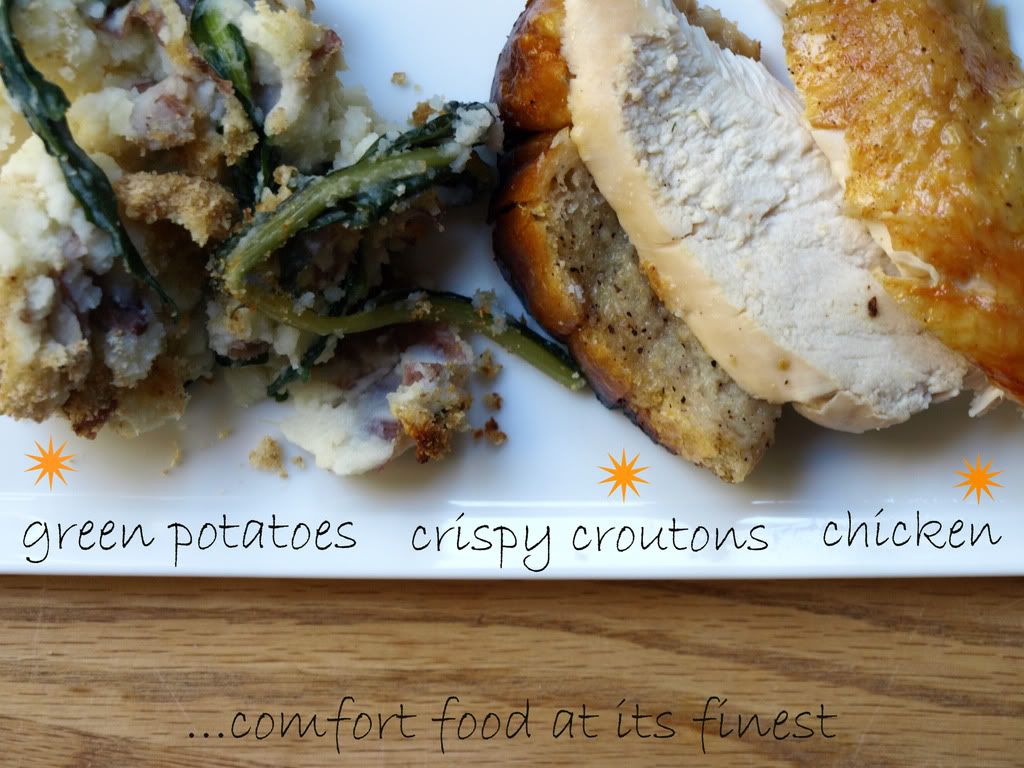 *everyone who works at the dmv needs this meal
There it sits on the kitchen counter taunting me. The dreaded Drivers License Renewal. It's not the one where you look over all the info, cut them a check and mail it back to DMV and in a few weeks your new license comes.
Oh no, this is the one... where you have to go down to the DMV and cover one eye and do the eye sight exam.
This is the one... where you have to fight the teeming mass of humanity that is waiting in line, a line that snakes around the building.
This is the one... even though you thought to make an appointment (no one else did) you won't be helped right away even though you are on time because if the people who work at the DMV help you a riot will start at 9:00 AM. They already had the pitch forks ready to go when you went to the appointment line bypassing them all. If looks could kill you would have died 5 seconds before you even walked in the door. They could sniff the appointment on you like airport dogs smell for drugs. DMV where all the workers are miserable because the Governator has furloughed them 2 days a month without pay on account of the state of California is broke. What a way to make a job even more sucky because miserable doesn't even begin to describe it. (Maybe that should be The CA DMV slogan?)
This is the appointment at the DMV where... when you finally find a place to sit down the woman on your right is yelling at her allegedly cheating boyfriend on a cell phone. Dropping F bombs and crying all at once. (Lady, just dump his sorry ass). You have strong suspicion the man on your left just might have TB or maybe a case of the plague, he is looking rather grey and that handkerchief he keeps coughing into makes you want to gag. (Is my TB shot current?) You really start to question if you really need a drivers license. Maybe you could walk everywhere. Think of all the money you could save. No insurance, you wouldn't have to buy gas. You'd go green! Save the world! Just as you are about to walk out victorious and utterly convinced you do not need to be here, it dawns on you... you have kids that need to go places, you are suppose to go out of town to visit a friend soon. You need your drivers license. You slowly sink down back into your seat becoming deflated and resigned as everybody else at the DMV. You look at your little appointment slip with the Number FO11.
Please call my number FO11, please call FO11. Please call FO11.
Please call FO11 becomes your mantra.
"

BO37
to window 8"
Shit.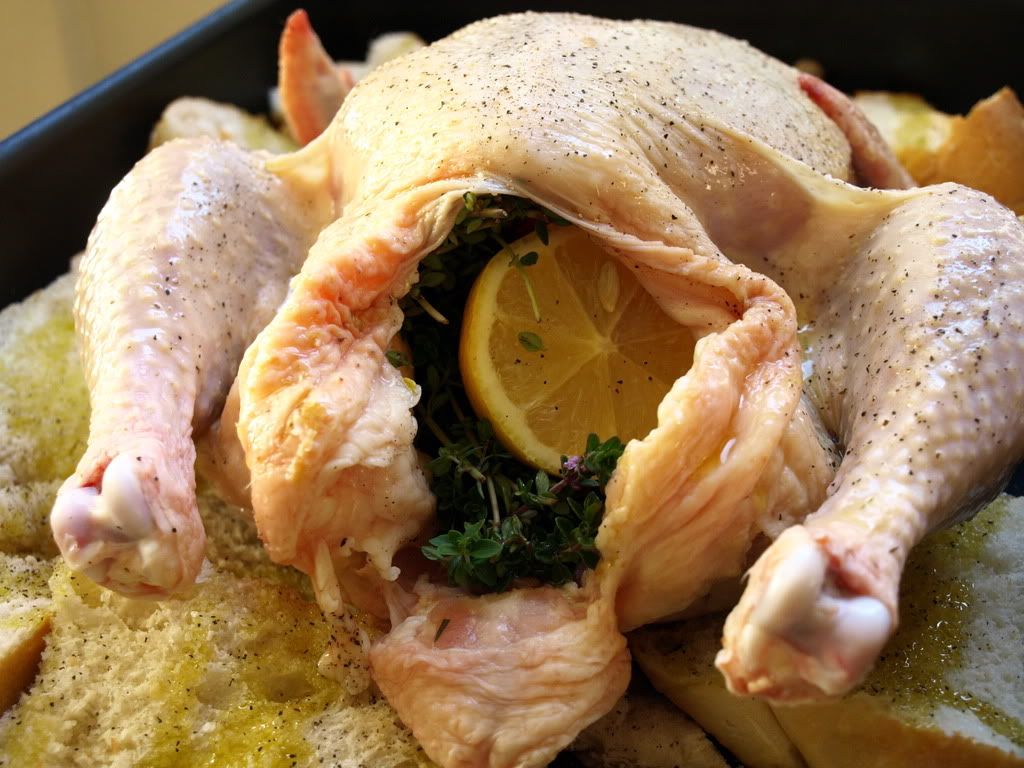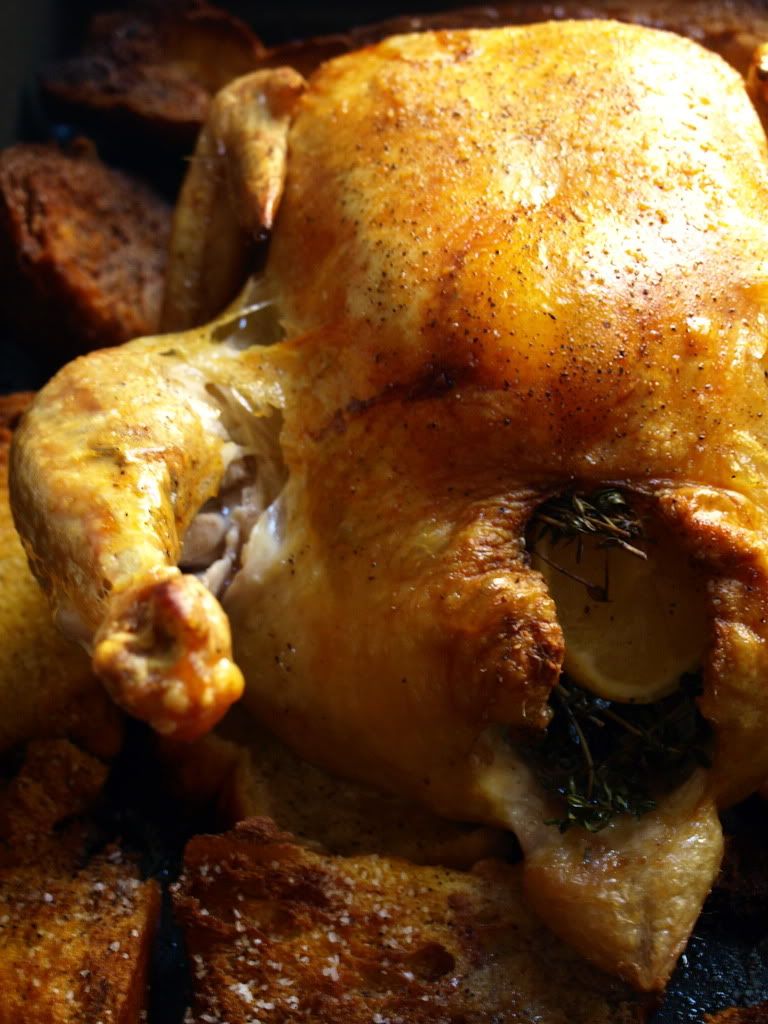 Garlic and Thyme Roasted Chicken With Crispy Drippings Croutons
: (New York Times March 6, 2009)
Country bread, ciabatta or other sturdy bread, preferably stale, sliced 1/2-inch thick
1 tablespoon extra virgin olive oil, more as needed
2 teaspoons kosher salt, more as needed
1/2 teaspoon freshly ground black pepper, more as needed
1 4- to 5-pound chicken, patted dry
1 garlic head, sliced in half horizontally, through the cloves
1 bay leaf
1/2 lemon
1/2 bunch thyme sprigs.
Preheat oven to 425 degrees. Lay bread slices in a metal roasting pan in one layer. Drizzle liberally with olive oil and sprinkle with salt and pepper.
Rub 1 teaspoon salt and 1/4 teaspoon pepper inside cavity of chicken. Stuff cavity with garlic, bay leaf, lemon and thyme. Rub outside of chicken with 1 tablespoon of olive oil and sprinkle all over with remaining salt and pepper. Place it breast side up on bread.
Roast chicken until it is deeply browned and juices run clear when thigh is pricked with a knife, about 1 hour 15 minutes. Let rest for 10 minutes before carving. Serve chicken with bread from pan.
Green Mashed Potatoes
: (Mark Bittman NYT March 6, 2009)
2 large starchy or all-purpose potatoes (about 1 pound), peeled and cut into quarters
Salt
1 pound dandelion or other greens, washed and trimmed of thick stems
1/4 to 1/2 cup extra virgin olive oil
Freshly ground black pepper
1 cup homemade bread crumbs
*
splash of heavy cream
*
parmesan cheese
Put potatoes in a large, deep pot and cover them with cold water. Add a large pinch of salt and bring to a boil. Cook until soft but not falling apart, 15 to 30 minutes. Remove with a slotted spoon and drain; meanwhile, add greens to water and cook for about 1 minute. Rinse under cold water. Drain well, then chop.
Heat oven to 400 degrees. Rice potatoes, run them through a food mill, or mash them with a fork or potato masher, adding enough olive oil to moisten them well. Mash in the greens, adding more olive oil as needed. Sprinkle with salt and lots of pepper.
*
I added a splash of heavy cream here.
Put mixture in an ovenproof dish and top with bread crumbs and
*
I sprinkled some parmesan cheese here. Drizzle with more olive oil, sprinkle with salt and pepper, and bake until bread crumbs are golden brown, about 15 minutes. Serve hot or warm.
Tasting Notes: I cooked both recipes exactly like it says, the only thing I did different is triple the potato recipe and added a splash of heavy cream and parmesan cheese. Five minutes into cooking the chicken the whole house smelled wonderful. The combination of the chicken and the bread was 'roll your eyes into the back of your head' good. Then the dandelions mixed in with the potatoes was wonderful. Everyone left the table contented and with a full and happy belly.