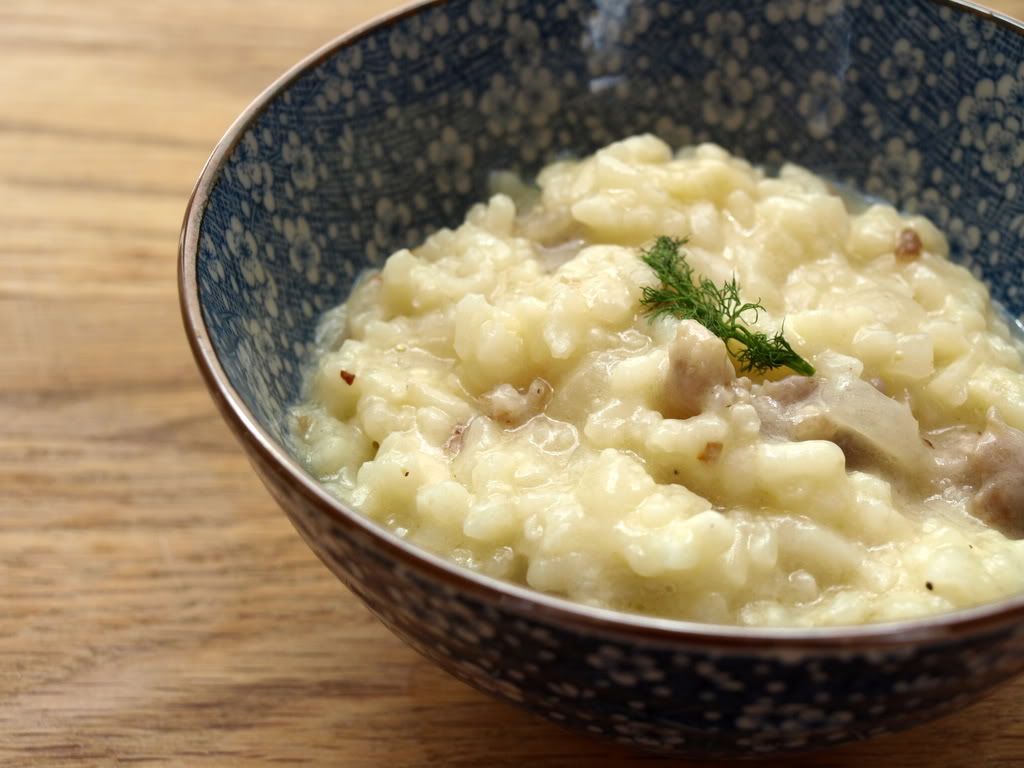 I wanted to talk about how much I love risotto and while some people moan and groan about how much time and stirring is involved, I love that it is a task that forces me to stand and be patient. To focus on the task that is at hand. A dish that when you cook brings all your senses into sharp focus. The smell of onions browning in olive oil and butter. Then the layers of rice, wine and stock bubbling over the stove. How you can see the transformation of rice turn from hard to creamy, like velvet. Alchemy.
I wanted to talk about how you shouldn't be afraid of making risotto. It can take a while to master but it is sooooo worth it.
I wanted to talk about the quite pleasure of holding a warm bowl of risotto in a pair of chilly hands on a rainy night. How a simple bowl of rice can warm your body and soothe a stressed mind.
I wanted to tell you about my EUREKA moment in the kitchen. How when I discovered I ran out of white wine and decided to use sake instead. Because sake is made out of rice so it couldn't do any harm, right?
I wanted to write about how when the sake hit the hot saucepan with the rice and onions, it made the most incredible smell, better than white wine and how I knew it was going to be the best risotto I had ever made. That I will probably never use wine again in my risotto.
I wanted to tell you I'm still dreaming about this risotto.
Fennel and Sausage Risotto w/ Sake
: (adapted from Food & Wine Magazine Feb. 2009)
1 1/2 tablespoon extra-virgin olive oil
1 1/2 tablespoon butter
1 pound sweet Italian sausage, casings removed, meat crumbled
1 large fennel bulb, halved, cored and thinly sliced
5 1/2 cups chicken stock, preferably homemade
1 small onion, finely chopped
Salt and freshly ground pepper
1 1/2 cups arborio rice (10 ounces)
Pinch of saffron threads
1/2 cup sake
1/2 cup freshly grated Pecorino-Romano cheese
1 tablespoon unsalted butter
In a large skillet, heat 1 tablespoon of the olive oil. Add the sausage and cook over high heat, breaking up the meat with a spoon, until browned, about 5 minutes. Add the fennel and cook, stirring occasionally, until softened and lightly browned, about 8 minutes longer. Cover and keep warm.
In a medium saucepan, bring the chicken stock to a simmer; keep warm.
In a large saucepan, heat the remaining 1 1/2 tablespoon of butter and 1/2 of olive oil. Add the onion, season with salt and pepper and cook over moderate heat, stirring, until softened, about 5 minutes. Add the rice and cook, for 1 minute stirring constantly to thoroughly coat it with the fat. Crumble the saffron into the sake and add it to the rice. Cook, stirring until the wine is absorbed. Add 1 cup of the warm stock and cook over moderate heat, stirring constantly, until nearly absorbed. Continue adding the stock 1/2 cup at a time, stirring constantly, until it is nearly absorbed between additions. The risotto is done when the rice is al dente and suspended in a thick, creamy sauce, about 20 minutes total. Season the risotto with salt and pepper. Stir in the sausage and fennel along with the cheese and butter. Serve immediately.