*this is how i feel making bread... mildly destructive, somewhat victorious, and not really sure what is going on.
Learning how to bake bread and a making a decent pie crust was a New Years resolution to myself. I mean I have described making bread and pie crust a lot like losing my virginity. Nerve wracking, sweaty, inexperienced. Oh, how accurate I was.

Seriously, a little bit of research on bread on the internet and you get things like; wild yeasts, bacteria, sponge, and hootch. The jokes just write themselves, especially if I tell you I kept reading sponge as spooge. See what I mean by baking is like losing your virginity? All this talk is scary and confusing. It's like listening to all of your "experienced" friends. You are really not sure who's right and who's wrong.
So tomorrow here's what I am going to do, like any good bibliophile, I am going to library and to a couple bookstores and find my Holy Grail. In the meantime, I'm using this sourdough starter recipe from A Southern Grace. It's easy and it's a good starting point. I don't want to fail the first time out and from what all these websites say making a true sourdough starter can be a time consuming and very frustrating experience. Anyways, what's a true sourdough starter?
This bread is a good starting point, you don't have to kneed it and it also needs only one rise, proof, or whatever you want to call it.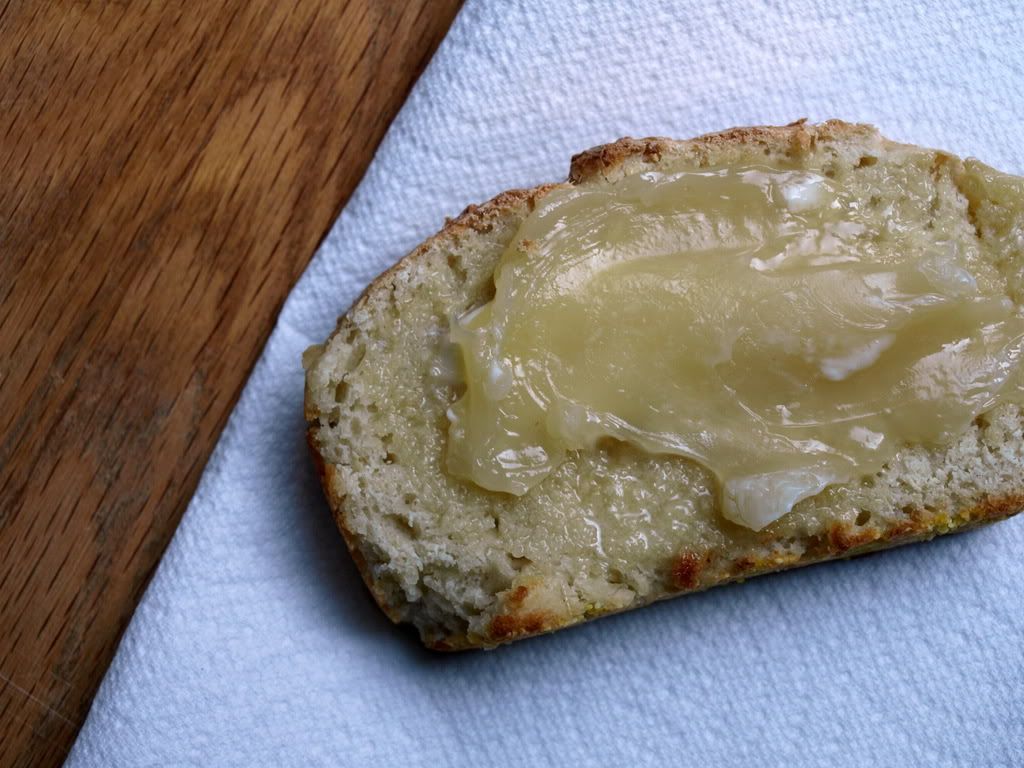 English Muffin Bread:
Yield: 2 loaves
2 cups milk
1/2 cup sourdough starter (water also works)
2 tablespoons cornmeal
6 cups of bread flour
2 packages of active dry yeast
1 tablespoon white sugar
2 teaspoons salt
1/4 teaspoon baking soda
Warm the milk and sourdough starter in a small saucepan to about 125 degrees. Lightly grease two 8x4 inch loaf pans: sprinkle cornmeal inside pans.
In a large bowl, mix together 3 cups of flour yeast, sugar, salt and baking soda. Stir milk into the flour mixture; mix well.Stir in the remaining flour, 1 cup at a time, until a stiff batter is formed. Spoon batter into prepared loaf pans. Cover and let rise in a warm spot until nearly doubled in size, about 45 minutes. Meanwhile preheat oven to 400 degrees F.
Bake in preheated oven until golden brown, about 25 minutes. Remove from pans immediately and cool.
Serve toasted with butter, jam, or lemon curd.
On tomorrow's menu: Dark Chocolate Pie w/Pretzel Crust and the world's rudest people with questionable shoe choices. Pictures included!!!