As the lovely
Kristen
puts it...
If I may shamelessly rip off the best movie quote ever:
"It's 500 pages to good bread, we have a full flour canister, five packages of yeast, the oven's warm and we're wearing aprons . . . HIT IT!"
Click here to begin my
Adventures In Bread
.
Update: I forgot to type cinnamon in the recipe. How can I forget to do that especially when it's called Cinnamon Crumb Surprise! Thank you for
Julia
for the head's up. It's official, I suck.
*The topping, oh the topping!

Cinnamon Crumb Surprise: The Bread Bible Page 97-99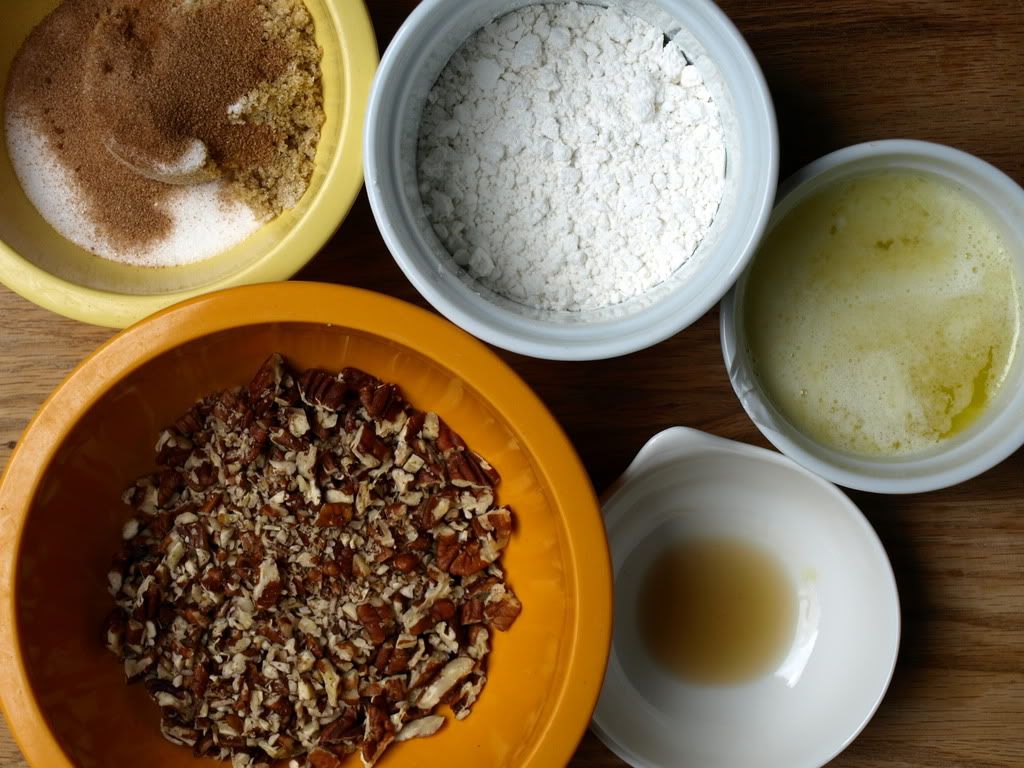 Crumb Mixture:
1/4 cup, firmly packed light brown sugar
1 1/2 tablespoons sugar
3/4 pecans, chopped* recipe originally calls for walnuts
1 teaspoon cinnamon
1/4 cup + 2 tablespoons cake flour (bleached all-purpose flour is okay)
3 tablespoons unsalted butter, melted
1/4 teaspoon vanilla extract
Making Crumb Mixture:
In a food processor fitted with metal blade, pulse the sugars, nuts, and cinnamon until nuts are coarsely chopped.
RESERVE 1/2 CUP FOR THE FILLING
. Add the flour, butter, and vanilla to the remainder of filling and pulse briefly just until the butter is absorbed. Empty it into a bowl and refrigerate for about 20 minutes to firm up, then use you fingertips to form a coarse, crumbly mixture for the topping.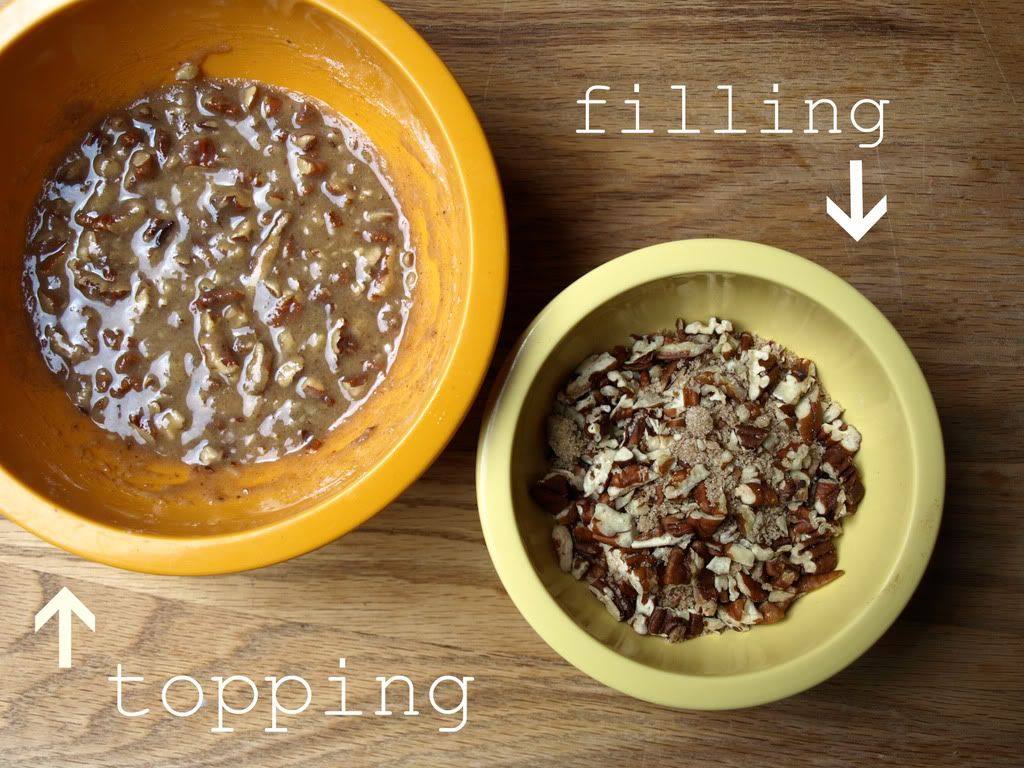 *don't get the two confused.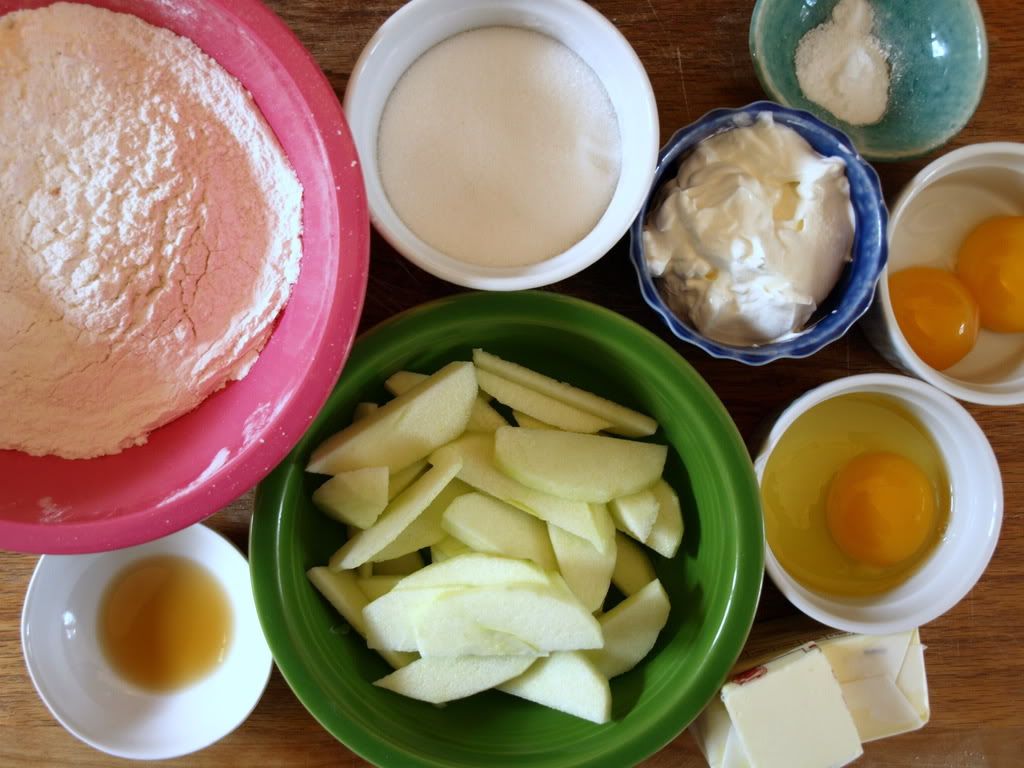 Apple Filling & Batter:
1 small tart apple, peeled, cored and sliced in 1/4 inch thick slices.
2 teaspoons lemon juice
1 large egg
2 large egg yolks
1/2 cup sour cream
1 teaspoon vanilla extract
1 1/2 cup of sifted cake flour (bleached all-purpose flour is okay)
3/4 sugar
1/4 teaspoon of baking powder
3/8 teaspoon of baking soda
salt, a scant 1/4 teaspoon
9 tablespoons unsalted butter, softened
Preheat oven to 350 degrees 30 before baking.
Preparing the pan: A 9x5 inch loaf pan, bottom greased and lined with parchment, then sprayed with Baker's Joy or greased and floured (if using a non-stick pan and Baker's Joy, there is no need to line the pan)
Before mixing the batter toss apples with lemon and juice.
In a medium bowl, lightly combine the egg, egg yolks,
about 1/4 of the sour cream
, and the vanilla.
In a mixer bowl, combine the cake flour, sugar, baking powder, baking soda, and salt. Mix on low speed for about 30 seconds to blend. Add the butter and
the remaining sour cream
and mix until the dry ingredients are moistened. Increase speed to medium if using a stand mixer or high speed if using a hand held mixer and beat for 1 minute to aerate and develop the structure. Scrape down the sides of the bowl. Gradually add the egg mixture in two batches, beating for 20 seconds after each addition to incorporate ingredients and strengthen the structure. Scrape down the sides.
Filling the pan:
Scrape about 2/3 of the batter into prepared pan. Smooth the surface. Sprinkle with the
reserved 1/2 cup crumb mixture
and top with apple slices, arranging them in two rows of overlapping slices. Drop the reserved batter in large blobs over the fruit and spread it evenly over fruit. The batter will be 3/4 inch from the top of the pan. Sprinkle with the crumb topping.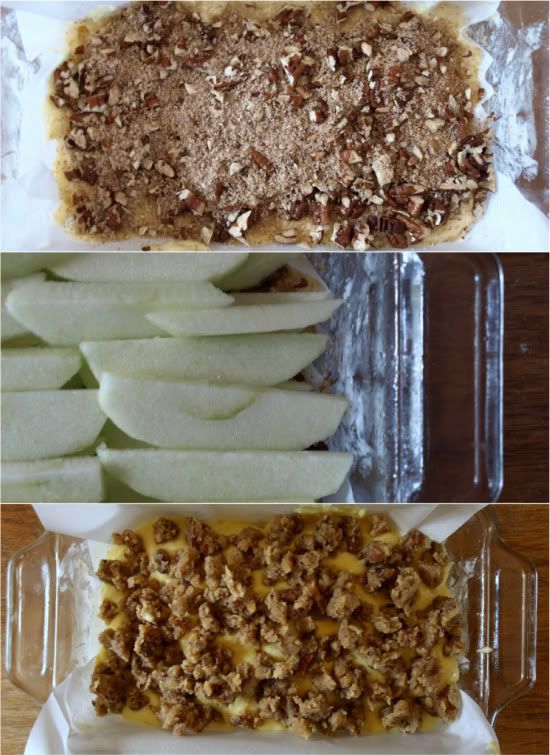 Bake the bread for 50- 60 minutes or until a wooden toothpick inserted into the center comes out clean and the bread springs back lightly in the center. An instant-read thermometer inserted into the center will read about 200 degrees. Tent loosely with buttered foil after 45 minutes to prevent overbrowning.
That's the basic recipe. There is much more about cooling the bread with metal rack and oiled plastic wrap but that was more than my little brain could take.
What I love is that Ms. Beranbaum includes information such as what speeds to mix your bread (if you have a Kitchen Aid she actually tells you what number to put it on). I also love that she tells you why you are mixing for a certain amount of time.
Tasting Notes: Pretty good if I do say so myself. I think my oven needs to be recalibrated. The bread took almost 70 minutes to cook other than that it was cake. Quick bread really but tomato, tomahto. This bread was like apple pie, apple strudel, and apple cake all mixed up into one.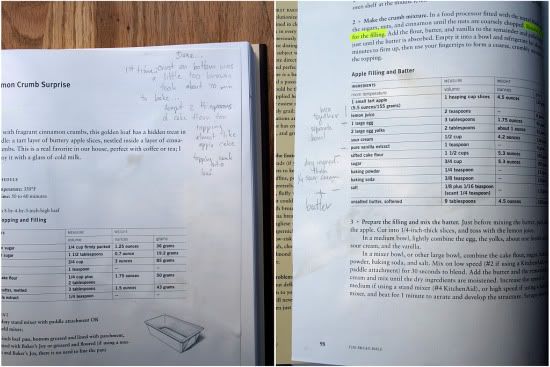 Want to know how serious I am? I wrote in a book! I took notes! I highlighted! Writing in a book, any book is just something YOU. DO. NOT. DO. I felt naughty.