So, I don't even know where to begin... other than I obviously don't pay attention to diddly squat. To be honest, I don't watch much television and I haven't been listening to the radio as much either. So what I heard this morning, kinda shocked me.
Driving home after dropping Katie off from school and paying attention to nothing in general, I hear this commercial, "I love my wife but she's my best friend. There's no sizzle." and "I'm married but looking for more."
"Ooooookay"
I think to myself trying to shake the morning cobwebs out of my head. Maybe I misheard, maybe it was some obnoxious radio DJ doing some stupid phony commercial, maybe I needed a cup of tea. But I didn't need a cup of tea, it wasn't an obnoxious DJ and I hadn't misheard. There's a
website
for married people to hook up with other married people. Didn't they used to do that in the 70's with key parties? Anyways, think of it as e-harmony but for a married person looking for someone else to have sex with no strings attached.
At seven in the morning, I could barely wrap my head around this notion. I know people have affairs all the time but isn't it suppose to be on the down low.... off the record, on the QT, and very hush-hush? This ad was very disturbing in it's frankness, to be honest. I mean, I of all people, love frankness but this felt dirty even for someone, who on more than one occasion, has been accused of having no morals and very low standards.
On their website, they offer you a 100% affair guarantee! I guess that's a bonus and if you don't get some of that affair action you were looking for, do you get your money back? That's what I want to know. And as an extra bonus, Ashley Madison uses "Life is short. Have an affair." as their slogan. Life is going to be real short for someone with a spouse who has a bad temper and a shotgun. I see dead people and lawsuits.
Please tell me I'm not the only one who hasn't heard of Ashley-Madison because right about now I feel really old and out of touch. Shocked, I tell you, shocked!
So I bet your wondering how I am going to tie in having an affair with cinnamon roll cookies? Well, this is like having your cake and eating it too. If you cut these cookies a little thicker than what is called for they are like a little mini cinnamon rolls and if you cut them a little thinner than called for you have a nice tender but crispy cookie.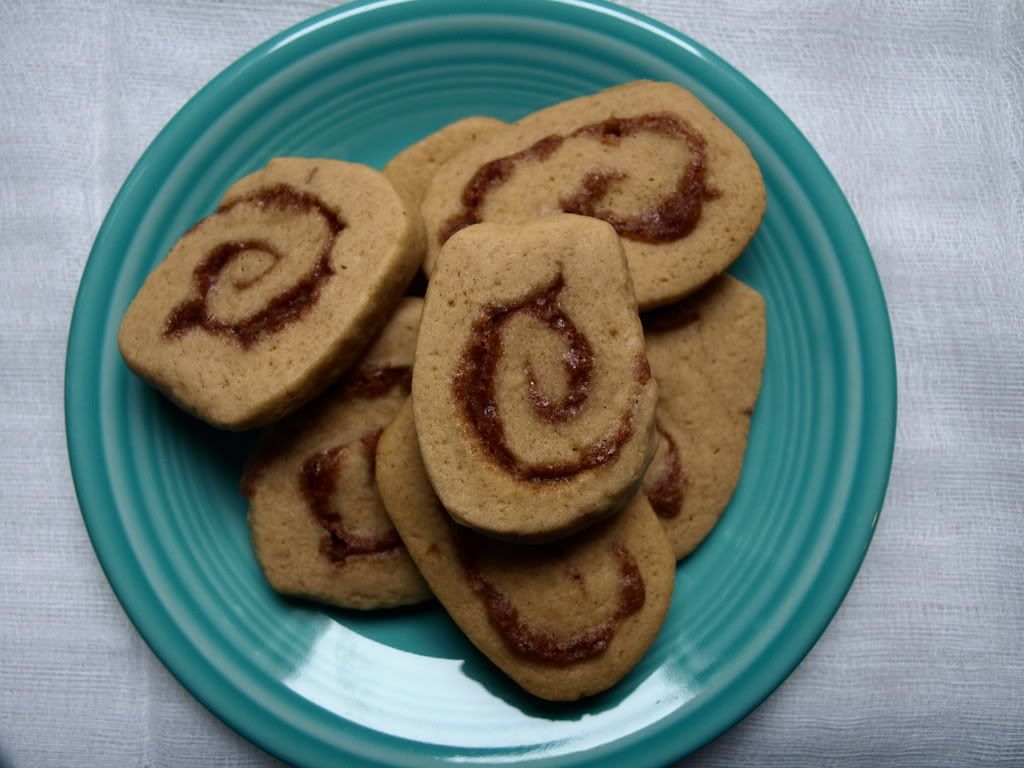 Cinnamon Roll Cookies
:
Culinary Concoctions by Peabody
(A couple notes. First, this recipe does have a recipe for icing but I don't like icing on my cookies, so I didn't include it here because I
didn't
make the icing.
Duh!
But the link does have the recipe. And...of the three times I made this recipe, never once did I added half the cinnamon filling on the outside of the roll like the recipe calls for. So I didn't include that in this recipe either. Also, I suck at baking because Peabody's look so much better than mine. Mine look like when you come home with an art project in first grade and your mom says, "That's beautiful, dear. You are
so
artistic
." while trying to keep a straight face. Yeah, mine are artistic, that's what I keep trying to tell myself. Denial is a very powerful river in Egypt.)
Filling
:
1/2cup sugar
2 tbsp ground cinnamon
juice from half a orange
and a little bit of freshly grated orange rind
For the dough
:
3 cups all-purpose flour
2 tsp baking powder
1 tsp ground cinnamon
½ tsp salt1 cup unsalted butter, at room temperature
1 cup brown sugar
2 eggs
1 tsp vanilla extract
Combine sugar, 2 tbsp cinnamon, orange juice and freshly grated orange rind in a small bowl and set aside. Whisk flour, baking powder, 1 tsp cinnamon, and salt together for the dough in a bowl, set aside. Cream butter and brown sugar in a bowl with a mixer until smooth. Add the eggs and vanilla; mix until incorporated. With the mixer on low speed, add the dry ingredients, blending just to incorporate; do not over mix.
Trace a 16-x-9-inch rectangle on a sheet of parchment or wax paper. Pat the dough into the rectangle using your hands.
Then sprinkle the cinnamon mixture over the dough.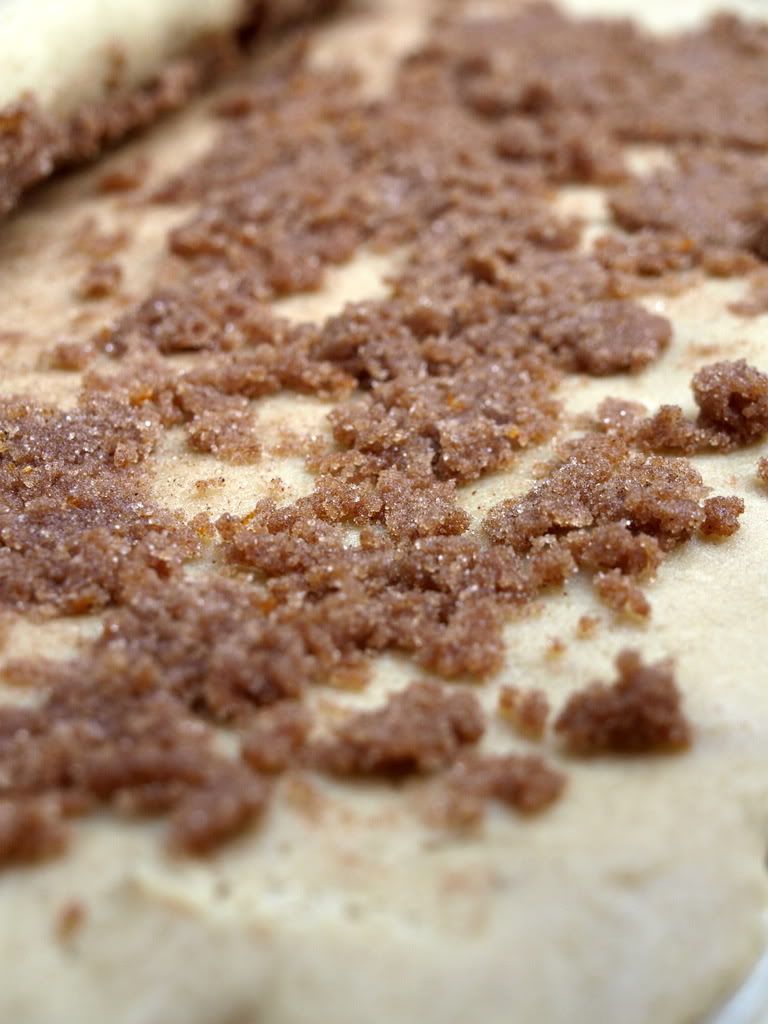 Beginning on a long side and using the paper to help you, roll the dough into a log. Wrap log in plastic and chill for at least 3 hours.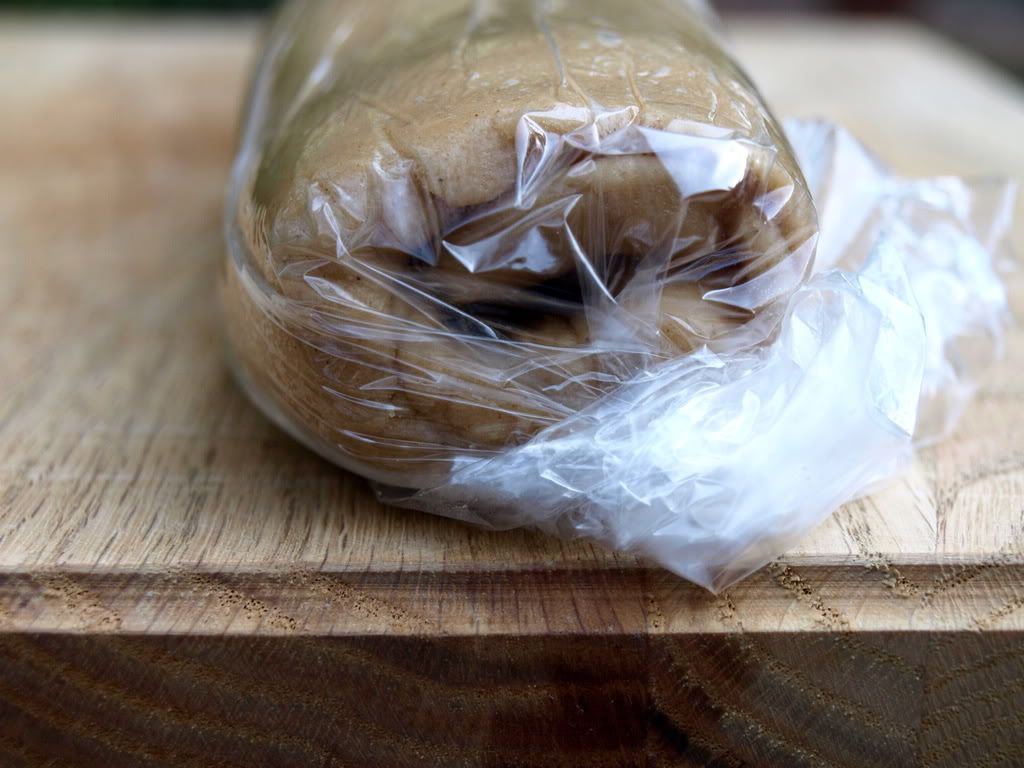 Preheat oven to 350F; line two baking sheets with parchment paper. Slice chilled dough into 1/4-inch thick slices and arrange on prepared baking sheets, spacing 1 inch apart. Bake 10-12 minutes, or until golden brown. Let cookies cool on the pan for 5 minutes, then transfer to a rack.
Tasting Notes: You've got cinnamon rolls in my cookies! You've got cookies in my cinnamon rolls! They are that good.