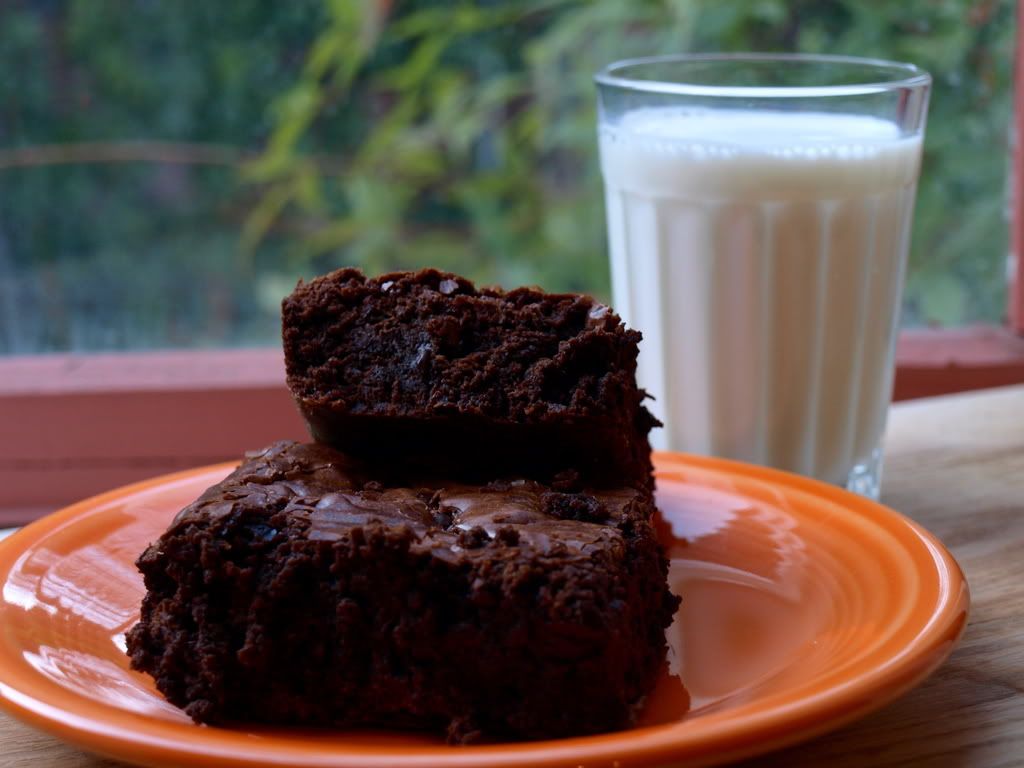 What happens when you listen to the band Cake when you make brownies?
"Apparently the apocalypse" or so Nancy says.
Let's list everything that has happened since we last made these brownies.
• Hot water handle in the shower broke...
twice
.
• This was the temperature in the kitchen... at 2:30 in the afternoon...(Take that
Kristin
! Not as cold as
Blackrock
but I do live in California. Shocking, I know!)
• While Nancy was helping me make these brownies, she dropped a brand new 10lb. package of flour on the kitchen floor.
• This also happened...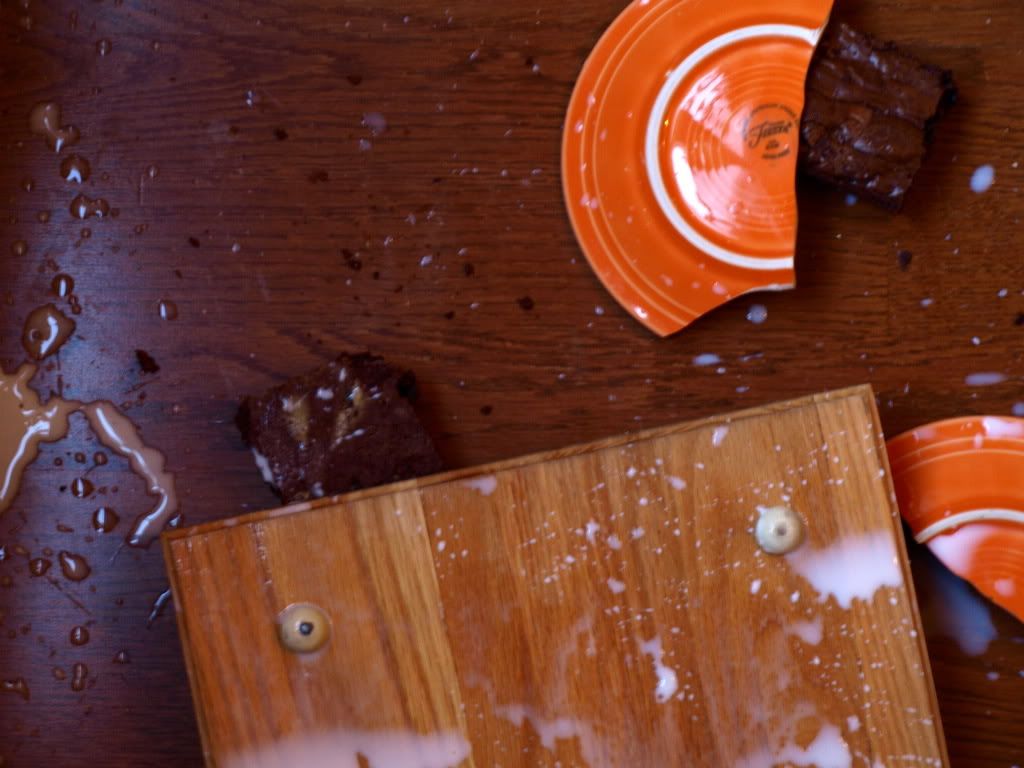 • I have ran out of olive oil, eggs, flour (duh), and paper towels... something that never happens
unless
there's an apocalypse at hand.
• The dining room light switch is broken.
Annnnnnnnnnnndddd

......
• My next door neighbor side-swiped my car. Not too bad but enough that insurance and a visit to the body shop are in my imminent future unless the apocalypse happens first.
Never listen to Cake while making brownies, nothing good can come out of it. Except singing "Healthy breasts that bounce!" That is fun to sing, just try not to do it in the express lane at the grocery store. It can be a little embarrassing. Then again maybe nothing good can come out of listening to Cake.
Before I start, I need to disclose that there are obscene amounts of butter and chocolate... like a Paula
Deen
recipe. Some people say she's the apocalypse but I think all the butter, mayo, and fried stuff are just a way of showing her love for us. Because nothing says love more than a quadruple by-pass.
Armageddon Outta Here Brownies:
(loosely based on Ina
Garten
Outrageous Brownies, The Barefoot
Contessa
Cookbook)
1 pound unsalted butter
1 pound plus 12 ounces Hershey's Special Dark chocolate chips, divided
6 ounces bittersweet chocolate
6 extra-large eggs
2 tablespoons real vanilla extract
2 1/4 cups sugar
1 1/2 cups all-purpose flour, divided (1 cup for batter and 1/2 cup in the chips and nuts)
1 tablespoon baking powder
1 teaspoon kosher salt
Preheat oven to 350 degrees F. Grease and flour a 13 by 18 by 1 1/2-inch sheet pan. Melt together the butter, 1 pound chocolate chips, and unsweetened chocolate on top of a double boiler. Cool slightly. Stir together the eggs, vanilla and sugar. Stir in the warm chocolate mixture and cool to room temperature. Stir together 1 cup of the flour, baking powder and salt. Add to cooled chocolate mixture. Add 12 ounces of chocolate chips with 1/2 cup flour to coat. Then add to the chocolate batter. Pour into prepared pan. Bake for twenty minutes, then rap the baking sheet against the oven shelf to force the air to escape from between the pan and the brownie dough. Bake for about 15 minutes more, until a toothpick comes out clean. Allow to cool thoroughly, and cut into 20 large squares.
Tasting Notes: You need a glass of milk with these brownies, is all I'm saying.