The blogging to-do list gets longer everyday...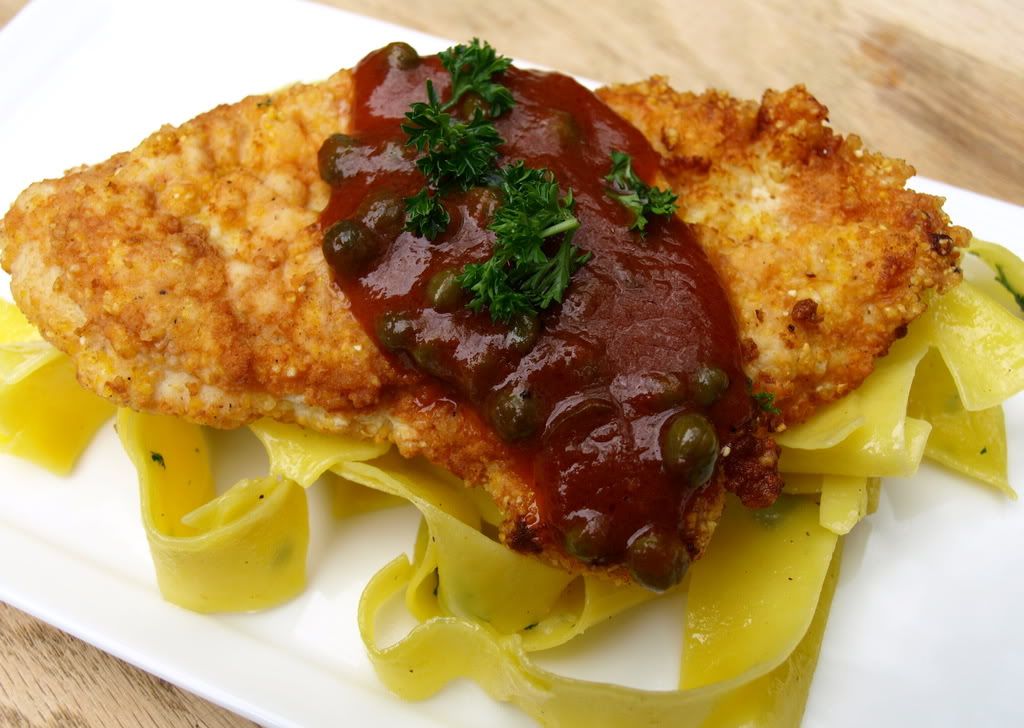 So what is it with men and capers? Specifically with the men in my household not eating capers? I honestly don't get it. Is it because they are little green balls of death? I thought only peas could be called that. Anyways, once they heard that I was making a sauce with capers all the guys said, "I'll take mine without sauce, please." At least they were polite about it. I was happy because that left more sauce for me. And really, isn't it all about the sauce?
Polenta-Crusted Chicken with Balsamic Caper Pan Sauce:
(Gourmet January 2009)
2 large eggs
3/4 cup polenta (preferably quick-cooking)*
1/4 cup all-purpose flour*
1 1/2 pounds skinless boneless chicken breasts, pounded to 1/4 inch thick between sheets of plastic wrap
1/2 cup vegetable oil
1/3 cup plus 2 tablespoons olive oil, divided
2 tablespoons tomato paste
1/2 cup balsamic vinegar
1/4 cup water
a splash of white wine*
3 tablespoons capers* (I used a whole 4 oz. jar of capers with brine. What can I say? I like capers)
a squeeze of lemon juice and some zest*
1 tablespoon unsalted butter
Lightly beat eggs with 1/2 teaspoon each of salt and pepper in a shallow bowl. Whisk together polenta, flour, and 1/2 teaspoon each of salt and pepper in another shallow bowl. Dip chicken in egg, letting excess drip off, then dredge in polenta mixture. Heat vegetable oil and 1/3 cup olive oil in a 12-inch nonstick skillet over medium heat until oil shimmers. Cook chicken in batches, turning once, until golden and just cooked through, 5 to 6 minutes per batch. Transfer to a platter and keep warm, loosely covered. Pour off oil and wipe skillet, then heat remaining 2 tablespoon olive oil over medium heat until it shimmers. Add tomato paste and cook, stirring, 1 minute. Stir in vinegar, water, and capers and briskly simmer until slightly thickened, about 2 minutes. Remove from heat and swirl in butter. Serve remaining sauce on the side.
Tasting Notes: Everyone liked this recipe... with or without the sauce. Katie ate seconds, which she never does and claimed it to be her new death row meal.
Yeah, it was that good
but make sure to have some good crusty bread to sop up all the extra sauce.