Odds:
I was tagged for meme by EOK... because typing
Equal Opportunity Kitchen
is way too long for me but then it's almost like how Rachael Ray always says EVOO then has to explain what EVOO stands for... it would have been just easier to type or say the thing instead.
Here's the meme...
You can take five items and are allowed one sentence in which to justify your decision. Tag whoever you like and link back! You are on a desert island so assume a plentiful supply of exotic fish, coconuts and sea salt. Ignore any issues regarding storage. There happens to be a very large solar powered refrigerator washed up on the shore
as well.
So what am I going to take?
I am assuming there will be sunscreen on the island as well.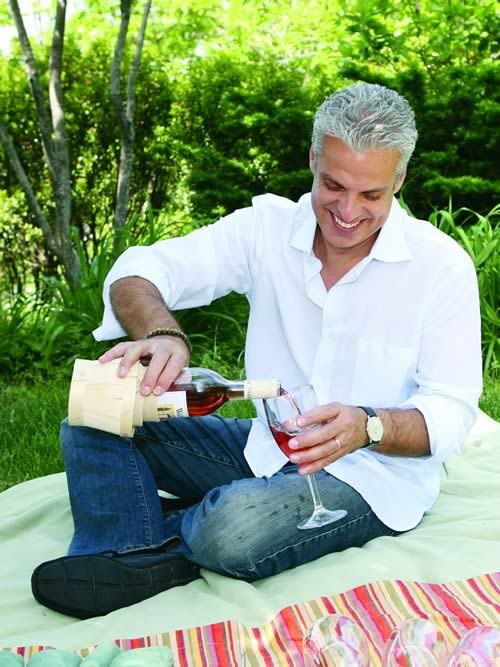 *For me? Why thank you!
1. Eric Ripert... yes,I'm bringing him along... more like kidnapping but I'm on an island who's going to issue a warrant for my arrest? No one, that's who! Think about it. I'm on a deserted island with lots of exotic fish who better that to cook it up for me than a premiere seafood Michelin starred chef???
2. I would be remiss to forget my husband.
3. Umm... two men + one woman + deserted island = a lifetime supply of birth control. Enough said.
4. A baker... there are lots of coconuts on the island and I want scones because
I obviously can't bake them
. I have bad scone mojo. Therefore, I need a baker.
5. A dream kitchen with a stocked pantry! If a solar powered fridge washed up on shore, then a fully stocked kitchen and pantry can too.
I'm not tagging anybody because I am daring you to come up with a better list!
Ends:
There is a new bunch of
project assignments
on 5 x 5 project. Please feel free to sign up for some. If you are a little gun shy put those fears aside. All this is about is a way for all of us to connect and see our world from a different viewpoint.