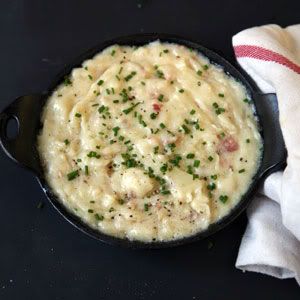 When we last left Krysta
... she was stranded on a deserted island with two men and a life altering decision. Should she choose the handsome and talented, Eric or the reformed bad boy, Tony?
Meanwhile back at home...
Krysta's evil identical twin, Christina Shane, has flawlessly assumed Krysta's identity. Or so Christina Shane thought.
But some in Green Valley thought something was amiss about Krysta. She just wasn't the same Krysta everyone knew and loved but no one could put their finger on what was different. The new Krysta first decided to make something decidedly French and then took a picture as she normally does, but this picture, this picture was a dead giveaway. Bad lighting and it looked gross. Not up to par with Krysta's standards.
(cue ominous music)
*so bad it's good.
It was a dark and stormy night and Christina Shane sat alone in Krysta's kitchen.
"Look away, The photo is horribly, horribly disfigured!"
Christina Shane screamed to herself.
"I'll never tell anybody where Krysta is! She's the evil one. I'm the good one. She's a thrice timing hussy. Eric or Tony. Ha! She had a perfectly good husband and four beautiful kids at home and she took off with those two. What an ass. Green Valley has me, a potato ho with a heart of gold. My pictures aren't great but who cares? I'll cook Green Valley all the potatoes they could ever want! Hahahahahahaha!"

What will happen next? Will Green Valley accept Christina Shane as one of their own or will she be shipped to the loony bin? Will Christina's secret identity be safe or does she need some serious meds? And who was that mysterious figure watching Christina Shane through the window? Stay tuned for the next episode of As The Potato Peels.
Truffade:
(Saveur Magazine November 2008)
2 lbs. new red or other waxy potatoes
1⁄4 cup canola oil
3 strips smoked bacon, cut into 1⁄2" slices
kosher salt and freshly ground black pepper
8 oz. grated cantal or gruyère cheese *I used 16 oz of blue cheese
8 oz. farmers' cheese (such as Friendship brand)
1 garlic clove, minced
2 tbsp. finely chopped chives
Using a mandoline, cut potatoes into 1⁄16"-thick slices. Place potatoes in a bowl of cold water; set aside. Heat oil in a 12" cast-iron or nonstick skillet over medium heat. Add bacon and cook, stirring, until its fat has rendered, about 6 minutes. Drain potatoes in a colander; add to the skillet. Season with salt and black pepper to taste. Cover the skillet and cook, stirring occasionally and crushing potatoes into small chunks with a wooden spoon, until potatoes are tender, 20–25 minutes. Add cheeses, and garlic to skillet; stir to combine. Reduce heat to medium-low; cover. Cook, scraping bottom of skillet with a wooden spoon, until cheese is melted and the potatoes are mashed, about 5 minutes. Stir vigorously and season with salt to taste. Sprinkle with chives and pepper to taste.
Tasting notes:
This dish is the ultimate potato dish. It's between skillet potatoes and scalloped potatoes. With the bonus of cheese and bacon and some little extra crispy bits of the potatoes because every potato ho knows that is the best part of the potato. Easy and adaptable too. You have to make this dish,
now
. It's that good.
Ideas:

Filling for savory crepes.
Serve an egg on top.
Use pepper jack cheese instead of the gruyere and farmers cheese. Add some chilies and ham.
If you are having a small thankgiving, this would be a great substitute for mashed potatoes.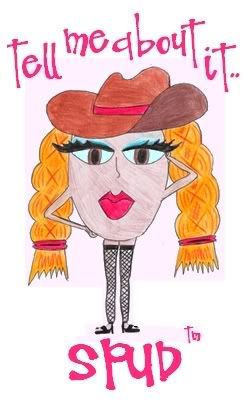 This is my entry, soap opera and all, for this month's Potato Ho Down hosted by Marye from
Baking Delights
.