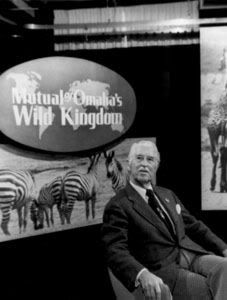 Hello everyone and welcome to another edition of Wild Kingdom. Brought to you by Mutual of Omaha. I'm your host Marlin Perkins. Today, Jim is in the Rocky Mountains to give you a glimpse of Big Horn Sheep.
"Hi Marlin! As you know we are up in the wilds of the Rocky Mountains to catch a glimpse of some Big Horn Sheep.
Prior to mating season Big Horn Sheep often clash. The rams attempt to establish a dominance hierarchy that determines access to ewes for mating. It is during the prerut period that most of the characteristic horn clashing occurs between rams.*
This horn clashing can be loud and scary but most often times the rams come out uninjured. But Marlin, there is a strange phenomena happening... there is a gender confused ewe clashing with a male. Let's see if we can get closer to find out what's going on. Jeff, see if you can focus the cameras on those two sheep in the distance and can you also turn on our special sheep translator on so everyone can understand what the sheep are saying."
"Ethel, why can't you cook something I want for a change."
BAM!!!
"Buddy, every time I ask you want you want for dinner, you tell me 'I don't care.' or you tell me 5 minutes before I start cooking dinner you want pot roast. Seriously Buddy, that's unfair. It takes hours for a pot roast not including defrosting time. I know you think I'm a great cook but damn."
BAM!!!
"Ethel, can't you just make me a tuna casserole?"
BAM!!!
"No, I can't make you a tuna casserole. You knew when I married you I would never make a tuna casserole. It was put in the prenup. If you want it so bad, make it yourself"
BAM!!!
camera panning back to Jim
"Well, there you have it Marlin. These two sheep are clashing over tuna casserole."
cut to commercial
Well, there you go folks. Rich and I are having a fight over, of all things, tuna casserole. I absolutely hate it and he wants me to make it for him. Now I love my husband very much, he works really hard... blah, blah, blah... I'm not trying to diminish what he does but I think you get the gist of what I'm trying to say. I told him before we were married that I would not make tuna casserole, I couldn't stand it. It makes me gag... blah, blah, blah. So, we are at a stand still. He wants it, I won't make it but neither will he.
I want to know... should I stand my ground, I made it very clear before we were married that I wouldn't make it or should I throw in the towel, overcome the nausea and gagging and make the damn thing already?
What would you do?
I have already thought about making the worst tuna casserole ever but that just doesn't seem right.
*thank you wiki...