Everybody comfy? Because do I have a story for you.
Regular readers know about
MADOF
. And we all know how how hard it is to maintain a certain level of said MADOF. Last week there was an email just sitting there in my inbox. I avoided it, thought it was spam or a virus, I don't know. Imagine my surprise when I opened it and saw this...
hi - this is jon madof. i do a 'google alert' on my last name (i'm a musician in nyc) and your posting about 'MADOF' just came up.i must say out of all the interesting hits i've gotten on my last name, yours, um, takes the cake.thanks for giving me a good laugh!all the best,jon madofnew york cityDid you read that?
Jon Madof.
MADOF.
JON. MADOF.
MADOF. JON.
Oh Shit!
Spelled the same way and everything. There is a Madof living in New York City. A name I have used as an acronym to describe fuckability and maintain a standard of beauty.
'Oh Snap!' is the only thing that came to my mind, then followed by lots of laughter. It was a mixture of embarrassed, excited, and a healthy dash of mortified. So I went to check out all his links. Come to find out he's a musician which is even stranger because I feel music and food have always gone together. In my own little world this makes sense. A musician with the name Madof finds a cooking blog that regularly invokes his name. His name is an acronym about sexuality which also in my mind also goes with food. So it's kismet that we met! I emailed Jon back, told him I was embarrassed but thrilled and shamelessly asked if can I write about this and link to you blah, blah, blah. And Jon said yes. and also said this
'plus, when people can't remember that my name has only one 'f' at the end, i'll recite the mantra for them. they probably won't forget it after that.
' Nope, no one is ever going to forget his name ever again. So dear readers, I am pleased to present Jon Madof. All around good guy with a great sense of humor and a great musician to boot! He is officially an honorary sous chef. I don't keep a kosher kitchen but we'll work on that!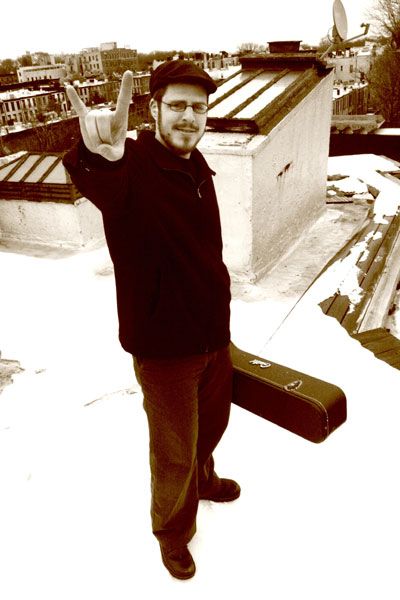 jon madof part of"nyc's baddest jewish power trio"
Check Out Jon 'MADOF' Madof:
Web Page
MySpace
His band's MySpace